Local News
Bob Halloran ready to trade talking sports for teaching golf in retirement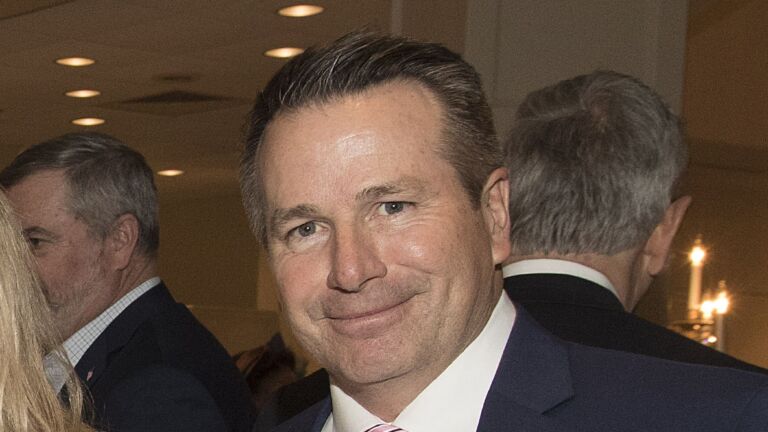 Bob Halloran is no longer talking about sports for a living. But he is teaching a sport for fun.
Halloran, who retired Wednesday after a 38-year career as a sports reporter and anchor, the last 20 spent at Channel 5, is rather youthful for a retiree — he turns 60 in July.
But he has a longstanding passion familiar to many who have stepped away from the workforce and find themselves with a little more free time to roam the countryside.
"I really like golf. Maybe the word 'love' could be used," said Halloran, a member at Granite Links in Quincy. "I love being out there. But I don't want to play five or seven times per week like some people do. Two or three times a week will be enough for me.
"But hanging out at the golf course, where everybody's in a good mood and you're talking to people about the life and times and sports and things like that. It's very casual and comfortable and I just like the ambiance of that."
Halloran said his desire to teach the game he loves to younger generations is one reason why he retired when he did. He is dedicating several hours per week to giving lessons to kids and teenagers at Furnace Brook in Quincy.
"I wanted to make this transition when I was still young enough to enjoy it and have the energy for the kids," said Halloran, who has a couple regular groups of students already. "We've done some clinics already, I love it, and I am completely challenged by it.
"I had a kid [Thursday] night we were giving lessons, and he said, 'Can I go over on the swing set?' And I was like, 'Yeah, you get five minutes on the swing set, but when I call you back, please come over.'
"They're kids, and you have to let them be kids, or they're not going to enjoy what they're doing. I do really like the challenge of entertaining them and also teaching them and making sure that golf is fun."
Halloran acknowledged that his perspective changed somewhat seven years ago this July, when he suffered a brain aneurysm a day before his 53rd birthday. He told a story about talking to a young man recently at a Brain Aneurysm Foundation event at The Boston Pops that he had met several years ago.
"Before the event, there were a bunch of us that have had brain aneurysms and their families and some doctors and the head of the Brain Aneurysm Foundation, we're all there," Halloran said. "I went up to one of the young men. He's probably 25 or 26 years old now. And I said, 'Can you verify for me this story that I've told, or tell me that I'm remembering it incorrectly?'
"Maybe five years ago, I was talking to him at the State House of another Brain Aneurysm Foundation event. He had had a rupture and had recovered, and he had said to me, 'When I was younger, the only thing I wanted to do was be a chef and I went to Johnson and Wales and was on that track. And after my aneurysm and I'm recovering, I thought, "I don't really want to be a chef anymore." And while he was talking, I had the epiphany moment where I said, 'I don't really want be a sportscaster anymore.'
"There wasn't anything I could do about it financially. I needed to keep working and I enjoyed my job. I really did, right up to the very end. But I just didn't have the same passion for it that I did when I was younger."
A conversation with a friend at Granite Links planted the seed about teaching the game. Halloran hopes to eventually be an assistant pro — he kids that he's "an assistant to the pro," a play on a familiar joke from "The Office."
"In the meantime, even if I never get the title, if I never pass the player ability test, I'm giving lessons. I tell people I don't have certification, but I've been in the game for 50 years. I'm a bit of a know-it-all with a nice positive attitude so I can certainly help your kids."
Halloran's wife, Eileen, recently rented a billboard wishing him well in retirement because he joked that he always wanted to see his face on one. He's always been one of the most good-natured and assuming members of the Boston sports media, and he seems happy to be beginning his new phase.
"I figure this," he said with a chuckle. "I'll work at one for a few hours a week and then I'll play at one for a few more hours. And in between I'll take a nap. I'm not sure you can find a better retirement plan than that."
Get the latest Boston sports news
Receive updates on your favorite Boston teams, straight from our newsroom to your inbox.