Entertainment
Q&A with Bill Simmons and Jimmy Kimmel: On Tom Brady, hosting a talk show, and the Sox
Longtime friends team up for a charity event dear to Kimmel's heart Saturday night at Citi Shubert Theatre.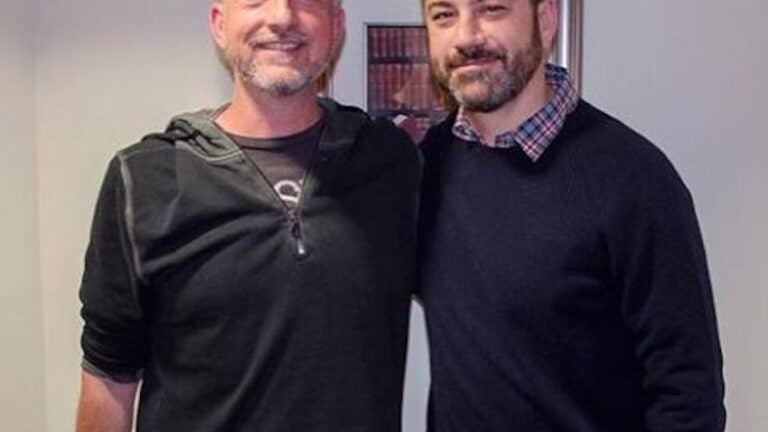 Before rising to his current status as a multi-platform media mogul and HBO talk show host, Bill Simmons began building his name as an irreverent and original sportswriter known as the Boston Sports Guy. In 2002, his writing caught the eye of comedian Jimmy Kimmel, who was about to launch his own late-night talk show in Los Angeles. Kimmel hired Simmons to write for his show, "Jimmy Kimmel Live!", which became a hit, and they've been good friends to this day.
Saturday night, they will unite on Simmons's old turf for a fundraiser for the Harvard Scholars at Risk Program. The show, titled "Jimmy Kimmel vs. Bill Simmons," takes place at 8 p.m. at Citi Shubert Theatre. I caught up with Kimmel and Simmons Thursday to talk the Red Sox' demise, casting the  inevitable Deflategate movie, and what exactly their show will entail.
This is billed as "an evening of conversation, laughter, and romance." The conversation and laughter is expected. But I think most would agree that it's the promise of romance that's most intriguing. What festivities do you have planned?
Simmons:  In 2002, Jimmy knew how much I loved Boston and yet he convinced me to leave and move 3,000 miles to go work for him. So it was something of a love triangle and he won. Now he's bringing me back to rub it in Boston's face. It's really less of a romance and more of a taunting.
Kimmel: I tend to look at it more positively.  I think of it as our second chance at love, this time in a group setting.
What will the format be like? Is it going to feel like a live podcast? A free-flowing conversation? Will there be audience participation? Cruel personal insults? Hand-to-hand combat?
Kimmel: It will flow freely, like a conversation between inmates drunk on pruno.  We will take questions from the audience, the insults will be of a very intimate variety and if Bill rises to strike me, I will smite him on the ears and mouth.
Which team had a more disappointing end to the baseball season? Your Mets, Jimmy, or the Red Sox that fell victim to Terry Francona's revenge, Bill?
Simmons: Definitely and unquestionably the Mets. [Closer Jeurys] Familia melted down in almost the exact same way he did 12 months ago, it was almost eerie. They might have beaten us in '86 but I do kinda feel like we gave the Mets our bad karma in the process. They're the new us. The Red Sox lost that series in Game 1 and we all kinda knew it in the moment. We had three days to prepare for the rest. I mean… except for Coco Crisp reenacting the Perez/Lee homer with Drew Pomeranz. I wasn't prepared for that part.
Kimmel:  Obviously, the end to the Mets season was more disappointing for me but it's important to remember that being a Mets fan in the first place is an indication of managed expectations and low self-esteem.  In Boston, there's only one baseball team to root for.  In New York, we have the winningest team of all time and yet, we choose to root for the perennial losers.
Who plays Tom Brady in the inevitable Deflategate movie? Matt Damon would seem like a good choice.
Simmons: Matt Damon is too short to play Brady – I've never forgiven him for playing a 6-foot-5 rugby star in Invictus. He doesn't get to do that twice. Has to be [Ben] Affleck as Brady (he'd be honored!) and Damon (in the performance of a lifetime!) covered in older guy makeup and a wig as Bill Belichick. And I'd have Mel Gibson in a blonde wig as Roger Goodell. And Matthew Perry as me. My version of the Deflategate movie ends with the Pats winning Super Bowl 51 and Affleck breaking the trophy over Gibson's head.
Kimmel: Matt Damon is too short to play Wes Welker. I think Casey Affleck might make a better Brady and see Simmons played by Elle Fanning.
Jimmy, what is your connection to Boston besides your bromance with Bill and the occasional sighting at the ‪Good Will Hunting bench?
Kimmel:  My ex-girlfriend's family lived in Newton, so we've visited a lot.  And, of course, the baked beans.
Bill, you've been in Los Angeles for, what, almost 15 years now? When you come back here, what do you see or do that makes you miss the place?
Simmons: It's 14 years next month. What's crazy is that [David] Ortiz started with the Sox after I moved to LA. Think how long that is. Anyway, I miss being there for big sports weekends more than anything else. Like Brady's first home game on Sunday… I'll be walking around Boston on Sunday morning  and seeing Pats hats and jerseys everywhere. Like we're all on the team. I miss that the most. That and my Dad. I don't miss the people buying scratch cards in Store 24 though.
Has Donald Trump been a gift to talk shows, or is all of this so absurd that its almost difficult to parody?
Kimmel: Anyone who claims he's been anything other than a gift doesn't work on a daily talk show.  Donald Trump is a never-ending cornucopia of comedy bits. When Mitt Romney ran for President, we did eight weeks of jokes about his Dockers and strapping a dog to the roof of his car. There was nothing else to make fun of.  Donald Trump has a dog strapped to the roof of his head.
You guys first formed your friendship when you hired Bill to work on "Jimmy Kimmel Live!" when it was just starting up. Bill, what did you learn from that experience as a writer on Jimmy's show that applies to Any Given Wednesday.
Simmons: That there are two TV shows: the show you thought you were gonna do, then the show you eventually end up doing. And how you handle the transition between those two versions determines whether it's going to live or not. But Jimmy had it so much harder than me — he had to host a new show five nights a week and his office was in a basement with no windows. He started to turn this weird color about three months in… he kinda looked like rice pudding. But look at him now!
Jimmy, have you given Bill any advice on how to navigate the early months of hosting your own program?
Kimmel: I try to be helpful without being overly annoying.  It's a fine line to walk.  If I have ideas or notice things I like or areas that can be improved, I'll share them. I was lucky in that the format for my show was predetermined.  It was a late-night talk show.  Bill had to start completely from scratch. I think that's a taller order.
How did both of you come to be in involved in a benefit for the Scholars at Risk Program at Harvard?
Simmons: That was all Jimmy — I never knew about it, but it's a great program and I couldn't be happier to help.
Kimmel: Five years ago, my longtime friend Jane Unrue, who teaches writing at Harvard, befriended an Iranian novelist named Shahriar Mandanipour.  She asked me to underwrite a fellowship for Shahriar to help him and his family escape persecution at the hands of the Iranian government. From that, the Harvard Scholars at Risk program was born.  Jane works very hard on a volunteer basis to give refuge to writers who don't have the freedoms we have.  Bill very graciously gave up his weekend to join me in supporting her.
"Kimmel vs. Simmons" takes place at the Citi Shubert Theatre on Saturday, October 15 at 8 p.m. General admission tickets begin at $45, while student tickets are $24. Discount student tickets also available at the Citi Center box office for anyone with a valid student ID. More information can be found at citicenter.org.