Media
The NFL denied Barstool Sports press credentials for Super Bowl week because of their Deflategate sit-in
But it looks like one Barstool member got into media night anyway.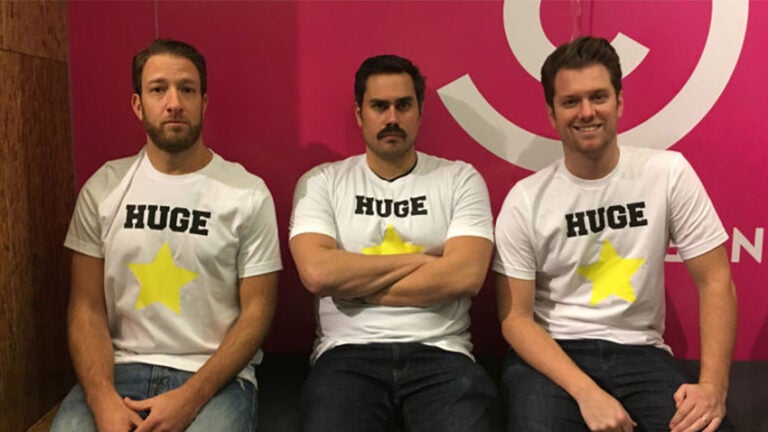 Despite earlier reports, the NFL says they never pulled Super Bowl week press credentials from Barstool Sports — because Barstool Sports never had press credentials to pull.
League spokesman Brian McCarthy told Boston.com that the growing "sports/smut" media brand had been originally denied credentials, because of the 2015 Deflategate sit-in four Barstool employees staged at the NFL offices in New York. NBC Sports's ProFootballTalk first reported Tuesday morning that the NFL had "pulled" Barstool's press passes for the week of media events, including access to "Radio Row."
"Nothing was ever granted," McCarthy said in an email Tuesday afternoon. "As you may recall, members of the site created a disturbance in 2015 at the league office that led to their arrest."
Indeed, David Portnoy, the founder of the Milton-born organization, and three other Barstool employees were arrested in May 2015, after they handcuffed themselves together in the NFL offices in New York in protest of the league's punishment of Tom Brady and the New England Patriots for the Deflategate scandal.
Either way, the Barstool folks don't appear to be terribly distraught over their lack of access.
In fact, per some light Twitter browsing Tuesday afternoon, the likes of Portnoy, Dan Katz, and Kevin Clancy seem to be preoccupied celebrating the relative success of their new late-night Comedy Central show, which more-than-tripled the audience of Skip Bayless's FOX Sports talk show in its Monday night debut.
Monday:

First Take: 450K
Barstool Rundown: 310K
Undisputed: 93K

— Sports TV Ratings (@SportsTVRatings) January 31, 2017
Additionally, Barstool's famed satirist PFT Commenter was apparently able to sneak into Monday's Super Bowl media night anyway, and got off a few questions to Patriots coach Bill Belichick and receiver Julian Edelman.
Hey @danny__woodhead I think I just got name GM of the Patriot's. Pack ur bags buddy pic.twitter.com/W88uYQMHuq

— PFTCommenter (@PFTCommenter) January 31, 2017
https://twitter.com/PFTCommenter/status/826499569307508736