Media
The Sports Hub wins battle of winter ratings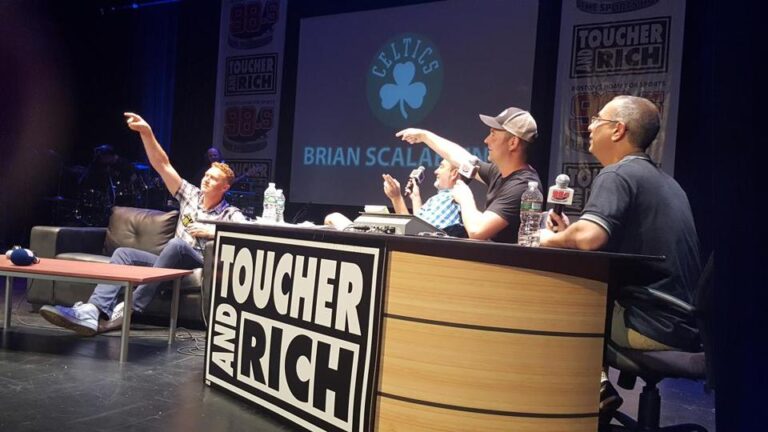 First, the numbers Boston sports radio devotees are always asking about:
In the winter Nielsen Audio ratings, covering the period of January 5-March 29, 98.5 The Sports Hub finished first in the coveted men 25-54 demographic in the Boston market, earning a 10.0 share. WEEI was third with a 7.4, trailing classic rock station WROR (8.2).
Here is the breakdown of the individual day parts and programs.
Mornings: "Toucher and Rich" (1st, 11.7 share). "Kirk and Callahan" (2d, 11.3).
Afternoons: "Felger and Mazz" (1st, 12.1); "Dale and Holley" with Rich Keefe (3rd, 7.4).
Evenings: "The Adam Jones Show" plus Bruins and Celtics game broadcasts (1st, 10.8); "Mut At Night" and other hosted shows (4th, 5.2).
Now, a very necessary elaboration: The Sports Hub finished ahead of WEEI in all four day parts in Boston, but in a certain way these numbers are actually weighted toward WEEI.
How is that? Because WEEI's share includes its streaming number, while The Sports Hub's doesn't.
There's nothing dubious or deceptive about this. It's a matter of WEEI and The Sports Hub using different but equally authentic methods of measuring its streaming audience.
Entercom, WEEI's parent company, subscribes to a Nielsen service called Total Line Reporting, which combines the over-the-air and online audience shares into one number. Most stations do this.
CBS Radio, The Sports Hub's parent company (at least until its merger with Entercom becomes official in a couple of months), is the rare network that does not subscribe to TLR. Instead, its radio and online audiences show up on the Nieslen Audio sheets as separate numbers.
The option to use Total Line Reporting goes back to January 2015, but it is a Pandora's Box scenario that dates back to the even earlier days of streaming. Back then, CBS was among the companies that decided to attempt to sell advertising on a station twice — over-the-air commercials that you hear on the radio, and separate internet commercials for the stream.
In theory, that doubles the amount of advertising units available to sell. But some networks — eventually, the vast majority — decided there was enough revenue being generated on internet advertising, so they went to a 100-percent simulcast, which is necessary to qualify to sign up for Total Line Reporting, knowing that it would make their total combined share — or TRL — look more appealing to ad agencies.
So that traditional 8.6 share for the Sports Hub's "Zolak and Bertrand" show, for example, does not include its online audience, which registered on the Nielsen Audio sheets as a sizable 3.4 in the winter, giving that show a 12 share in total. But the 7.5 for "Ordway, Merloni and Fauria" does already include its streaming audience.
Here's where it becomes tricky. The Sports Hub argues that the streaming number should be added to its over-the-air number to accurately measure the share. Doing so increases "Toucher and Rich's" combined share to a 13.2 (with the addition of a 1.5 for streaming) and "Felger and Mazz's" to a 15 (adding 2.9 for the steam).
Naturally, WEEI is adamant that the separate streaming number should not be added for its competing sports station. I turned to a source at Nielsen Audio to settle the matter. The source said that it's a gray area and Nielsen's policy is not to take a clear-cut position on it one way or the other . . . but also acknowledged that, in general, if separate ads are being sold for online and over-the-air, that is a suitable case that they should not combine the numbers.
Why? Because a radio advertiser that is told that a station is getting a 13 share — when it is really a 10 share with a 3 share online — could take issue with the difference if it is paying ad rates based on the 13 but is getting the 10.
The bottom line this time around is that The Sports Hub topped WEEI across the board in the men 25-54 demo — the one that has been the standard measure in sports radio Nielsen Audio ratings for longer than the nine years I've been writing about this — without even taking its streaming number into consideration. That's impressive, and somewhat surprising given WEEI's recent gains.