Media
Bob Wolff, sports broadcaster for nearly 80 years, dies at 96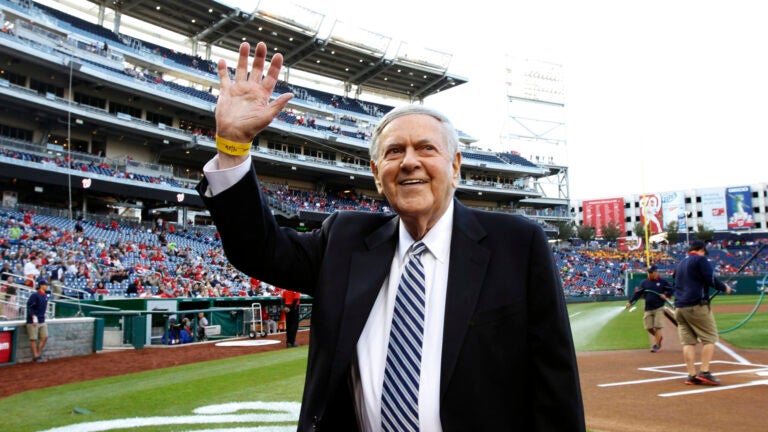 Bob Wolff, who called Don Larsen's perfect game in the 1956 World Series, the New York Giants-Baltimore Colts epic NFL championship game in 1958 and the New York Knicks' two NBA title runs in a record-setting eight decades as a sports broadcaster, died Saturday in South Nyack, New York. He was 96.
His death was confirmed by his son Rick.
"If you added all the time up, I've spent about seven days of my life standing for the national anthem," Wolff once said.
Wolff was behind the microphone from the radio age to the rise of cable television. He was cited by Guinness World Records in 2012 as having the longest career of any sports broadcaster.
He started out in 1939 while a student and former baseball player at Duke University, broadcasting games on a local CBS radio station. He became the first sportscaster for Washington's WTTG-TV on the old DuMont network in 1946. A year later, he began doing television play-by-play for the usually lowly Washington Senators when most of the tiny black-and-white sets were in taverns and hotels.
More recently, Wolff was a sports commentator for the cable TV station News 12 Long Island, which he joined when it was founded in 1986. He delivered his final essay in February.
Wolff teamed with Joe Garagiola on NBC-TV's baseball Game of the Week in the early 1960s. He was a broadcaster for Madison Square Garden for more than 50 years on staff and as a freelancer, calling New York Knicks and New York Rangers games, college basketball and the Westminster Kennel Club Dog Show. On radio, he called the last half of Larsen's perfect game for the New York Yankees against the Brooklyn Dodgers, and the Giants-Colts sudden-death overtime NFL championship game.
"The Colts are the world champions — Ameche scores!" Wolff said, his voice rising, as Colts fullback Alan Ameche won the game on a 1-yard touchdown plunge.
In April 2013, Wolff donated some 1,400 video and audio recordings, representing about 1,000 hours of his broadcast work, to the Library of Congress. They included interviews with Jim Thorpe, Babe Ruth, Ty Cobb and Joe Louis.
"He was an archivist at heart," said Gene DeAnna, head of the recorded sound section of the Library of Congress. "He was systematic, organized and had this sense of the future and the sense of the importance of his legacy to keep it and to take care of it, and we were very grateful that he did."
Wolff was inducted into the broadcasting wing of the Baseball Hall of Fame in 1995. (At his induction ceremony, he played "Take Me Out to the Ballgame" on his ukulele.) He received the Curt Gowdy media award from the Basketball Hall of Fame in 2008.
Wolff prided himself on being a well-prepared journalist.
"In the old, old days it was the voice that mattered," he told The Philadelphia Inquirer in 2005. "But I felt the one thing that gave me longevity was coming up with angles, creative points, storylines. I approached every sport with the soul of a sportswriter."
Curt Smith, a historian of baseball broadcasting, said Wolff had a voice that was "erudite but not unapproachable."
As Smith told The Washington Post in 1995: "He has a sense of humor — with the old Senators he had to — and he was always honest. There was no phony baloney with Bob Wolff."
But Wolff did enjoy telling how he once broadcast a professional basketball game when he was not at the arena. It happened on March 5, 1966, when bad weather prevented him from flying to Cincinnati for a Knicks-Royals game that was to be telecast back to New York on WOR-TV. Wolff broadcast the game off a TV monitor while sitting in the station's studio on the 83rd floor of the Empire State Building.
"I did not want to make a public confession that I was not able to get to the game," Wolff wrote in The New York Times 14 years later. "Yet journalistic honesty compelled me to make an acknowledgment that circumstances were different."
He told his audience, "Tonight's game is coming to you from Cincinnati with the audio being transmitted from the WOR-TV studios high up in the Empire State Building."
The broadcast went smoothly, but Wolff did not relate details of his adventure until December 1980, shortly before NBC's experiment in telecasting a professional football game without an announcer, using Bryant Gumbel for studio comments and updates.
As Wolff put it then, "I can no longer be accused of being the trendsetter."
Robert Alfred Wolff was born in New York City on Nov. 29, 1920. His father, Richard, was a mechanical engineer. His mother, the former Estelle Cohn, was a homemaker.
He was an outfielder at Duke, but after breaking his ankle in a slide as a sophomore, he began broadcasting the baseball team's games for the CBS radio station WDNC in Durham, North Carolina.
Wolff served in the Navy as a supply officer in the Pacific during World War II, ending his service as a lieutenant. He then became the sports director for WINX radio in Washington in 1946. A year later, when he was hired as the Senators' first TV broadcaster, there were only a few hundred sets in Washington. He and his wife, Jane, did not own one, so she went to an appliance store to watch the games.
Wolff, who broadcast on radio as well as TV for the Senators, also did their pregame and postgame shows, pitched batting practice and, playing the ukulele, teamed with several ballplayers to form the Singing Senators, who once displayed their amateur musical talents on NBC's "Today" show.
He remained with the franchise through 1961, the team's first year as the Minnesota Twins.
Wolff contributed features and commentaries to MSG Network after his long tenure covering events at the Garden. In June 2009, the Washington Nationals, the second successor franchise to the original Senators, unveiled a plaque naming the home broadcast booth at Nationals Park the Bob Wolff Suite.
In addition to his wife, the former Jane Hoy, and his son Rick, Wolff is survived by his son Robert; a daughter, Margy Clark; nine grandchildren; and 11 great-grandchildren.
In the 1950s, when the original Senators were continuing to finish far from first place, Wolff knew that their long-suffering fans needed diversions from the team's habitual losing.
On Memorial Day 1957, the Senators were playing a doubleheader against the Yankees at Griffith Stadium when he picked out an ostensibly typical fan in the stands to interview on the radio between games.
In a memoir, "It's Not Who Won or Lost the Game — It's How You Sold the Beer" (1996), Wolff recalled the moment:
"Are you originally from Washington, sir?"
"No, I'm a Californian. I was and still am."
"Have you done much traveling around the country?"
"I've been in most of the 48 states at one time or another. And I've also traveled a bit abroad in the last few years."
"What sort of work do you do, sir?"
"I work for the government."
"Oh?"
"My boss is President Eisenhower. I'm the vice president."
"Ladies and gentlemen, our guest has been Vice President Richard Nixon."
As Wolff put it in his memoir, "Politics notwithstanding, good straight men are hard to find."