Media
One-episode partnership with Barstool makes ESPN look bad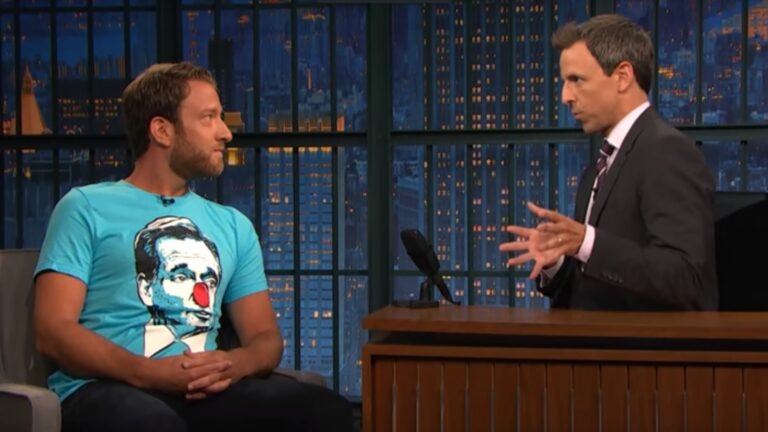 Dan "Big Cat'' Katz and PFT Commenter, cohosts of the irreverent and massively successful "Pardon My Take'' podcast, used their show Wednesday to discuss a tumultuous week in which their ESPN2 program "Barstool Van Talk'' was canceled after just one episode.
It was a compelling listen. And it left me wishing for something that is never going to happen — a similarly candid explanation from ESPN management regarding the honest reason it bailed out so suddenly on a partnership that, controversy aside, made a lot of sense.
I recognize that first paragraph could be bewildering ("Barstool Van Talk''? PFT Commenter? Huh? What?) if you're unfamiliar with the Barstool Sports website and this saga. So here's the condensed version of the back story:
Barstool Sports is a website founder Dave Portnoy built gradually over more than a decade that catered to the basic and often immature whims of the male 18-34 demographic. It's often downright clever. It's also crude and sophomoric, and in its earlier days was jarringly misogynistic.
Portnoy built the Barstool ethos into a brand, and in January 2016 hit the jackpot when he sold 51 percent to the Chernin Group for more than $10 million. Portnoy remained in charge of content and the generally humorous tone of the site did not change.
But the deal positioned Barstool to become more mainstream. It developed a broader reach across media under CEO Erika Nardini. A Barstool special had a four-episode run on Comedy Central in February, and Katz and PFT Commenter have emerged as breakout stars. Their podcast is usually No. 1 in the sports genre on iTunes.
The "Pardon My Take'' hosts, who are genuinely funny and talented satirists, began building a mutually beneficial relationship with certain ESPN personalities, including Scott Van Pelt, Ryen Russillo, and Rachel Nichols. Katz and PFT Commenter appeared on ESPN programming, while ESPN personalities guested on their podcast.
In March, according to Katz, ESPN approached Nardini about the possibility of a "PMT'' television show. In negotiations with ESPN, Portnoy fought to keep the Barstool branding on the show, rather than calling it "Pardon My Take.'' ESPN conceded, the deal was made, and "Barstool Van Talk'' (the duo interview their guest in a van), and it seemed a deal with mutual benefits had been struck.
"It was a pretty cool thing to have this opportunity come to you where ESPN's like, 'Hey, we want you to do a television show,' '' said PFT Commenter on the podcast. "Sounds like a good opportunity to branch out a little and try something fun. As the summer went on, things got closer to actually happening. In the last two weeks or so, the name change got suggested from 'Pardon My Take' to 'Barstool Van Talk.' I'll be honest, I was against the name change. I thought 'Pardon My Take' made sense from a branding standpoint from what we've built right here to bring our audience over to television. I thought it made all the sense in the world to keep the show's name as 'Pardon My Take.' Dave [Portnoy] felt otherwise.''
Before "Barstool Van Talk'' debuted Oct. 17, Barstool's past got in its way. ESPN's "Sunday NFL Countdown'' host Samantha Ponder tweeted her disappointment with the network's decision to partner with Barstool. She cited an example when Portnoy (initially she thought it was Katz) called her a slut on a video segment on the site. Portnoy responded by unearthing some regrettable tweets of Ponder's through the years.
"The timing on Sam Ponder's tweet, the grudge that she kept — she had every right to be upset — but it was clear that it was put out there to undermine and cancel this show,'' said Katz on the podcast.
According to sources, there was significant backlash within ESPN walls among high-profile employees both female and male to the Barstool partnership. Ponder's tweets and Portnoy's defiant response only fueled the fire. The day before the second episode was to air, ESPN president John Skipper announced in a terse statement that the show had been canceled.
"I think it was [expletive] because they put us on and took us off. They should have never put us on the air,'' said Katz. "It was mismanaged from the beginning.''
This is where it gets disingenuous, where any clear-eyed observer is left to wonder what the decision-making process was at ESPN. Skipper said in the statement that ESPN realized it couldn't distance itself from Barstool's brand, suggesting that it hadn't done its due diligence on Barstool's background.
A very willing suspension of disbelief is required to buy that. Barstool has become a huge brand in the demographic ESPN covets. Barstool has expanded with great savvy since the Chernin Group's investment, but it's not as if the site was low-profile before. ESPN knew exactly what it was getting into and who it was dealing with.
The strong suspicion here — and it is one that also exists among some employees at ESPN headquarters in Bristol — is that ESPN management was well aware of Barstool's history with some of its employees and forged ahead anyway. The belief is that when ESPN's parent company, Disney, became fully aware of Barstool's background, that's when it all fell apart. The company of Snow White apparently does not tolerate "Grading The Newest Sex-Scandal Teacher'' blog posts.
In the end, if this is the end, both sides look bad, though ESPN gets it worse. Its quest — desperation, really, in the age of the cord-cutter — to attract a younger demographic backfired embarrassingly. Barstool has to wonder whether its crude past is going to be a barrier to further growth into the mainstream, though perhaps it will find other willing partners. After all, "Barstool Van Talk'' may have aired just once, but it's already better than anything Fox Sports 1 has for programming.