Media
Michael Felger deserves a suspension for Roy Halladay comments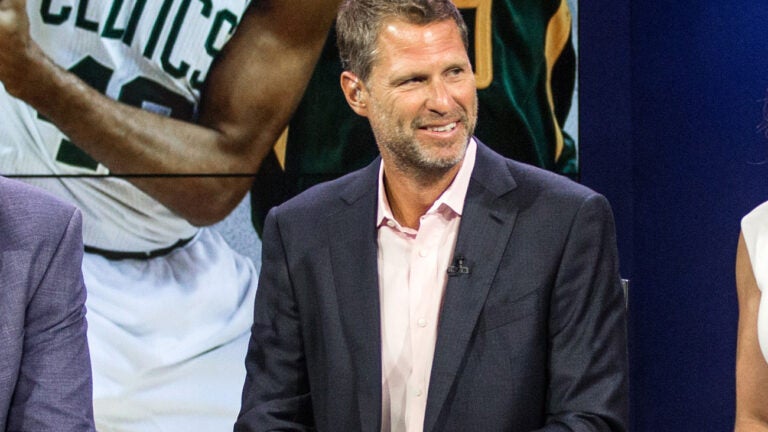 Let's make this clear. Michael Felger should be suspended by 98.5 The Sports Hub for his crude and tasteless commentary on the death of former major league pitcher Roy Halladay in a plane crash. It is, to paraphrase the host himself, what he deserves.
If you are among the New England sports fans unaware of what Felger said Wednesday on his afternoon drive program on 98 The Sports Hub, man, do I envy you. You missed the latest contribution to the hot-take cesspool that Boston sports radio has too often become in recent years.
The synopsis: Felger, an accomplished and often entertaining rant specialist, went off about the circumstances surrounding Halladay's death Tuesday in the crash of a small plane he was piloting alone. A video had surfaced on TMZ of a plane off Florida's Gulf Coast, purportedly Halladay's, doing all sorts of dangerous-looking maneuvers, including buzzing the water and coming within feet of the surface. It seemed to show that Halladay, just 40 years old and married with two children, was jarringly reckless in his recently purchased aircraft.
Watching the video, it's easy to pivot from the idea that his death was simply a tragic accident to being angry that it might have been prevented had Halladay not been piloting the thing as if he were auditioning for the Blue Angels.
It called to mind the boating accident that claimed the life of young Marlins pitcher Jose Fernandez last year. You sympathize when a life is lost prematurely, especially one of great promise or accomplishment. It's human nature to sympathize a little less when carelessness is not just a contributing factor but the apparent cause.
But Felger's comments lacked all pretense of sympathy and sensitivity. A few quotes from his rant, which lasted more than 10 minutes and brought occasional guffaws from cohosts Tony Massarotti and Jim Murray:
"When this guy went down in the plane yesterday, I said, 'I don't know the details, but hopefully this isn't JFK Jr., somebody who doesn't know what he's doing, screwing around with a plane and killing himself for all intents and purposes.'
"It just sort of angers me. You care that little about your life? About the life of your family? Your little joyride is that important to you that you're going to risk just dying?
"You're a multimillionaire with a loving family, and to you, you have to go get that thing where you can dive-bomb from 100 feet to 5 above the water with your single-engine plane with your hand out the window.
'Wheee! Wheee! Yeah, man, look at the G-force on this! I'm Maverick! Pew pew pew! Yeah, man, look at this, this is so cool.' And you die! Splat!
"If I die helicopter skiing, you have the right to do the exact same thing I'm doing to Roy Halladay. He got what he deserved.''
(In a epilogue to the Halladay comments, Felger said in regard to the 2001 death of race car driver Dale Earnhardt on a racetrack, "I root for the wall.'')
[fragment number=0]
The money quote, the one that warrants a suspension, is obviously the last one: "He got what he deserved.'' To state that someone "deserved'' to die for being a negligent thrill-seeker is beyond tactless. Even if you believe it, it's something that should be left unsaid a day after that person's death. If CBS Boston, which owns the Sports Hub until a sale goes through with Beasley Media Group, doesn't punish Felger, it must be deemed complicit in his callousness.
That said, the suggestion in certain social media circles that Felger should be fired is absurd. Absurd and, unfortunately, predictable.
Here's how the miserable cycle works nowadays: A host says something offensive or ignorant, sometimes on purpose, sometimes because the line of what is acceptable blurred while they were caught up in their desperate quest to be edgy. Word of the stupid comments spreads like a rash through the social media echo chamber, the maelstrom kicks in, and everyone decides whether there should be a punishment based on their already-established opinions of the host.
It's ponderous. But Boston radio listeners are getting what they support. In the men 25-54 demographic, WEEI and The Sports Hub account for approximately 25 percent of the market in morning and afternoon drive.
Felger and Massarotti's program is a massive success, ranking No. 1 in its time slot in the Nielsen ratings for years. So, too, is WEEI's "Kirk and Callahan'' morning show, which had the highest ratings in the market over the summer. That show's ratings have been on an upward trend since Kirk Minihane, who was once suspended for referring to Fox Sports reporter Erin Andrews with a vulgar term, became a focal point of the program. Being cantankerous and controversial is lucrative, and Boston fans eat it up.
At least I get paid to listen to this stuff. I marvel more and more at why anyone listens to the worst of it voluntarily, beyond old habit and the sporadically quenched desire for a decent conversation about a Boston sports team.
It does not help matters that every radio host who tells you he or she has thick skin is probably translucent. The medium is a magnet for massive egos, and that translates to an abundance of look-at-me programming.
Again, though, Nielsen's numbers confirm at the moment that this is what you want. The appetite for that in the Boston market is large. Felger and Mazz — and Kirk and Callahan — at their best are entertaining and occasionally hilarious. But there's a risk with antagonistic, opinion-driven radio. Sometimes you forget that there's a risk at all until you're suddenly facing the consequences.