Media
Which Boston sports radio station is right about its morning show ratings?
98.5 The Sports Hub and WEEI both claim they're the top station in the morning. Which is right?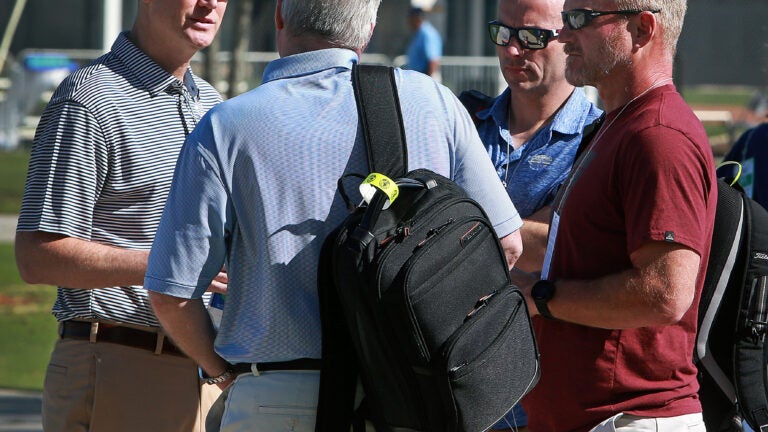 Writing about the quarterly Nielsen Audio ratings inevitably turns my Twitter mentions into a five-alarm fire engulfing many dumpsters.
As frustrating as it can sometimes be to attempt to fight hot-takes with information, I understand why this happens.
The conditions are perfect. Boston has four interesting to fascinating professional teams, thousands upon thousands of passionate fans, and two extremely successful and highly rated sports radio stations.
Those stations – 98.5 The Sports Hub and WEEI 93.7 – are consistently at the top of their targeted and lucrative men 25-54 demo in the Nielsen Audio ratings. Yet many of the shows are distinctly different, especially in the morning with 98.5's Toucher and Rich program and WEEI's Kirk and Callahan show. I don't believe there is anything similar to this anywhere else in the country.
This leads to remarkable loyalty among listeners to a favorite show. And because there has always been some vagueness, at least publicly, about how Nielsen interprets certain variables and semantics in the stations' reporting of the ratings, it's become easy for listeners to interpret the ratings based on their own preferences.
Tuesday, the winter ratings for the period of January 30-April 17 became available. Both morning shows tweeted out graphics claiming to be No. 1 in that men 25-54 demo. Both made seemingly logical cases. Many listeners believed the show they wanted to believe. Dozens reached out to me to ask how this could be.
[fragment number=0]
[fragment number=1]
The fundamental answer is this: WEEI includes the share it gets from listeners based in the Boston DMA (designated market area) who tune into Providence-based WVEI because the signal comes in better in certain areas, such as the South Coast. The Sports Hub does not include these numbers when revealing how they fared against each other.
In the winter quarterly, this really mattered only in the competition among the morning programs – which happens to be the most contentious of the rivalries.
Consider the ratings:
■ Overall in the men 25-54 demo, the Sports Hub was first (12.2), while WEEI was second (8.2, 8.8 with WVEI's 0.6 included).
■ In the evenings (6-11 p.m.), the Sports Hub, which features Bruins and Celtics game broadcasts, Tony Massarotti's hour-long The Baseball Show and The Adam Jones Show in that day part, was first (12.3). WEEI, which features Red Sox games, Mut at Night and an hour of WEEI Late Night, was fourth (6.8) but tied with WBUR for third (7.0) with WVEI's 0.2 included.
■ In afternoon drive (2-6 p.m.), the Sports Hub's Felger and Mazz program was first with a 16.6 share. WEEI's Dale and Keefe program, with co-host Michael Holley leaving at the end of February, was second (8.1 – 8.9 with WVEI's 0.8 included).
■ In middays, WZLX was first (11.9), while the Sports Hub's Zolak and Bertrand show was second (11.3). WEEI's OMF, featuring Glenn Ordway, Lou Merloni and Christian Fauria, was third (9.5, 10.2 with WVEI's 0.7 included).
Here's where it gets complicated and contentious.
In morning drive, without the WVEI stream included, the Sports Hub's Toucher and Rich program was first (12.4) while WEEI's Kirk and Callahan program was second (11.7). With the WVEI stream included, it flips, with the additional 0.9 giving K&C a 12.6.
That's how both end up claiming victory.
So which station is right?
In my nine years covering this beat, Nielsen Audio has traditionally tried to be Switzerland when it comes to past requests to help settle this, with a spokesman saying that in a way they're both right. But that doesn't do much to answer all of the questions in the Twitter blaze about who is really right.
I reached out again Thursday to a Nielsen spokesman and another informed contact at the company for further clarification on background. It was helpful. Here is what I was told:
From the company's perspective and its letter of the law, WEEI should not be counting the numbers WVEI provides within the Boston market. The reason is that the purpose of the ratings is to reflect the same content and advertising load at a specific station or program. The advertising content on WEEI and WVEI is different – its parent company, Entercom, has made the decision to sell the stations separately – and thus any share from WVEI should count separately.
This approach is confirmed by the official Nielsen Audio ratings sheets, which lists Toucher and Rich first and Kirk and Callahan second in the mornings for the winter.
Even with that, Nielsen acknowledges murkiness, since the content of the shows is the same – those listening on WVEI in Bristol County are listening to the same Kirk and Callahan program as a listener in, say, Saugus. But, by Nielsen policy, that does not matter when it comes to the ratings.
Interestingly, the Nielsen contact said this also applies to what The Sports Hub used to do with its online stream. The station would add its separate stream, which was not a simulcast of the radio show and had different ads, to its radio share. Nielsen says that shouldn't be combined, either. That is no longer an issue since the Sports Hub, as of March, uses the same Total Line Reporting streaming measure as WEEI.
The bottom line? Both stations should brag. They combined to earn more than 20 percent of the listening audience over the winter, an achievement that has become so common that it's easy to forget how remarkable it is.
It should be noted, too, that WEEI's ratings across its weekday programming have trended upward significantly year-over-year.
But based on Nielsen's policy, it was the Sports Hub that had higher ratings in the Boston DMA in every major day part over the winter.
Even that certain contentious one that the stations will continue to bicker about in the mornings.
Now let the Twitter mentions burn.