Media
For stricken ex-NESN cameraman, homemade cafe is a rallying point
"They may not know his face, but they know his work."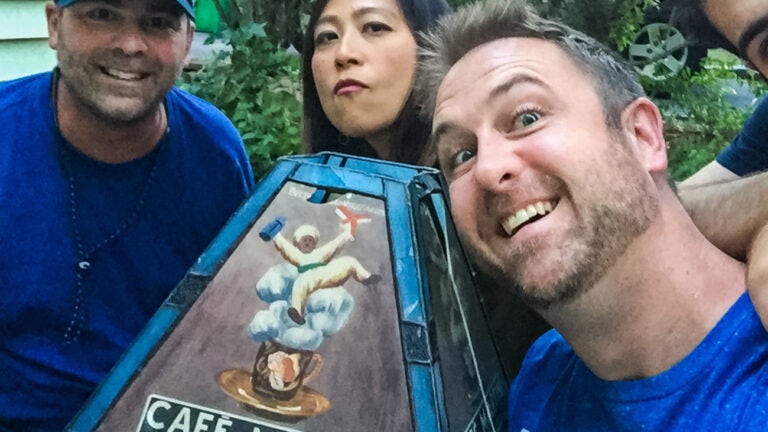 During his 19 years at NESN, John Martin literally worked behind the scenes. As a videographer on Red Sox and Bruins broadcasts, he was often the person responsible for bringing so many memorable scenes and iconic moments into fans' living rooms.
"When fans learn who he is and what he did in his time at NESN, they realize, 'Hey, when I watched the Bruins celebrate in the locker room after winning the Stanley Cup or so much of the stuff from the Red Sox championship teams, that was John, John got all those pictures,'' said Bryan Brennan, Martin's friend and fellow former NESN cameraman.
"They may not know his face, but they know his work. He got all those pictures we see again and again, and that built a subtle bond that makes them feel like they know him after they learned what he's going through.''
What Martin is going through is a battle with an unfathomably cruel disease.
In January 2017, Martin's friends and family revealed he had been diagnosed with amyotrophic lateral sclerosis, or ALS, also known as Lou Gehrig's disease. He had no choice but to retire from the job he loved.
ALS is a progressive neurodegenerative disease that eventually robs the body of its ability to move. It is one that has affected the Boston sports community before. Pete Frates, the former Boston College baseball player stricken with the disease, inspired the Ice Bucket Challenge in the quest to find a cure.
Martin, who is married with two young daughters, won five Emmy Awards for his work at NESN. Now his friends and former colleagues — including fellow videographers and former NESN colleagues Brennan and Patrick Gamere — are doing yeoman work to put Martin's story front and center in the quest to help the family pay its steep medical bills.
Martin's wife, Adrienne, and his friends organically began the concept of Café Martin. It is a real place — the Martins' patio at their home in Newton, where his friends drop by to hang out and make sure he knows they'll never let him fade from their tight-knit circle.
"On the front side of his house in Newton, there's a little slab patio,'' said Brennan. "And after he got diagnosed, when he started to slow down a little, he would just go outside. During the winter, he was still getting out and going to concerts and doing things.
"But in the spring, summer, he slowed down a little. Eventually he got the cane, and then the wheelchairs. Just to get out of the house, he'd go outside, and people would come to visit him. People wanted to see him, people wanted to be around him.''
One day, a friend brought him a lampshade from a restaurant called Café Martin. The lampshade was placed on a small table on the patio. Then a couple of chairs were added. Martin's sister, an artist, painted a wooden "Café Martin'' sign and designed a logo.
"One night, the contingent of local cameramen came by,'' said Brennan.'' We had wings, beer, Pat had stogies. That kind of cemented the whole thing. The idea is just to shoot the breeze, hang out, and forget all the crap going on.
"And it kind of became a thing that if you wanted to see John, you make an appointment to sit outside with him at the cafe. It's beautiful.''
Gamere, who worked with Martin at Cablevision before uniting with him at NESN in 1999, said Café Martin has the kind of warm neighborhood atmosphere that feels like it comes from another time and place.
"It's like what you see in some of the older movies — people just sitting out in front of their homes or businesses, just talking and having some drinks and enjoying the company,'' he said. "Just talking about everything, you know?''
But Café Martin is more than a gathering place. The concept has become a way to raise money for the Martin family via online sales of clothing, and especially hats.
"I've literally never seen him without a hat,'' said Paul Devlin, who became close with Martin while he was a NESN reporter and host in the mid 2000s and came up with the merchandising concept. "So it seemed like a great way to raise some money for the family while giving people something to gravitate toward, something tangible.
"When you walk out on the patio at Café Martin, it's such a powerful experience. They have such a positive attitude despite such a terrible situation, and you can't help but be affected by it and want to do anything you can to help.''
So far, 297 Café Martin hats have been sold, raising approximately $5,800. The most recent batch sold out. There are plans for more. Gamere recently wore one while running the Boston Marathon for the Dana-Farber Cancer Institute. Brennan, an extrovert whose social media feeds suggest he is Boston's all-time leader in selfies, has deftly promoted the cause by making sure one of the hats appears in most of his photos. He also created the Twitter hashtag #OnlyAtCafeMartin.
Red Sox pitcher Steven Wright bought a hat. So did former pitcher Lenny DiNardo. After Martin's diagnosis, John Farrell invited him to the Red Sox manager's office just to hang out and chat, and the former manager checks in via text from time to time.
Brennan believes other players have contributed anonymously. And Pedro Martinez, ever the mensch, visited the cafe before pitching in Herald columnist Steve Buckley's Oldtime Baseball Game in August, which benefitted ALS research.
There is also a gofundme page for the John Martin ALS Fund.
"Everyone likes John, even the players, because he's so authentic,'' said Gamere. "Bryan used to call him the Mayor of Fort Myers. We'd be wrapping up work and getting ready to leave, and John would be over having a conversation with the older gentleman security guard. And these guys, all the 70-year-old guys who work at JetBlue Park and love baseball, would ask this spring, 'How's John doing?' He's genuine with everyone. You can't fake that.''
Devlin compares Martin's personality to that of Boston College hockey coach Jerry York.
"You have to search far and wide to find somebody to say something negative about him,'' said Devlin. "And if you did find them, they were lying.
"TV isn't always a nice business. John never talked badly about anyone.''
Brennan said Martin was a great companion on long road trips — even when he wasn't actually there.
"He never lost the love of the job, or the love of the people he worked with'' said Brennan. "When you're on the road, you're gone for a long time and people don't really talk to you. You're not as friendly with the players as people think. You're very much lonely.
"John never forgot that and always reached out. He was the one guy who on some part of the trip would check in and ask, 'How's everything going? Your scenics [i.e. scenes] the other day were outstanding.'
"Or he'd text me during a game to say, 'Man, great replay you got there, perfect angle.' And I'd think, 'Holy cow, he's at home watching.' But really he's just making sure I was doing OK on the road.''
ALS does not relent in its viciousness, and Martin has dealt with some regression. He can talk and text, but he uses a wheelchair. Brennan says there is not any melancholy in the visits to Café Martin, but Martin does have days that are better than others.
"He's very honest, and that's one of the things I love about him,'' said Brennan. "I'll reach out and he'll say, 'I'm exhausted and I can't today.' He knows what's good for him. Or I'll go over to shoot the breeze and we'll talk for a while and then he'll say, 'I'm going to kick you out in 15 minutes.' He knows when he needs to sleep.''
Brennan never leaves his house without a Café Martin t-shirt, hat, or something else representing his friend.
"Yes, it's to raise a few bucks,'' said Brennan. "But mostly it's to say, 'You're here with me. We're thinking of you.'
"That's why I push the hat so far and put it down to make sure it's in a picture. Any picture with a hat says, 'Hey, we're with you. You're in our thoughts all the time.'
"It lets him know that we're all with him, even if he can't be there with us. John cares about people. He deserves for that to be reciprocated.''