Media
It's officially a trend to bring referees into the broadcast booth
The best hope is that one of them will be able to explain in fewer than a thousand words what constitutes a catch.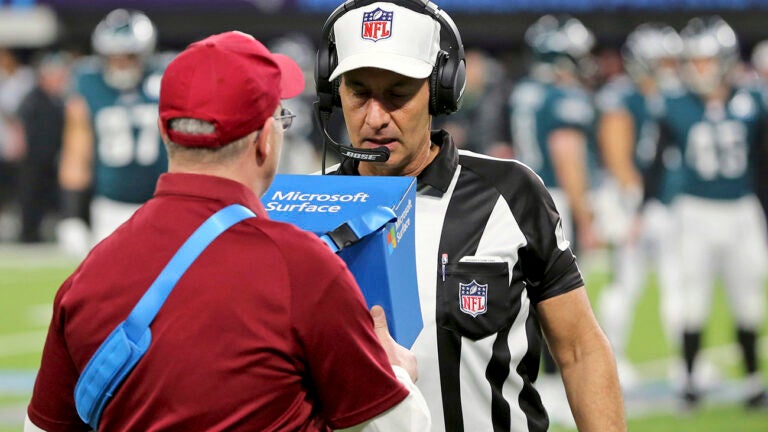 Fox Sports's attempts at innovation through the years haven't always had the desired effect, though I will cop to liking the "FoxTrax'' glowing puck during the network's brief mid-'90s rights deal with the NHL.
As a nearsighted someone who struggles to spot the puck even in high definition, Fox's red comet that trailed a rocketed shot was ahead of its time.
Fox Sports was mostly mocked for that helpful but short-lived novelty. But there is another of the network's assorted attempts at innovation through the years that has worked so well it has now officially become a trend.
Eight years ago this month, Fox Sports announced it was hiring former NFL head of officiating Mike Pereira as a rules analyst for its college and pro football broadcasts. Pereira made a memorable first impression, explaining during a Week 1 game that what appeared to be a game-winning catch by Lions receiver Calvin Johnson was by letter of the law an incomplete pass.
He predicted official Gene Steratore would see it the same way. Steratore did. And Fox Sports looked awfully smart for putting an ex-official on standby.
That debut sent Pereira on his way to becoming practically indispensable to Fox Sports' biggest football broadcast, his candor and knack for articulating the complex making him a trusted source on the ever-bewildering NFL rule book.
Pereira pioneered the role, and since, the NFL's broadcast rights partners have searched for someone to follow his trail.
CBS hired respected official Mike Carey in the 2014 season. But after his predictions on how replay decisions would go were correct at a rate lower than Scott Sisson's field goal percentage, he was let go following the 2015 season.
ESPN has used Gerry Austin, who looks and sounds like he's checking in from the space shuttle.
Even Fox Sports has tried to find an officiating expert beyond Pereira, hiring former NFL vice president of officiating Dean Blandino, who remains best known for allegedly hanging out once on Cowboys owner Jerry Jones's "party bus.''
The struggle to find the next Pereira hasn't stopped the networks' quest, though. Tuesday, CBS Sports announced it had hired the recently retired Steratore, the on-field official whose call helped Pereira look good in his debut.
Steratore, who spent 15 seasons as an NFL official, will provide analysis from the CBS Broadcast Center in New York on Sundays during the regular season. Steratore, whose final game was spent as the lead official in Super Bowl LII between the Patriots and Eagles, will also join announcers in the booth for CBS Sports' Thanksgiving and NFL playoff coverage, including Super Bowl LIII, which airs on CBS this season. A former basketball official, he will also provide rules analysis on CBS's coverage of that sport through March Madness.
Then, Tuesday, NBC Sports announced it had also hired a rules official of its own.
Terry McAulay, who officiated NFL games for 20 seasons (1998-2017), has joined the network as an on-air rules expert for its "Sunday Night Football,'' "Football Night in America,'' and Notre Dame football broadcasts. The network said McAulay will be on-site at "Sunday Night Football'' and Notre Dame games, moving between the broadcast booth during the game and the studio set for pre-game and halftime shows.
It's fair to assume that at least one of the networks pursued another recently retired official, the high-profile Ed Hochuli, whose thorough explanations of penalties and various calls were entire broadcasts unto themselves.
Steratore and McAuley were respected officials. But so was Carey, and hiring him was quickly revealed to be a call that should be overturned.
The best hope is that one of them will be able to explain in fewer than a thousand words what constitutes a catch. I'm not sure even Pereira can do that concisely now.
Pearls from Cora
Red Sox manager Alex Cora's weekly interview with WEEI's "Dale and Keefe'' radio program is getting into must-listen territory.
Wednesday, Cora casually noted that he and his coaches knew Jackie Bradley Jr. needed to sit for a few days when the slumping hitter started suggesting that he should bunt in certain situations.
He also acknowledged that J.D. Martinez is receiving the ultimate slugger's tribute at Fenway Park now — fans don't leave, even in a blowout, until he's had his last at-bat.
Cora is more engaging and candid in 10 minutes than his predecessor John Farrell was in five years.
NU, NESN partnership
Northeastern announced an enhanced broadcast partnership with NESN that will result in up to 75 Huskies games across numerous sports airing exclusively in New England on the network, as well as NESNplus.
The broadcasts, which will also be available on streaming service NESNgo, will include sports beyond basketball and hockey. A full schedule will be available in the fall.