Media
Jerry Remy opens up about his latest cancer diagnosis
"It's been hard because we really didn't expect it."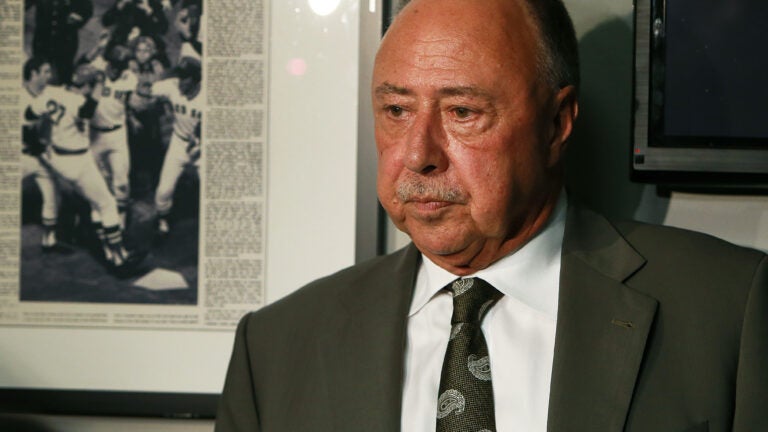 In the 10 years since he was first diagnosed with lung cancer, Jerry Remy has suffered multiple recurrences of the disease, including last season. But the former Red Sox second baseman and longtime color analyst on NESN's game telecasts acknowledged that the latest one has been especially difficult to accept.
"It's been hard because we really didn't expect it,'' he said Wednesday, a day after NESN announced the latest recurrence. "It hit me hard. It's like . . . this is never going to stop. We didn't anticipate this result.''
Remy, 65, said he goes in for regular checkups on his lungs every six weeks. His last visit was a week and a half ago, he said. He took a CT scan, which revealed a spot on a lung. He took Monday of last week off to go in for a biopsy.
"I kind of expected a good result, because the last checkup had been good and that was just a little more than six weeks ago,'' he said. "But the area was starting to reshape as a tumor, and the biopsy came back positive.''
The next step for Remy, who was first diagnosed with lung cancer in November 2008, is to undergo a battery of tests starting Thursday to determine a course of treatment.
"I think what we'll do is get these tests done, then get the team of doctors from Mass. General together and put their heads together to see how we're going to attack this,'' Remy said. "I would think that within a week and a half we know what they're going to do and how.''
Remy, who has been diagnosed with cancer at least four times, said that when he first became aware a week ago that the cancer had returned, he initially planned to continue to work.
"I did work the last homestand through the weekend, and we had planned to put the tests off until I got back from this [current] road trip,'' said Remy. "But the more we thought about it, it didn't seem to make that much sense to wait that long. And the doctors were kind of urging me to get it done earlier.
"I really was going to try to make it to the end of the season and deal with it then, but cancer has a mind of its own, and the best thing to do is deal with it immediately. Plus, mentally, you're not there because your head is all over the place thinking about the possibilities.
"My first thought was to make it through the two months and then do what we've got to do. But that wouldn't have been the wise choice.''
There was some assumption on social media after NESN made its announcement that Remy would not return this year. But that cannot be determined right now.
"There's no way to predict now if there's a return or if there's not a return,'' said Remy. "I just can't do that now because we haven't gathered all the information. We haven't decided on the course of treatment. There's no way of knowing what's down the line for me.''
Remy also has dealt with complications from past cancer treatments, including depression in 2009.
A Somerset native who spent eight seasons (1978-85) as a popular Red Sox player before joining the NESN booth in 1988, Remy said he has been greatly enjoying his job this year. A three-man booth that included Remy, former teammate Dennis Eckersley, and play-by-play voice Dave O'Brien received stellar reviews for its camaraderie and chemistry during the recent series with the Yankees.
"I loved it,'' said Remy. "I'd never been a fan of the three-man booth, but this works. You have to have the right combination of people in there for it to work, and we have that perfect combination with Eck, Dave, and myself.
"I really enjoy doing the games that way. I think it's a blast. We get along great, there's no ego in the booth, we give each other the space we need. Eck gets a lot of the pitching stuff out there, I get a lot of the other stuff, and I think it comes off really, really well.''
Remy said he informed Sean McGrail, NESN's president and CEO, of his situation Monday night.
"NESN and the Red Sox have been really, really supportive of everything that I've been going through,'' said Remy.
"All of the support I've been getting over the last 48 hours from everyone has been remarkable. It doesn't surprise me. It's happened to me before, and it's not an unusual situation to be in for me, but I appreciate it.''
Remy acknowledged that it isn't easy for him to talk about his situation, but he hopes that doing so might help someone going through a similar ordeal.
"People sometimes ask why I go public with this,'' he said. "I hate the word 'celebrity,' but sometimes when you're in the public eye, you can make a difference because people know who you are. If I can help one person with a similar problem or going through a problem, I feel it's my responsibility to do it.
"I'm not a real outgoing person, as people probably know, but in stuff like this, if I can help one person who might be dealing with cancer or might be dealing with depression, I need to do it.
"People have been watching me on TV for 31 years and they feel like they know me, so I feel like it's my responsibility.''