Media
Kirk Minihane will leave WEEI morning program, get a show on Radio.com
WEEI's morning show will now be called "Mut and Callahan.''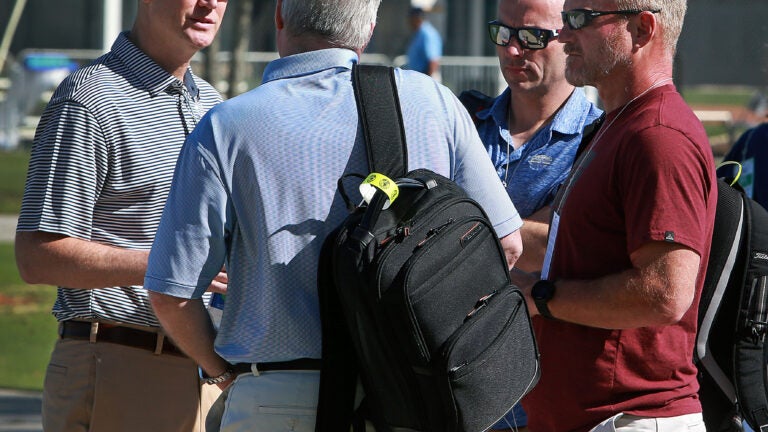 Kirk Minihane, whose near-six-year run as a cohost of WEEI's morning program has been marked by controversy, contentiousness, and consistent ratings success, is leaving the program.
But despite Minihane's occasional airing of grievances with station and corporate management on social media, he is not leaving WEEI's parent company, Entercom Communications.
Minihane is going to host his own show on the Entercom-owned Radio.com app. WEEI's morning show will now be called "Mut and Callahan,'' after longtime host Gerry Callahan and Mike Mutnansky, who has frequently been the third voice on the show.
In a statement to its affiliates, WEEI said, "This national platform will provide Kirk the opportunity to host a show the way he envisions without having to worry about certain station and FCC guidelines. Kirk remains an employee of Entercom and part of the Entercom/WEEI family.''
WEEI announced the decision Wednesday. Minihane recorded a podcast to discuss his decision with The Athletic's Richard Deitsch on Tuesday that is expected to be posted Wednesday night.
Minihane's daily program will not air at the same time as "Mut and Callahan'' for now. But it will be available on demand for listening at any time.
Minihane has been on a leave of absence from the morning program since early September. He had revealed Aug. 9 that he had recently checked himself into Winchester Hospital with suicidal thoughts. He said he was transferred to McLean Hospital, where he underwent treatment.
Minihane briefly returned to the show, but went back on his leave of absence Sept. 6.
"Still battling mental health issues,'' Minihane tweeted. "Truth is I came back to work too fast.''
Minihane, who has long been candid about his battles with depression, acknowledged then that he was still working through some of the reasons for his struggles.
Those included conflicts with Entercom and WEEI management about the direction of the show.
"I've allowed a lot of this stuff with management to build in my head and I have to get to the point where I realize they're never going to change,'' he said then.
In recent weeks, there has been much suspense regarding when or if Minihane would return to "Kirk and Callahan.'' He tweeted that he was cleared by his doctor to return Oct. 12, but WEEI would not put him back on the air.
He seemed headed for an acrimonious departure, with speculation percolating that he could end up at Barstool Sports.
Minihane had a palpably positive effect on ratings when he joined WEEI's morning show as a third voice in February 2013 and again as an official cohost in 2016 when longtime host John Dennis left the show.
"Kirk and Callahan'' was the highest-rated morning drive show in Boston over the summer among the men 25-54 demographic.
The deal does appear to be mutually beneficial to Minihane and Entercom in some ways.
Minihane gets to shape the Radio.com show with the edgy, personality-driven approach he prefers, rather than having to follow at least a cursory sports format.
And WEEI's morning show, as politically charged as it can be, is less likely to run into trouble with advertisers and high-profile guests in Minihane's absence.
In 2014, Fox temporarily pulled its advertising when Minihane referred to Fox Sports sideline reporter Erin Andrews as a "gutless bitch'' for the way she handled an interview during baseball's All-Star Game. Minihane was briefly suspended.
In August, Tom Brady hung up during his paid weekly appearance on "Kirk and Callahan'' after Minihane pressed him with questions about Alex Guerrero, the quarterback's controversial trainer.