Media
What's next for WEEI?
Thursday brought an odd and sudden end to the "Kirk and Callahan'' show.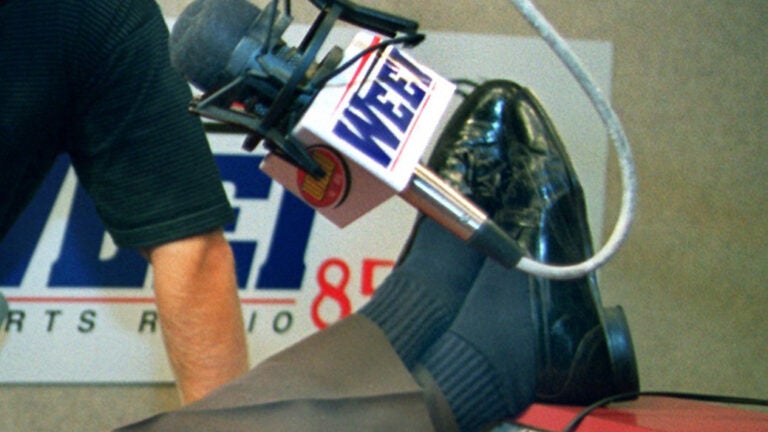 In their nearly six years together as WEEI morning drive hosts, the last two as a tandem, Kirk Minihane and Gerry Callahan mastered the dark art of relentless antagonism, even if their laughs between the outbursts sometimes left you wondering how authentic it all was.
Once, and against my better judgment, I responded to a Twitter questioner by sarcastically saying that the character-driven melodrama of the "Kirk and Callahan'' show was "97 percent'' fake. I think this was near the first or second time occasional third voice Gary Tanguay stormed out of the studio while on the air.
They, of course, seized upon this, deliberately taking my wise-guy comment literally and referring to it either when something genuine happened or when they really wanted listeners to believe what may not have been genuine was.
Honestly, I still couldn't tell you what percentage of their feuds and fights and cliffhangers happened organically. Let's guesstimate it at 11 percent fake. This is also sarcasm for those who still take sports radio shenanigans seriously rather than as a hopefully entertaining quest for advertising dollars.
Thursday's "Kirk and Callahan'' show, though? Now that felt as real and compelling as personality-driven talk radio gets, sports or no sports.
It was their first show together in a couple of months, and it came a sunrise after Wednesday's news that Minihane, who had been off the air since early September while taking a leave of absence for mental health issues, was leaving WEEI for a solo opportunity on the Entercom-owned Radio.com app.
It was also their last show together.
They were joined by staff journeyman Mike Mutnansky, who will slide in as the second voice on the rechristened "Mut and Callahan'' show.
Callahan and Minihane began arguing, with occasional humor but biting seriousness, about how it ended up this way. Minihane, upon joining the show in the 8 a.m. hour, told Callahan and Mutnansky: "I want you guys to do well. I'm not sure if you will.''
Callahan noted that he'd been fighting for the last eight weeks to keep Minihane on the show, even as Entercom applied new mandates that included a greater emphasis on sports talk, something Minihane, in particular, has long derided as boring.
"You said this is the real me,'' said Callahan to Minihane. "It is. I'm [ticked]. What do you want from me? You want me to be happy?''
When Minihane joined Callahan and co-host John Dennis in February 2013, WEEI was coming off a fall in which it tied for seventh in the ratings, with rival 98.5 The Sports Hub's "Toucher and Rich'' program entrenched in first place. There were legitimate possibilities that WEEI was going to end up switching formats to country music.
But as the contentious and often compelling Minihane's name recognition grew, so did WEEI's ratings — and in summer 2014 "Kirk and Callahan'' ascended to first place in morning drive. That coincided with perhaps the show's greatest controversy — Minihane's suspension in July for referring to Fox Sports reporter Erin Andrews as a "gutless bitch.''
That did not damage Minihane's prospects or his local Q-rating. Minihane's influence at the station only grew over the years — sources have said that he pushed hard this July for the switch that sent Rich Keefe and Dale Arnold's show from afternoon drive to middays, with Glenn Ordway, Lou Merloni, and Christian Fauria's show taking over drive time.
Antagonism became part of the show's fabric through the years. It worked in the ratings, but it also could backfire. Patriots quarterback Tom Brady, a longtime and crucial weekly paid guest, took umbrage with Minihane's questioning. Sometimes it felt like they were checking off an enemies list. They were not above character assassination if it suited them.
Minihane acknowledged during a podcast released Wednesday with The Athletic's Richard Deitsch that Entercom management perceived it as mean-spirited at times. Some advertisers departed, but ratings remained strong (the show was first this past summer as well).
Now it's over, and it requires a lengthy search to find a semblance of victory for WEEI. The morning show has been rebranded and is supposed to become what they've mocked— a sports show. The station does not have another singular personality of Minihane's magnitude, and Mutnansky too often comes off like a junior varsity Callahan. Three of the station's main hosts — Callahan in the morning, Arnold in the afternoon, and Ordway in afternoon drive — are in the same basic roles they held in 1997. NESN (and WEEI weekend) host Marc James is often mentioned as someone who could end up in a weekday role.
As for Minihane, he has been candid with the acknowledgment that he might have a small audience at first. "Kirk and Callahan's'' listeners tend to trend toward an older demographic. While Minihane's "Enough About Me'' podcast at WEEI was a huge success, one wonders if all of his loyalists will make the effort to figure out what Radio.com is, where to find it, and how to use it.
Thursday was a bad day for WEEI, and a surreal day for "Kirk and Callahan'' listeners too. The hosts probably felt the same way. Tweeted Minihane approximately four hours after the show ended: "We fought a lot and it ended horribly, but I love @GerryCallahan. It sucks that we are going in different directions. The last two years were great. I owe him a lot.''
We fought a lot and it ended horribly, but I love @GerryCallahan. It sucks that we are going in different directions. The last two years were great. I owe him a lot.

— Kirk Minihane (@kirkmin) November 15, 2018
Thursday brought an odd and sudden end to the "Kirk and Callahan'' show. But perhaps time will prove it temporary. I'd never bet against them reuniting a half-dozen or so Nielsen Audio ratings books down the road, after they all fully realize — and live the implications — of what they just did.