Media
Chris Berman to call Red Sox games in May
Sean McDonough return to the WEEI booth in May with Joe Castiglione for four games.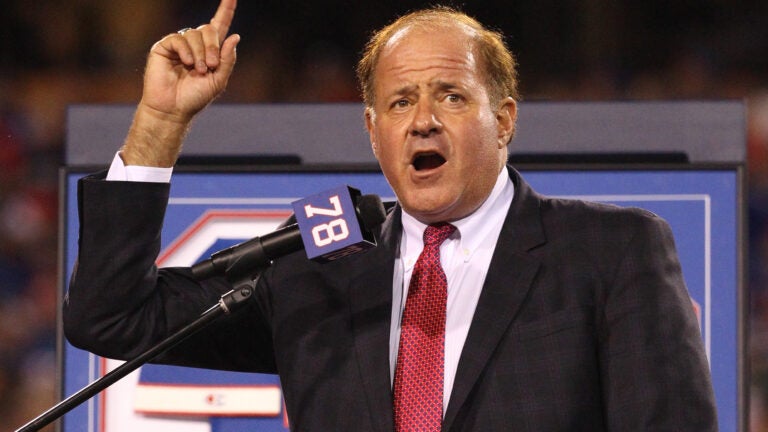 ESPN legend Chris Berman will make his Red Sox radio play-by-play debut in May.
Berman will join Joe Castiglione for the May 27-29 home series against the Indians on flagship station WEEI. Lou Merloni be the third voice in the booth for the third game of that series.
WEEI and parent company Entercom are using a rotating cast of broadcasters this season alongside longtime voice Castiglione.
Former Red Sox television voice Sean McDonough's recent extended stint received rave reviews. He is back for a total of four games this coming month.
Here is how the rest of the broadcaster groupings are shaping up for May. Castiglione is currently being joined by formers Tigers broadcaster Mario Impemba.
May 1: Castiglione, Impemba and Merloni will call the finale of a home series with the A's.
May 2-8: Josh Lewin, who was part of the broadcast team for the first 11 Red Sox games of the season, will rejoin Castiglione for a seven-game road swing to Chicago and Baltimore.
May 10-12: In between off-days on the 9th and 13th, Dale Arnold will be in the booth for a three-game set at Fenway versus the Mariners. He will join Castiglione for the first two games, with Will Flemming, usually the studio host, taking a turn at the microphone for the third.
May 14-15: Castiglione and Merloni will have the two-game home series versus the Rockies before another off-day.
May 17-18: McDonough will be back with Castiglione for Friday-Saturday games hosting the Astros. Merloni will join them Friday and Dave O'Brien Saturday.
May 19: Castiglione and Merloni will call the finale of the Astros-Red Sox series.
May 20-26: Impemba will be with Castiglione for a seven-game swing to Toronto (4 games) and Houston (3).
May 27-29: It's the Boomer and Castig show, hopefully with minimal rumblin', bumblin' and stumblin'.
May 30-31: McDonough will join Castiglione in the Bronx for two with the Yankees.
Austin back on Red Sox duty
NESN says Guerin Austin will work all but one of its Red Sox broadcasts over the next three weeks.
Austin had been absent from her usual role as the in-game reporter on the network's game coverage recently.
The Globe reported in late March that her future was uncertain at the network after she had been left off the work schedule after the first few weeks of the season.
Jahmai Webster has been the primary in-game reporter since the Red Sox' first home series of the season.