Media
Gerry Callahan is done at WEEI
"Sometimes the bad guys win."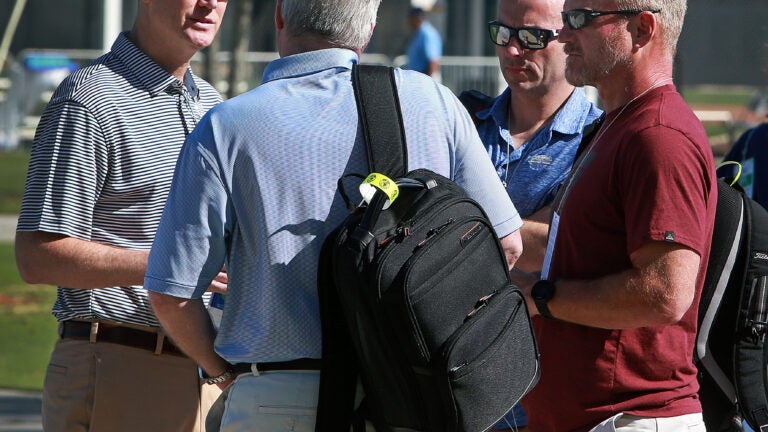 The landscape in Boston sports radio shifted Friday, and in a seismic way.
Gerry Callahan, a mainstay in the mornings on sports radio WEEI since 1997, is done at the station. Greg Hill, the longtime morning host at rock station WAAF, will move over to morning drive at WEEI on July 29.
Callahan, whose contract was set to expire in August, was informed of the change after Friday's show.
"Well, that was fun,'' he tweeted Friday afternoon. "After 20 years in morning drive, I did my last show on WEEI this morning. Thanks to all who listened. Unfortunately this ain't a movie. Sometimes the bad guys win. Much more to come."
Reached by e-mail, Callahan declined comment.
Callahan's departure marks the end of an era. Previously an excellent columnist at the Herald and a feature writer for Sports Illustrated, Callahan was paired with longtime Channel 7 sports anchor John Dennis in 1997.
The duo went on to a prolonged stretch of ratings success, often ranking first in the men 25-54 demographic in the late '90s and through the 2000s.
Their brash approach occasionally led to controversy and trouble, most notably in 2003. Dennis and Callahan were both suspended for two weeks after comparing an escaped zoo gorilla to minority students who participated in Metco, a voluntary busing program.
The emergence of sports radio rival 98.5 The Sports Hub challenged WEEI's dominance beginning in 2009, and while WEEI's ratings remained strong, they were not at previous heights.
In February 2013, Kirk Minihane was added as a third voice to the program, providing a ratings jolt. Dennis left in August 2016, and the renamed "Kirk and Callahan" show was consistently either first or second in the quarterly ratings.
Minihane left the program in November, and departed Entercom – WEEI's parent company – under contentious circumstances in May for Barstool Sports.
Mike Mutnansky joined Callahan as the co-host of the renamed "Mut and Callahan" program, but ratings nosedived after Minihane's departure. In the recent ratings book — spring numbers were released Thursday — "Mut and Callahan" was fifth (6.5 share), while rival "Toucher and Rich" from the Sports Hub was first (9.1).
Hill will be joined on the WEEI program by current co-host Danielle Murr and a rotating cast of contributors. Hill has been an on-air personality at WAAF for 28 years, and began working at the station in 1986.
Mutnansky, the co-host of WEEI's morning show since November, will move to evenings. He has held several roles at the station, including midday co-host and host of the Red Sox pregame and postgame shows.
Hill will conduct the weekly interview with Patriots quarterback Tom Brady, a staple of WEEI's in-season NFL programming.
Former Bruin Lyndon Byers, long a part of Hill's show, will remain at WAAF. The morning show will shift to a music focus while Entercom searches for Hill's replacement.
"Greg is a Boston market veteran with an incredible pedigree and track record of success," said Mark Hannon, regional president and market manager, Entercom Boston, in a statement. "We are excited to welcome him to mornings at WEEI and to usher the station into the future."
WEEI and Entercom did not mention Callahan in the statement about the changes until the sixth paragraph.
"Callahan has been a dominant force and a big part of WEEI over the years. While it is now time for a new chapter, we thank him for his many contributions and the indelible mark he has made at WEEI, including his tireless work on behalf of Dana-Farber and the Jimmy Fund. We wish him the best in his future endeavors,'' the statement said.