Media
'It changes overnight': How Tampa Bay sportswriters are covering the arrival of Tom Brady
Rick Stroud of The Tampa Bay Times and Greg Auman of The Athletic spoke to Boston.com about commanding NFL headlines.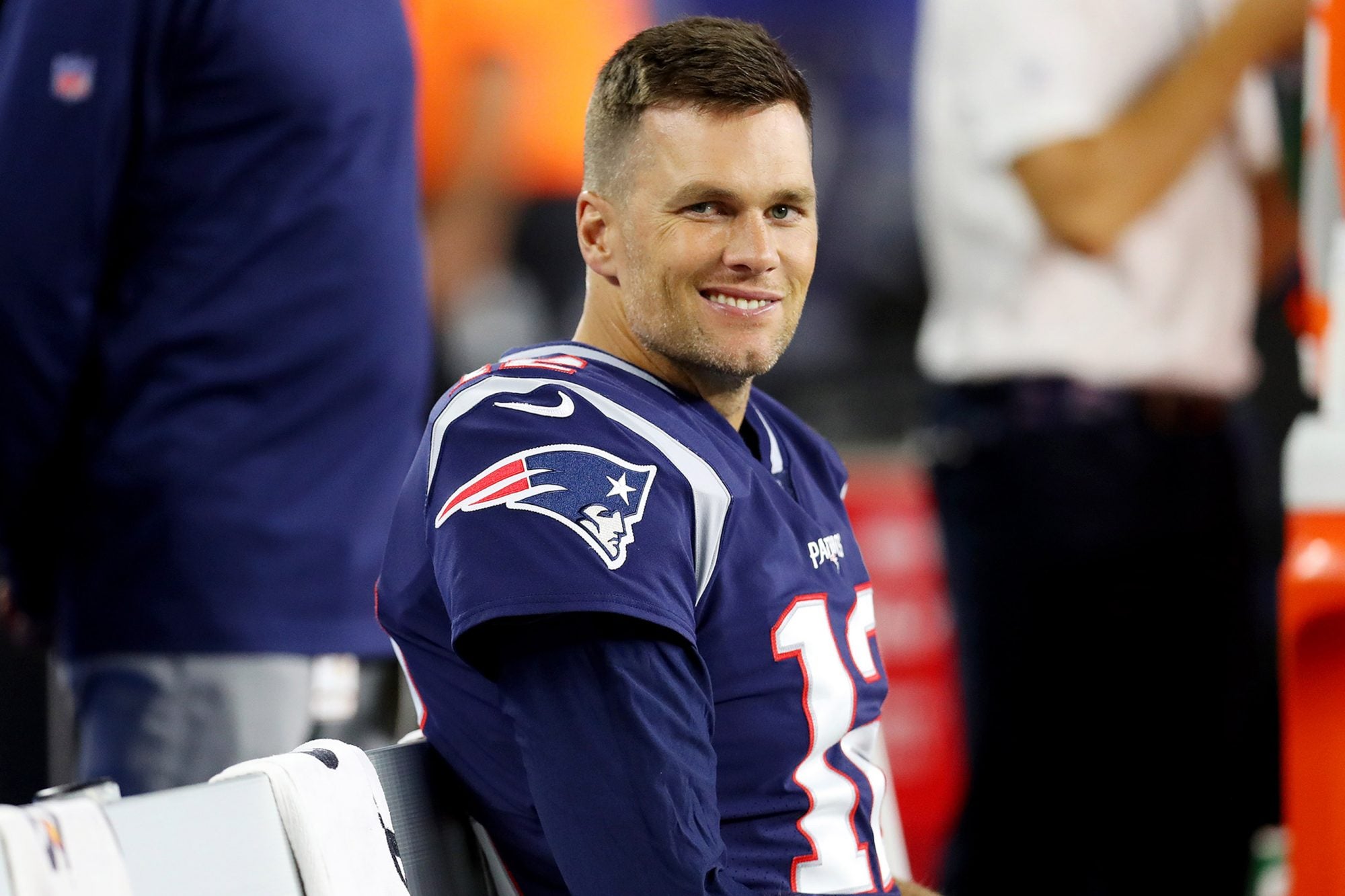 The Tampa Bay Buccaneers haven't played a postseason game in more than a decade, but then again, they've only had two winning seasons since 2010. Those who cover the team wouldn't expect to command headlines nationwide in the offseason, much less in an offseason in the midst of a global pandemic, but since the team's acquisition of Tom Brady, that has become the reality.
Rick Stroud of the Tampa Bay Times, who has covered the Buccaneers since 1990, and Greg Auman, who joined The Athletic to cover the team in 2018 after nearly 20 years at the Tampa Bay Times, spoke to Boston.com about Brady's move south, the cautious optimism of Tampa Bay fans, and the surprise of the past few months.
'Why would you pick Tampa Bay?'
As speculation intensified surrounding Brady's future at the start of the year, Auman was dismissive of the idea that Brady would leave New England at all, much less come to join a franchise that had three consecutive losing seasons.
"Why would you leave New England? And if you did, why would you pick Tampa Bay?" Auman said. "For me, I had really thought, even as things were framed with the potential of him being a free agent, that things would work out, that [he] would find some way to work things out with the Patriots."
Stroud remembered the idea floating around the time of the Super Bowl, when Buccaneers personnel were evaluating all soon-to-be free agent quarterbacks available – Brady included. At the NFL Combine several weeks later, Buccaneers coach Bruce Arians, whose quarterback Jameis Winston was set to become a free agent, was clear in his interest in looking elsewhere, if the player was the right fit.
Asked for examples of NFL quarterbacks he'd pick up the phone for in free agency, Bruce Arians said "Tom Brady. Philip (Rivers) is another guy. We'll see."

— Greg Auman (@gregauman) February 25, 2020
"There was a real focus on the Bucs' part," Stroud said. "They were sort of believing that this could happen. They did their homework, they listened to what Tom had to say throughout the year, and they did believe it was possible."
'It changes overnight'
Tom Brady signed a two-year contract with the Bucs.

— Rick Stroud (@NFLSTROUD) March 20, 2020
Once Brady officially signed with the Buccaneers on March 20, all eyes were on Tampa Bay media. As NFL media veterans, Auman and Stroud were far from unfamiliar with Brady, but there was more research to be done in order to become fluent in their new quarterback.
"I've followed him, like most people that cover the NFL, from a distance," Stroud said. "But there's so much media about Tom. There's a lot of material to digest and books that I still have yet to read. But from an initial standpoint, this is not somebody that we're unfamiliar with.
"You try to follow him as much as you can. It's very rare that a small market, much less one like Tampa Bay, gets an iconic quarterback. It changes overnight."
Auman has been reading "Belichick and Brady" by Michael Holley to familiarize himself not only with Brady, but with the Patriots as a franchise.
"Even if you think you know Tom Brady, there's so much you have to refresh yourself on," he said. "It's kind of like starting to watch a TV show in the 21st season of the TV show. Even if you know it and you know what the characters are, you don't know it.
While he's learning, Auman is sharing his findings with this readers at The Athletic. Last week, he released "the authoritative guide to the best Tom Brady GIFs," acting as a "refresher course in Tom Brady."
"You want to know everything about this guy," Auman said. "Where his kids are, how old his kids are, when he got long hair, when he went back to short hair. Which Super Bowls he played well in, which Super Bowls [the Patriots] won despite him. You have to kind of become a Patriots expert just to be a Tom Brady writer."
'Bucs fans can't have nice things'
On his podcast, Stroud likes to joke that "we can't have nice things in Tampa." It seems to him that might be true: last year's Lightning are the only NHL team to win the Presidents' Trophy, then get swept out of the first round of the playoffs. The wild-card Rays lost to Houston in Game 5 of last year's American League Division series.
So to Tampa fans, the arrival of the Tom Brady before a season threatened by a global pandemic is par for the course.
As a reporter, Auman is wearily grateful for the timing, and for the perseverance of the NFL despite it.
"For so many sports writers, this has been a terrible last three months," he said. "I've been fortunate, first of all, just to be an NFL writer, because we had free agency as normal, we got to draft as normal.
"And then of all NFL teams to be covering, covering the Tampa Bay Buccaneers. It's not only been kind of business as usual for me, [but] I pretty much inherited two of the most interesting players in the NFL."
But as the pandemic forced stay-at-home orders to remain in place for much of the spring and most states moving cautiously in their reopening plans, coverage of Brady has been limited.
Nearly all of the pair's reporting on Brady has been done from afar. Stroud said the only access media has had to Brady since his arrival is his introductory press conference, which was conducted over Zoom. The media has been unable to form relationships with Brady, and by extension, the fans don't have them, either.
"We've literally not had any contact with him whatsoever," Stroud said. "It's like, 'Here he is. The GOAT is here. He's really a Buccaneer.' And no one can see him. No one can watch him the way we normally would at OTAs, at minicamp, with a full press conference. They got denied that. He couldn't fly in here with bells and whistles.
"[Fans are] holding their breath that they'll get a chance to actually go to a game. Wouldn't that be something? That you have this great draw and to not be able to actually watch him in person."
#Bucs QB Tom Brady took the field with his teammates for a 2-hour workout Tuesday Morning via @NFLSTROUD

Among those attending the practice were WR Scotty Miller, TEs Cameron Brate, O.J. Howard, QBs Blaine Gabbert, Ryan Griffin, and RB Dare Ogunbowale.https://t.co/XoYlK1QRk6 pic.twitter.com/qvmMSmh8ca

— Dov Kleiman (@NFL_DovKleiman) May 19, 2020
Still, Stroud said that his readers are "over the moon excited" about the potential for the 2020 season.
"There's never been more expectations for a football season in Tampa than the one that's upcoming in 2020 with Tom Brady."