Media
How Cohasset native Mike Monaco calls games for ESPN from his bedroom
"I've got so many screens in front of me, it feels like you're at The Fours or Buffalo Wild Wings."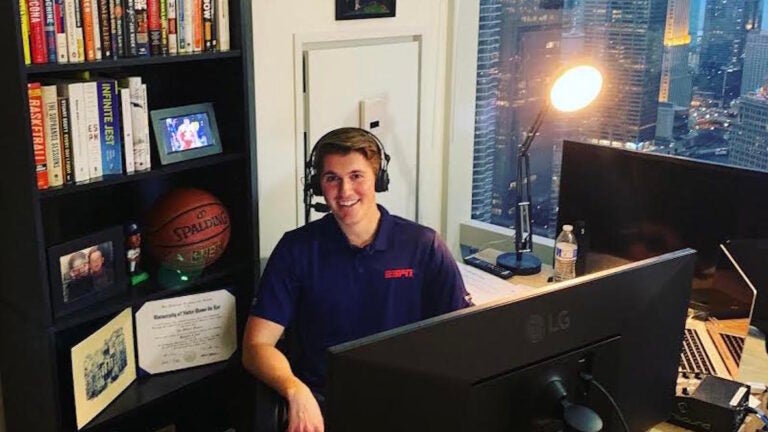 Two years ago, as his phone not-so-subtly reminded him last Tuesday, Mike Monaco announced a game at the University of Southern Mississippi at 5 p.m., drove 10 hours overnight to Indiana University Bloomington, slept for a couple hours, then announced a game there the next day.
Monaco grew accustomed to that sort of chaos and unpredictability, but now his commute to work is just a bit simpler and less dizzying. The 2011 Cohasset High School graduate, who works full-time as a play-by-play broadcaster for ESPN and part-time as a pinch-hitter calling Red Sox games for NESN, currently announces games from inside his cozy Chicago bedroom.
"I can reach my arm out and touch my bed," Monaco told Boston.com. "That's how close it is. It's crazy, for sure."
Broadcasting college basketball games for a national audience in such an unusual manner is far from the life he envisioned as he set out to become a broadcaster, but Monaco is extremely grateful that he's still able to do what he loves during the COVID-19 pandemic.
Monaco played soccer, basketball and baseball in Cohasset growing up. He always knew he wanted to work in sports, but he wasn't sure exactly what specific avenue to pursue. Monaco said he "felt a strong pull" toward the University of Notre Dame, and there he gained experience with the student newspaper, a local radio station, and as a broadcaster.
Since graduating from Notre Dame in 2015, he's broadcasted games for the Big Ten Network, FOX Sports, and the Pawtucket Red Sox, among other stops, before landing the job with ESPN in November 2019.
That experience schlepping from Mississippi to Indiana overnight wasn't out of the ordinary. One time, he announced an 8 p.m. game at Georgia Tech, drove to Ocala, Florida, and slept for a few hours, then finished the trip to Fort Myers to call a Red Sox spring training game on NESN.
"The travel is far different now," Monaco said. "Just waking up, rolling out of bed, throwing on a dress shirt, and combing my hair."
Yes, he does comb his hair, but he doesn't typically put on dress pants or dress shoes. Monaco wears an ESPN polo or button-down shirt – sometimes it's tucked, sometimes it's not – and he notes with a laugh that his ties are "collecting dust" right now.
On the bottom, he usually wears sweatpants and running shoes. The way he sees it, wearing shoes makes it feel like he's really at a game instead of just sitting barefoot in his room.
"We get the backdrop situated so that it looks somewhat presentable, like I'm not sequestered in my bedroom, and we go from there," Monaco said.
Before the pandemic, he had one desk in his room. He was able to find another from someone in his building of his two-bedroom apartment, so he now has one parallel to the wall, looking out the window, and another running perpendicular to that one that basically buttresses his bed.
"If I want to walk past that desk, I have to turn myself sideways and slither by," he said.
No. 21 @DukeMBB hosts @WakeMBB today.

Coach K returns to the sideline after going in for another test at 6 AM today.

On @accnetwork with the great Dan Bonner at noon ET.

View is a little bit different today than my last trip to Cameron. pic.twitter.com/UqtpJfYgCr

— Mike Monaco (@MikeMonaco_) January 9, 2021
As for the setup, Monaco has one laptop where he sees an overview of what's happening and another nearby with stats. He looks at a program feed with what viewers see at home, along with an audio box with different knobs that allow him to talk to various colleagues. There's a camera on a tripod and a blinding light in front of him, and he has blackout curtains to keep the sound in the room and not bother his neighbors too much.
He primarily calls games with Dan Bonner, and the last time he saw Bonner in person was during a buzzer-beater at the Carrier Dome at Syracuse University last February. On most broadcasts, those involved are scattered around the country, collaborating from Bristol, Connecticut, and beyond.
🎙 @MikeMonaco_ & #DanBonner pic.twitter.com/A54QWTABhg

— The Montag Group (@TheMontagGroup) January 7, 2021
Once the action gets rolling, Monaco can adjust the crowd noise as high or as low as he wants. Sometimes, when he cranks it up at Duke's University's Cameron Indoor stadium, it almost feels like he's there. Make no mistake, though, it's not quite the same. Nothing about this is ordinary.
"I've got so many screens in front of me, it feels like you're at The Fours or Buffalo Wild Wings," Monaco said. "You've got your eyes going in a lot of different directions."
The situation also presents some atypical roadblocks outside of the broadcast itself. For instance, before a matchup between Wake Forest and Duke in early January, Blue Devils coach Mike Kryzyzewski was still in COVID-19 contact tracing protocols and his availability for the game was unclear. 
Typically, Monaco and his partner speak with the head coach the day before the game and then see him at shootaround the day of. This time, they talked with associate head coach Jon Scheyer the day prior and were stuck guessing from home whether Krzyzewski would coach. He did, which meant they had to adjust quickly and recalibrate. 
Monaco has covered one game in person – a five-hour drive from Chicago to Drake University in Iowa – but for the most part, he's been stuck at home like everyone else. The job may not be as glamorous at the moment, yet Monaco is incredibly thankful and appreciates all the behind-the-scenes employees who have helped the process seem routine at this point.
Haven't been at a college game in person since March, and it turns out I do remember how to tie a tie. Only took two attempts today.@ESPNU. 6et/5ct

Southern Illinois @ Drake pic.twitter.com/s4bS1PYROz

— Mike Monaco (@MikeMonaco_) January 3, 2021
While some announcers have consistently called games in person, Monaco is far from alone in his situation. He believes the fact that everything has run so smoothly is a testament to the colleagues he has around him. Now, national reporters such as Jeff Passan, Adrian Wojnarowski, and Adam Schefter, aren't the only ones speaking on ESPN from their homes, as the practice has become commonplace over the last year.
Some have more pristine setups than Monaco – and most of them can't reach out and touch their bed – but he has no complaints whatsoever. 
"It's pretty amazing to sit time zones apart and to be able to communicate in real time while there's a game going on in a different location," Monaco said.
Get Boston.com's browser alerts:
Enable breaking news notifications straight to your internet browser.