Media
Harvard grad student spotlights 'unsung' women Olympians in 'Flame Bearers'
The show, founded and hosted by Harvard graduate student Jamie Mittelman, tackles issues of race, pay equity, and disability bias from the perspective of women athletes.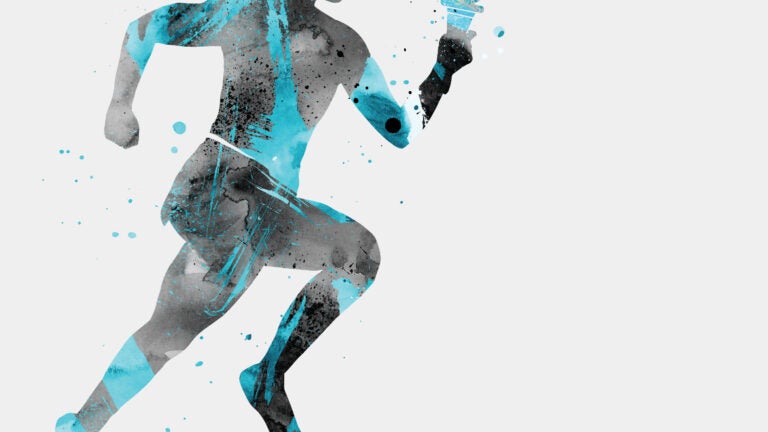 Every Olympic season, fans hear the amazing backstories of the athletes blazing down the track, setting records in the pool, and flying through the air during daring gymnastics routines.
But in an Olympic year unlike any other, Jamie Mittelman wants to tell you the stories you might never hear about the women who too often don't receive the same notoriety as their male counterparts.
Stories like how Maca McAffe and Tanya Beths, members of the Australian beach handball team, juggle full-time careers as a lawyer and a teacher, respectively, on top of their athletic training.
Or about how Tami Leonelli of Chile outlived the 18-year prognosis she was given when she was born with spina bifida to win gold in the Parapan American Games as a table tennis player and now has her sights on the Paralympics.
Or how Ezinne Kalu-Phelps comes to the 2021 Tokyo Olympics both as a basketball player for the Nigerian national team and as an entrepreneur who runs her own cosmetics company.
That's what you'll hear on a podcast called "Flame Bearers: The Women Athletes Carrying Tokyo's Torch," a show its founder and host Mittelman describes both as a means to showcase the "superhuman" women of the athletic world and as a call to action.
"We spotlight some of our world's greatest masters of resiliency, and then we try to arm listeners with calls to action for ways that they can stand with those athletes and support what they care about most about," she said.
Mittelman, a Harvard Kennedy School graduate student, started the podcast to specifically illuminate the challenges facing women athletes aiming to compete in this year's Olympics, including those participating in less-mainstream sports like handball, skateboarding, and sitting volleyball.
Her very intentional coverage of Paralympic athletes, in particular, comes as a direct challenge to what she sees as an ableist bias both in athletics and in the media.
"3.2 percent of sports media coverage is devoted to women's sports in the U.S., and of that, pretty much all of that goes to able-bodied athletes," explains Mittelman. "I thought it would be completely negligent to not cover Paralympians. "These are people who are at the top of their game but also have disabilities…the hurdles they've gone through are that much greater."
"When people think about diversity and inclusion, I think disability is something that is usually not a part of the conversation. And I think it needs to be."
Other topics the show tackles include mental health and self-image, breaking sex and gender barriers, and how athletes are increasingly using their platforms to speak out about racial injustice following the protests arising from the police killings of George Floyd, Breonna Taylor, and other unarmed Black people last year.
"I think the BLM movement is front-and-center for a lot of black athletes," Mittelman said, referencing an episode in which she spoke with U.S. Rugby player and Black athlete Naya Tapper on the topic. "The way that I pitched this opportunity to athletes is, this is their ability to tell the story that they want told. I don't go into every episode with an agenda. I say, 'What do you care most about?'"
Mittelman says the Kennedy School, which sponsors the podcast through its Women and Public Policy Program, helped her make the connections needed to get the podcast going but that word-of-mouth from athletes appearing on the show is boosting its profile.
Part of the reason she thinks some of her guests have told her "Flame Bearers" is "the best podcast they've ever done" and referring the show to their peers? She just gives them the chance to be heard.
"Very rarely is there a conversation around, 'What does it mean to be a woman athlete when you're not competing?'" Mittelman said. "I've found that a lot of the athletes are really excited to talk about who they are when they're not on the basketball court or when they're not on the track or not in the pool, because it is a huge part of who they are and what they do."
As far as who she's got her eye on for future episodes, her bucket list includes some names you might recognize.
"Naomi Osaka. I would absolutely die," she said. "I'm trying very hard for Caster Semenya. I've been in conversations with her manager for a while. I think the whole conversation around sexuality and sport in the U.S. is just completely blowing up right now…I would also say Simone Biles."
Mittelman's other ambitious goal: get herself on the ground at the Olympics themselves, though she admits that could be a long shot after the IOC barred international fans from traveling to the games.
"I feel like there's so much opportunity to be on the ground with these athletes and tell stories in real-time," she said. "I view my job as being the microphone for them."
Get Boston.com's browser alerts:
Enable breaking news notifications straight to your internet browser.