Media
Taylor Twellman is leaving ESPN, so what will he do next?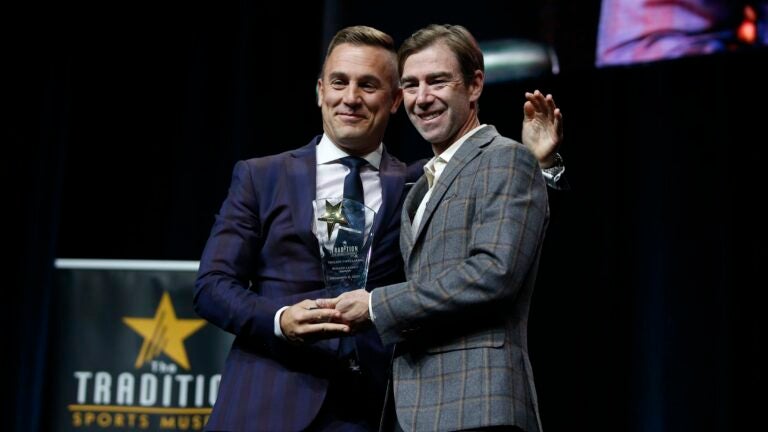 For those unaware of some of the decisions ESPN has made lately when it comes to soccer, it might have come as a surprise Friday afternoon when Taylor Twellman tweeted that, after nearly 13 years at the network, his time is coming to a close.
After all, the former Revolution star has been one of ESPN's most prominent soccer advocates and voices as the sport's popularity has escalated in the United States, taking another big leap with the recent men's World Cup.
And Twellman is knowledgeable, versatile, and engaging enough to continue to be a welcome contributor to debate and studio shows. So, what gives?
"It was 100 percent my decision,'' said Twellman, whose contract is expiring and was offered a new one. "We had gracious conversations, this wasn't anything of the sort of like arguing, fighting. It was just the right time, after 13 amazing years."
Twellman hasn't settled on his next move, but he has options, which include soccer media, a wider-ranging media role, and perhaps even a management gig somewhere. "I'm in the thick of figuring it all out," he said, "but I don't think it will take a lot of time."
Had Twellman re-upped with ESPN, he would have had somewhat of a change in roles. ESPN has drastically cut its soccer coverage, particularly in terms of rights deals, even as the sport grows more popular stateside.
It lost UEFA Champions League rights to CBS before the 2021-22 season, and is no longer a television home for MLS, which now has a streaming deal with Apple TV, while Fox holds the linear rights. The 2026 World Cup also will air on Fox, and because the US men's team, as one of the hosts, doesn't have to quality, there would have been minimal matches for ESPN to broadcast in the interim.
Twellman would have had some soccer responsibilities had he renewed with ESPN, but his role likely would have been more as a talking head than as one of the preeminent voices of soccer.
"The World Cup is coming to your backyard and now you're getting out of it, or at least cutting back. That is pretty telling," he said. "But you know me. No matter where I go, I'll be the biggest champion in the world for the sport."
Allegro made lasting mark
Jim Allegro, a former Holy Cross football star and longtime television executive who was a crucial, respected behind-the-scenes figure in shaping ESPN, died on New Year's Eve in St. Augustine, Fla. He was 88.
Allegro, who held prominent finance and operations roles at Capital Cities/ABC before joining ESPN, was chief financial officer and executive vice president at ESPN from 1990-95. In that time, he was instrumental in creating ESPN2, ESPN Radio, and the ESPYs.
But his greatest contribution was his leading role in founding the V Foundation, named after legendary college basketball coach and ESPN analyst Jim Valvano, who died of cancer in April 1993 at age 47. The foundation has raised more than $310 million in grants for cancer research. Allegro remained a board director emeritus of the V Foundation until his death.
Commendable reporting
When writing this past week about ESPN's in-the-moment coverage of Bills safety Damar Hamlin's collapse after a hit in Monday night's game, I emphasized the superb work done by Ryan Clark and Scott Van Pelt that night on "SportsCenter." One person I overlooked: Lisa Salters, the most trustworthy of sideline reporters, who time and again described the scene vividly but without delving into speculation. Salters was near tears at one point while talking about the pall cast over the stadium and the horrified looks on the faces of Bills and Bengals players, and while some might suggest reporters are supposed to be stoic, human emotion is welcome under such circumstances … CBS's No. 1 NFL broadcast team of Jim Nantz, Tony Romo, and sideline reporter Tracy Wolfson will call the important and sure-to-be-emotional Bills-Patriots game Sunday. It's their second Patriots game this season, the first being New England's 27-24 overtime loss to the Packers in Week 4. There are differing opinions on broadcasters, but I appreciated having CBS's No. 2 team of Ian Eagle, Charles Davis, and Evan Washburn on the last two Patriots games (Bengals, Dolphins). I'd take that trio every week.
Many eyes on Fenway
The Bruins' 2-1 win over the Penguins on Monday in the Winter Classic was the most-watched NHL regular-season game ever on cable, averaging 1.8 million viewers on TNT. That was up 31 percent over last year's Blues-Wild matchup, which drew 1.4 million viewers. The appeal of the Bruins and Penguins surely was part of the rise, but excuse me while I attribute most of it to the spectacular aesthetics of Fenway Park as a winter backdrop … Rich Keefe deserved better in WEEI's recent lineup reshuffling. He had built good-natured chemistry with Andy Gresh in middays, and he's worthy of a much more prominent role than weeknights. Meanwhile, Adam Jones's addition to WEEI's afternoon-drive program appears imminent. Mentions of Jones, the intramural Michael Felger, have mostly been scrubbed from 98.5 The Sports Hub's website, where he hosted the evening program until his contract expired at the end of the year … In case you missed it, the news of Rafael Devers's 11-year, $331 million contract extension with the Red Sox was broken on Twitter by Carlos Baerga. Baerga, who played for the Sox in 2002, also was first with Justin Verlander's signing by the Mets last month but has whiffed on some other reports. I might believe there's a trend of former Red Sox utility players coming up with scoops if Chris Stynes tells us how this Carlos Correa situation will be resolved.
Get the latest Boston sports news
Receive updates on your favorite Boston teams, straight from our newsroom to your inbox.