Media
Curt Schilling will debut a new baseball podcast this week
"The Curt Schilling Baseball Show" starts Feb. 24.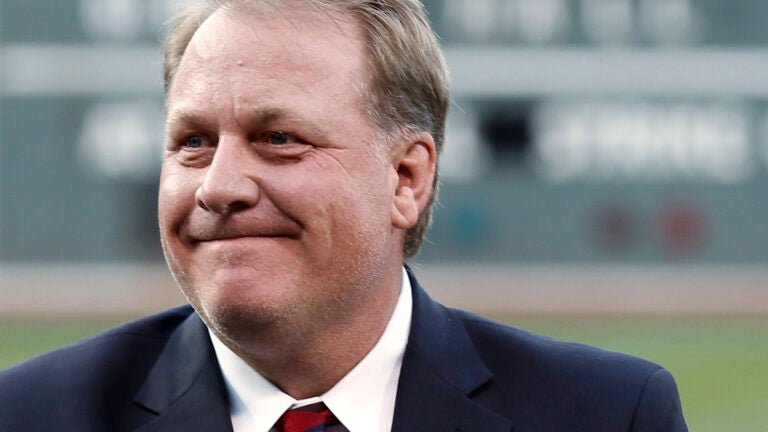 Former Red Sox pitcher Curt Schilling has a new media gig.
Starting this week, Schilling will host a podcast on Outkick, the platform founded by Clay Travis.
"The Curt Schilling Baseball Show" debuts on Friday, February 24, according to Front Office Sports. New episodes will air on Tuesdays and Fridays during spring training.
"I'm excited to be teaming with a group of motivated, focused people," Schilling said in a statement. "Who are intent on making OutKick a leader and most excited to talk baseball, and only baseball. After meeting the team and the opportunity to get back to the sport I love and focus only on that was too appealing to pass up."
Schilling worked at ESPN for six years before being fired in 2016 over a Facebook post about a North Carolina law that banned transgender people from using bathrooms other than the ones that correspond with their birth gender.
At the time, Schilling wrote: "A man is a man no matter what they call themselves. I don't care what they are, who they sleep with, men's room was designed for the penis, women's not so much. Now you need laws telling us differently? Pathetic."
Travis, who has since sold OutKick to Fox, said Schilling was one of the best baseball analysts in the country.
"OutKick is, and will always be, the strongest proponent for smart, original, funny, and authentic voices in all of sports," wrote Travis in a statement.
Schilling also defended the insurrectionists who stormed Capitol Hill on Jan. 6, 2021.
"You cowards sat on your hands, did nothing while liberal trash looted rioted and burned for air Jordan's and big screens, sit back, stfu, and watch folks start a confrontation for s*** that matters like rights, democracy and the end of govt corruption. #itshappening," tweeted Schilling.
A six-time All-Star and three-time World Series champion, Schilling won 216 games during his 20-year MLB career. He was named MVP of the 2001 World Series.
Schilling is in the Red Sox Hall of Fame and on the Phillies' Wall of Fame. He has not been elected to the National Baseball Hall of Fame.
Sign up for Red Sox updates⚾
Get breaking news and analysis delivered to your inbox during baseball season.