Media
CBS's Jim Nantz has seen it all. So, if he had to choose his one shining moment, what would it be?
Jim Nantz has called 37 Final Fours (this will be his 31st as CBS's lead announcer), eight Super Bowls, and — hello, friends — the Masters in April will be 38th.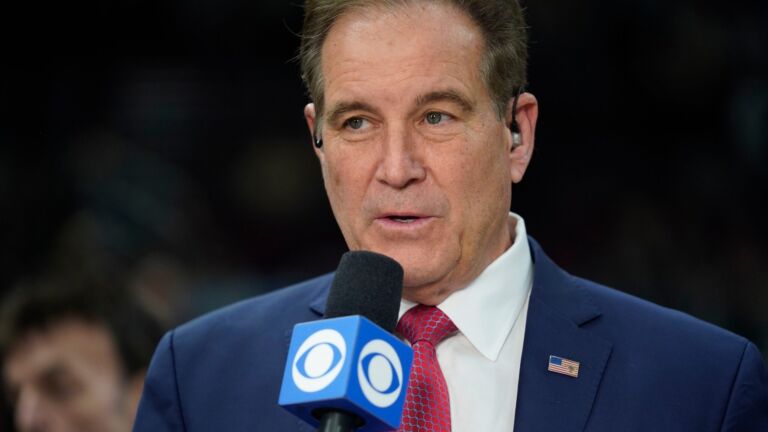 During his decades at CBS, Jim Nantz's voice has become synonymous with shining moments not just in the NCAA men's basketball tournament, but across the entire landscape of sports' biggest events.
Nantz has called 37 Final Fours (this will be his 31st as CBS's lead announcer), eight Super Bowls, and — hello, friends — the Masters in April will be 38th. He hasn't just seen it all, he's narrated most of it. Naturally, he is often asked whether he has a favorite moment in his broadcasting career.
He does. But it might not be the one you expect. I assumed it would be Tiger Woods-related — either his breakthrough win as a 21-year-old force of nature in the 1997 Masters, or perhaps his feel-good victory at Augusta National 22 years and countless life experiences later.
Nantz, now 63, savors those calls and many others, for sure. But it's a personal moment with a longtime friend that means the most to him. And as he calls his final men's Final Four for CBS — the always excellent Ian Eagle will slide into the No. 1 play-by-play next season — he acknowledges the possibility of it concluding with another moment that would mean the world to him.
"My favorite moment ever was being able to call Fred Couples's win at the 1992 Masters,'' said Nantz, who roomed with Couples and was his golf teammate at the University of Houston. "We used to practice that scene in college in our dorm room. I wanted to work for CBS since I was 11. All Fred wanted to ever do was win the Masters. We obsessed about it when we were kids. And then fast forward, more than a decade after graduation, that moment actually happened. It was realized and the world was watching."
Nothing is usurping Couples's win, a mutual dream realized, from the top spot. But Nantz said that if the University of Houston — the No. 2-ranked team in the country behind the University of Alabama entering the tournament — emerges as the national champion, that victory would vault to the runner-up spot on his list of all-time favorites.
"Houston, if they made it to the Final Four, if they won the national championship, then this would be right up there as one of the top two moments of my career," said Nantz. "A lot of people don't know that the basketball program really was my entrance into the business. I was completely tied to the Houston basketball program, more than anything else, to get me launched.
"Back as a kid, I was the public address announcer, I was the host of "The Guy Lewis Show" — our Hall of Fame coach — his television show that ran on the NBC affiliate. I was just a kid living in the dorms."
Nantz said he would have no trouble obscuring any rooting interests if Houston did make the Final Four, which conveniently takes place this year in … Houston.
"I would definitely be able to call [Final Four or championship games involving Houston]," said Nantz. "I'm trained to be able to look at things objectively, observe, and tell people what I see."
But he's not trying to obscure that such a scenario would be personally special.
"I get too nervous when I start thinking about that situation, but my mind wanders off many times, believe me," he said. "There's a long way to go. But I think there's a possibility that could happen."
Fans pay the price
There's no doubt that it's a drag when an anticipated NHL game — such as the Bruins vs. Connor McDavid's Oilers on March 9 — is broadcast only on the ESPN+ streaming service or Hulu. In a mythical sports television universe that put the needs of its viewers above all else, a game like that would be widely available. But we know by now that it's never about us, right? ESPN is trying to get people to pony up for ESPN+. It requires desirable games and events to get people to subscribe, even if they do so reluctantly. And don't forget, the NHL signs off on this. It's the price of getting ESPN to pay genuine attention to hockey again.
Snow profiled
Tuesday night at 10, HBO's "Real Sports with Bryant Gumbel" profiles Chris Snow, the former Red Sox beat writer for the Globe and current assistant general manager of the Calgary Flames who, four years ago, was given a year to live after being diagnosed with the same form of familial ALS that killed his father, two uncles, and a cousin. Snow has continued in his job for the Flames despite the toll of the cruel and incurable disease. Snow and his wife, Kelsie, are extraordinarily admirable people, and correspondent Jon Frankel treats their story with the grace they deserve.
Get the latest Boston sports news
Receive updates on your favorite Boston teams, straight from our newsroom to your inbox.