Media
What do Red Sox announcers Joe Castiglione and Dave O'Brien think of baseball's rule changes?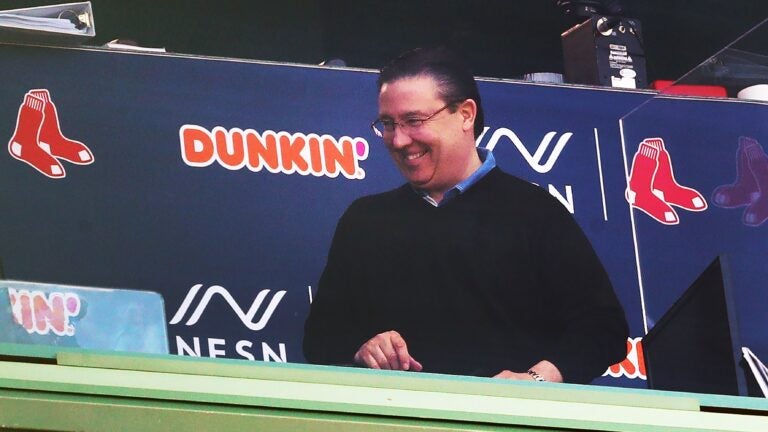 The Red Sox opener Thursday will mark the beginning of Joe Castiglione's 45th season calling Major League Baseball and his 41st as the radio voice of the home team at Fenway Park.
Corey Kluber's first pitch will also commence Dave O'Brien's 34th season as an MLB broadcaster. He has been with the Red Sox since 2007, first in the radio booth alongside Castiglione, and since 2016 as the play-by-play announcer on NESN.
That's thousands of innings. They've witnessed baseball go through various phases from their perches high above the action. In recent years, they saw baseball become a slog, with games routinely lasting 3½ to four hours.
And after getting a look this spring at baseball's various rules designed to speed up the game — most notably the introduction of a pitch clock — they've loved what they're seeing, and have no concerns with how the changes might affect broadcasts.
"It's baseball at its most appealing, I think," said Castiglione. "I'm a fan of the changes, definitely. Definitely.
"The pace is great. I think people find it much more entertaining. There's so much more action in the game. For [broadcasters], it keeps you alert the whole time, very little time between pitches. If you're telling a story, you've got to time it pretty well or be very concise. Your conversations with your partner have to be tight. But there's not a huge difference, really."
O'Brien said there were some concerns among fellow broadcasters before spring training began that the pace might turn out to be too quick, leaving little room for conversation between the play-by-play voice and the color analyst or to do the various ad and promotional reads that populate every broadcast.
"It was like, 'How are we going to get this in the broadcast and that in the broadcast?' " said O'Brien. "But if you think about it, if you've been around baseball awhile, this isn't unfamiliar. When I came up doing this 35 years ago, games were routinely under three hours. And nobody ever talked about how fast the game was going. And if you had a game that ended in around two hours, that was found money.
"For broadcasters who have been doing this awhile, this feels familiar, and pretty close to the most appealing version of the game. There's a lot of action out there. Ground balls are getting through, and if they don't, it's because a middle infielder made a great play. Players are stealing bases again. You're seeing athleticism coming back."
O'Brien even offers a word of friendly warning to fans who may not have watched any spring training action.
"Opening Day, it's going to hit you right in the face how fast it is," he said. "It's going to feel a little like whiplash. It's unbelievable. The pace is phenomenal. I think fans are going to love it."
O'Brien's only gripe is that the rule changes didn't happen sooner.
"This should have happened 10 years ago," he said. "People don't have endless amounts of time anymore to dedicate to a sporting event.
"And a breezy broadcast is better for everybody, too. We spent so much time over the last 20 years filling four-, 4½-hour games. We're boring ourselves to death sometimes. That wasn't fair to anyone. Those days are gone."
Castiglione and O'Brien said they are more optimistic about the Red Sox than they were when spring training began. Castiglione is a big believer in rookie first baseman Triston Casas, in particular.
"I love Casas," he said. "This kid knows the strike zone. He has real power, and I love his personality. He reads books on baseball history. He's an individual, too, quite a character.
"I said, 'Why did you paint your fingernails red?' He said, 'Because I liked the color,'" Castiglione chuckled. "Simple enough."
O'Brien remains the primary play-by-play voice on NESN, with Mike Monaco scheduled to call some games along the way. After Dennis Eckersley's retirement last October, Kevin Youkilis will be the most frequent analyst this season, with approximately 70 games on his docket. Promising Will Middlebrooks, Lou Merloni, Kevin Millar, and Tim Wakefield (as a third voice offering a pitcher's perspective) are also getting reps in the booth. Jahmai Webster is back as the sideline reporter.
On the radio side, Castiglione will call 81 games this year, including 60 at Fenway. It was his decision to reduce his schedule. Will Flemming will call the majority of games, while Merloni will also be a familiar presence on these broadcasts. Sean McDonough, always a welcome voice, will also return to call in the range of 25 games.
Castiglione, who turned 76 on March 2, has two years left on this contract. Is he thinking about retirement?
"We'll play it by ear, see what my wife thinks," he said. "I've been blessed with great health. So I don't anticipate any issues."
Still love going to the ballpark, Joe?
"Oh, yeah, still love it," he said. "And I think I'll love it more with quicker-paced games."
Sign up for Red Sox updates⚾
Get breaking news and analysis delivered to your inbox during baseball season.