Media
Upon further review, some Sports Emmys were won by wrong teams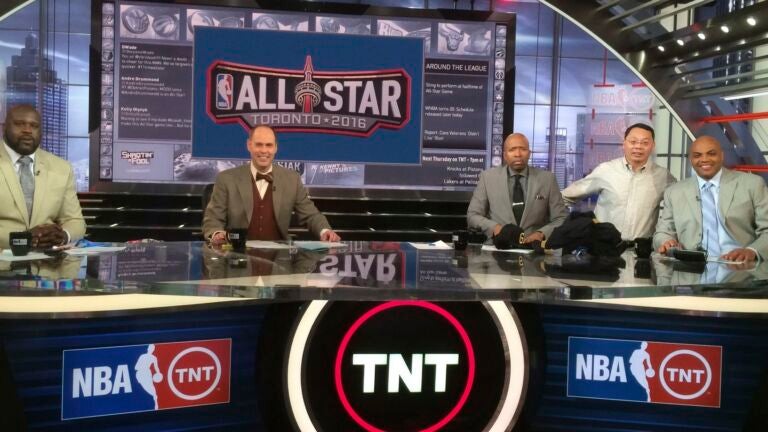 While the Sports Emmys are meaningful in matters of professional status and robustness of ego for those television broadcasters who have a chance at collecting one or two (or in Bob Costas's case, a record 23), the general sports-viewing populace doesn't pay them much attention. Even the ESPYs, which, at its essence, is summer programming filler during a slow time in the sports calendar, get more buzz.
Fans know which broadcasters they like, and a gold statue isn't going to change that. Did I mention that Cris Collinsworth is a 16-time winner . . . the same as John Madden? Yeah, I'm not sure they have quite the same Q-rating among NFL devotees.
Still, the Sports Emmys can be fun to monitor, if only to see if the "Blue Ribbon panels" — its term for its judges, whose requirements include having had a body of work in sports television at the national level — jibe with the opinion of fans, or, for that matter, your friendly neighborhood sports media columnist.
This year's winners were announced in a ceremony last Monday night in New York. Here are three surprises to me — one they got wrong, one they got right, and two connected outcomes that were half right.
· Incorrect call: "Fox NFL Sunday" winning Outstanding Studio Show, Weekly.
"Fox NFL Sunday," featuring the longstanding lineup that includes Curt Menefee, Terry Bradshaw, Howie Long, Jimmie Johnson, and Michael Strahan, felt tired this past year.
Even if it had been excellent, it has no business winning over TNT's "Inside The NBA," which is the best studio program of all time in any sport and remains the unattainable standard for every other studio program.
"Inside The NBA" did win for its playoff coverage, but that's a cop-out. This is the television equivalent of voting Charles Barkley — the funniest and most irrepressible personality on "Inside The NBA" or anywhere else — over Michael Jordan for the 1992-93 NBA MVP. The predictable choice is usually the right one.
· Correct call: Fox's Greg Olsen winning Outstanding Personality, Emerging On-Air Talent.
Talk about rising to the occasion. Olsen, the longtime tight end who was in just his second full season as an NFL color analyst, moved into the No. 1 booth during the 2022 season after Joe Buck and Troy Aikman departed for ESPN.
Olsen's promotion wasn't necessarily by default — he had received mostly positive reviews the previous season on the No. 2 team alongside Kevin Burkhardt — but it was fair to wonder whether he was ready for such a high-profile gig in a season in which the network had the Super Bowl.
Olsen wasn't just ready, he was a revelation. He doesn't get caught up in jargon, comes across as naturally humorous and self-deprecating, and has the innate ability to diagnose what went right or wrong with a play seconds after it happened. I'm not sure how good Fox knew he was . . . but he is really good.
As perhaps you have heard, Tom Brady is set to join the Fox booth in the 2024 season after agreeing to a $375 million contract in May 2022. That was before he retired, and before Olsen was promoted while the network waited for Brady to determine his arrival date.
I'm in what seems to be a minority right now: I think Brady, who is in the process of buying a minority partnership with the Raiders, will eventually join Fox. But it is highly unlikely that he'll be as good as the top analyst the network already has.
· Half-right call: Outstanding Personality/Studio Host and Studio Analyst.
In the minutes and hours after Bills safety Damar Hamlin collapsed after taking a hit to the chest in a Jan. 2 "Monday Night Football" broadcast, "SportsCenter" host Scott Van Pelt was left to navigate the frightening situation — and the collective dread that we may have just watched Hamlin die on the field — after the game was postponed.
Van Pelt, along with analysts who included former Steelers safety Ryan Clark, handled the fear and uncertainty with grace, emotion, compassion, and an utter refusal to speculate. They were exceptional, the best of what ESPN can be, the best of what sports broadcasting can be, and a comfort in an unsettling situation.
Both Van Pelt and Clark were deserving of an Emmy for the job they did that night. Clark won one, as Outstanding Personality/Studio Analyst. Van Pelt was a nominee for Outstanding Personality/Studio Host, but the award went to NBC's Mike Tirico. Tirico is excellent, but no one could have done a better job on that unsettling Monday night than Van Pelt.
Get the latest Boston sports news
Receive updates on your favorite Boston teams, straight from our newsroom to your inbox.