Media
Bang! ABC/ESPN's Mike Breen enters rarified air in Game 5 of NBA Finals with 100th broadcast
When including radio, Breen is the third to reach 100 NBA Finals games, joining legendary Lakers voice Chick Hearn (121) and Boston's Johnny Most (103).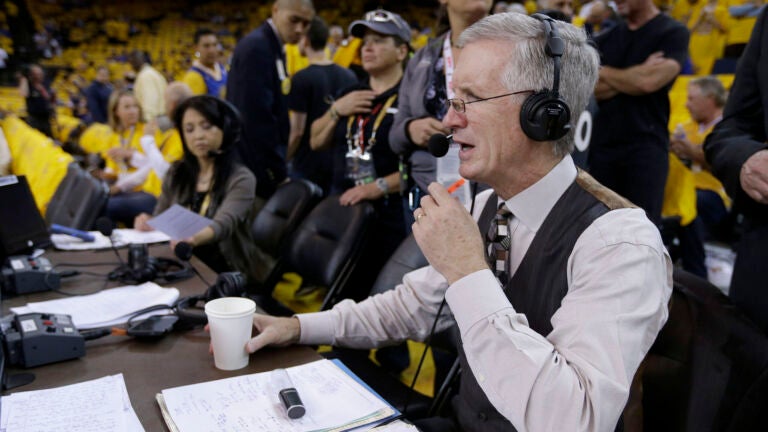 Mike Breen is currently the dean of television announcers for the NBA Finals — and he is about to enter rarified air space.
The ABC/ESPN announcer will reach another milestone on Monday night in Game 5 of the Denver-Miami series. It will be Breen's 100th NBA Finals broadcast, making him the third basketball announcer on radio or television to reach that mark. He'll be the sixth U.S. play-by-play voice to eclipse the mark, including the World Series and Stanley Cup Final.
Breen missed the first two games of last year's series due to COVID, which briefly delayed him from reaching the century mark.
"I knew how many years I had done the finals, but I never put it into a specific number of games," said Breen, who is calling his 18th championship series. "I would have never said 100. For some reason, to hear that number was surprising to me, and it's not something even in my wildest dreams that I thought I could do.
"I take it as an honor to reach that mark that I've been able to do that many."
Joe Buck did 135 World Series games for Fox, and Mike "Doc" Emrick was at the mic for 110 Stanley Cup Final contests on ESPN, Versus, NBC and NBCSN.
When including radio, Breen is the third to reach 100 NBA Finals games, joining legendary Lakers voice Chick Hearn (121) and Boston's Johnny Most (103). In baseball, Hall of Fame announcer Vin Scully had 126 World Series games on radio and television.
The ultimate longevity test for an announcer is reaching the century mark in baseball, hockey or basketball.
This is the 21st consecutive NBA Finals for ABC/ESPN. Before ABC/ESPN took over the broadcast rights, the finals were on NBC for 12 seasons (1991-2002) and 17 on CBS (1974-90). Before Breen's run, CBS' Dick Stockton and NBC's Marv Albert shared the TV record with nine finals.
Breen's rise to prominence — along with his signature "Bang!" call when a player knocks down a 3-pointer — began in 1991 when he was hired as the New York Knicks radio announcer before he shifted to the television seven years later. He did some games for NBC for five seasons and then joined ESPN in 2003.
Breen was under contract to NBC for one more year after it lost the NBA rights. He joined ESPN in 2003 and became the top NBA voice in 2006 after Mike Tirico shifted to "Monday Night Football."
"I just cold-called (ESPN EVP Mark Shapiro). He asked why I had not called him earlier. And he hired me right away," Breen said. "After NBC lost the NBA, I was pretty down because I wanted to do the NBA. When Mark hired me, I got to do a full slate of games and I was back in it."
Coincidentally, Breen's first NBA Finals in 2006 was also the first appearance for the Miami Heat. It is the seventh time Breen has called a championship series involving the Heat.
Breen called the '06 finals with Hubie Brown, but the last 17 have been with Jeff Van Gundy at his side. Add in Mark Jackson, and it is the 15th time the trio has worked the NBA Finals together.
Before they came to ABC/ESPN, Breen had a rapport with Jackson and Van Gundy from their days with the Knicks.
"To start my NBA broadcast career with the team where Jeff was assistant coach and Mark was a player, the foundation of the friendship was built early," Breen said. "To have that comfort level on the air and knowing and trusting that your partners, whatever you throw at them, they're going to be able to deal with and handle makes my job so much easier."
His job has been more difficult this year. He and his family's Long Island home was completely destroyed by fire last October. Breen said in addition to the personal loss, all of his charts, notes and statistics were destroyed. But he continues to get support from family, friends and colleagues.
"Every time they find something" that survived the fire, Breen said, "you felt like you won the lottery because it was something you felt you lost."
Sign up for Celtics updates🏀
Get breaking news and analysis delivered to your inbox during basketball season.