Media
'Toucher & Rich' still owns morning drive, but WEEI's 'Greg Hill Show' is creeping into the rearview mirror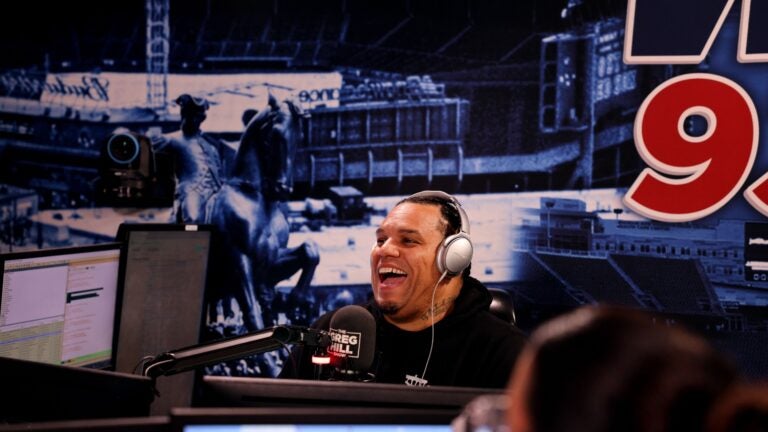 Cutting through some static on the Nielsen Audio spring sports radio ratings that were revealed this past week…
"Toucher & Rich" finished first with relative ease in morning drive with a 21.4 share in the targeted men 25-54 demographic, the highest of any weekday sports show in the market during the three-month period.
I don't want to overlook that as an impressive feat. It's easy at this point to take those 20 shares for granted since they're nothing new to the Sports Hub, but it wasn't that long ago that such a number was unprecedented for a daily sports radio program, at least in the 13 years I've been covering sports media.
That "Toucher & Rich" earned such a large share while navigating well-documented tension among hosts Fred Toucher and Rich Shertenlieb, and Toucher's absences while he dealt with a vocal cord problem, speaks well of the loyalty of the show's listeners.
But there was a compelling shift in the last month of the ratings period that left one wondering whether more casual listeners drifted over to their competition during the height of Toucher and Rich's drama. WEEI's "The Greg Hill Show" finished second in the spring, a good distance back with a solid 8.6 share. But the month-to-month trends during the spring ratings period were encouraging to say the least for the program.
In the first month of the book, which covered March 30 to April 26, "Toucher & Rich" crushed Hill's show by more than a 20-share difference, 26.3 to 6.2. WEEI's show chipped away at that massive advantage in the second month (April 27-May 24), putting up a 9.7 share to T&R's 22.0
The third month of spring ratings is where it really gets interesting. In the period of May 25 to June 25, "Toucher & Rich" dipped to a 14.7 share, which was still good for first place in that stretch. (Toucher returned to the air on June 2.) But Hill's show was less than a 5 share behind, finishing with a 10.2 for the month.
Mike Thomas, senior vice president and market manager for WEEI's parent company, Audacy Boston, attributed some of the progress to the Hill show's in-person engagement with its listeners.
During the spring, Hill and the show's co-hosts — which include Jermaine Wiggins, Courtney Cox, and Chris Curtis — broadcast from seven different locations on that it called its "New England Road Show.''
Hill is an expert schmoozer, and Thomas said in an email that he thought the road show was "a point of differentiation for us … Greg is great at it.
"Sometimes, when you go out and do events and try to grow your audience one handshake at a time, you don't see the results in Nielsen. This time we did and the station benefitted."
It's going to be fascinating to see whether this is sustainable; not so much in the summer book (the least relevant period), but in the fall, when the Patriots are in season and sports radio tends to thrive.
All of the Sports Hub's daytime programs saw their share dip in the third week of the book, but Hill's show was the only WEEI program to make notable gains in the same stretch. The Sports Hub is the home for Celtics and Bruins broadcasts, so their departures from the postseason might have been a factor in the slip from massive ratings to merely excellent ones.
The second-most successful daypart for WEEI during the period was evenings (7 p.m.-midnight), which finished second to the Sports Hub with a 7.2 share. Some of that is probably due to carrying Red Sox broadcasts in that window, but it's satisfying to see nighttime host Rich Keefe be connected to some strong ratings. He's WEEI's most entertaining host and hasn't had the fairest shake.
Reynolds was one of the greats
One of the perks of being an editor and producing the sports section every day in my first newspaper stop in Concord, N.H., years ago was having access to the work of superb columnists from all over the country on the Associated Press wire service. That's how I got introduced to the wonderful Joe Posnanski, then in Cincinnati, and Michael Wilbon at the Washington Post, and it was also how I became a fan of Bill Reynolds at the Providence Journal. Reynolds, who passed away Thursday at 78, was an accomplished writer in multiple forms (his "Fall River Dreams,'' is a top-10 favorite sports book, and "Big Hoops,'' on the 1988-89 Big East season, isn't far outside of that top 10). But what I really looked forward to reading was his whimsical Saturday column of one-liners and observations, titled "For What It's Worth." If you weren't familiar with that column, Boston Sports Journal's John Karalis captured the spirit of the thing with a wonderful homage to Reynolds this week.
Get the latest Boston sports news
Receive updates on your favorite Boston teams, straight from our newsroom to your inbox.