Media
Tuning in to latest on Mike Giardi, 'Hard Knocks,' and the NBA on ESPN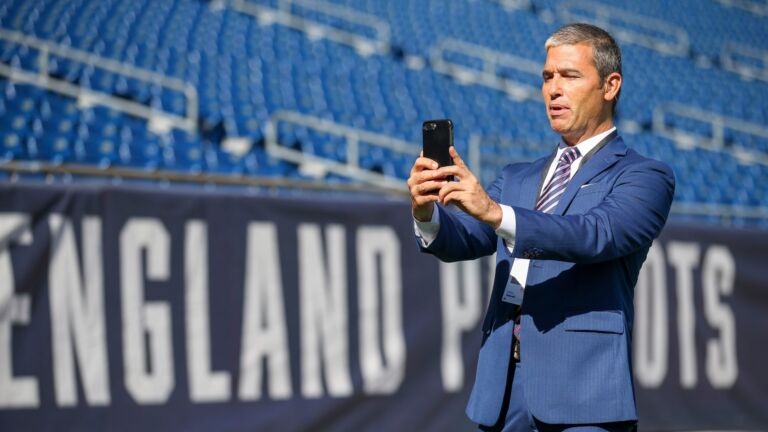 Moving up and down the dial while ignoring your betting advice . . .
· Happy to see Mike Giardi popping up in his old TV neighborhood on NBC Sports Boston from time to time. He's as plugged in and trustworthy as anyone who has reported on the Patriots during Bill Belichick's tenure, and he got a raw deal when he was laid off by the NFL Network in March. Jim Trotter, who grilled commissioner Roger Goodell about NFL Media's lack of diversity at Super Bowl news conferences two years in a row, was also laid off at the same time. The suspicion that Giardi was collateral damage in the NFL's frustration with Trotter – it would have been too obvious to just let the guy who kept asking uncomfortable questions go – has not waned at this address.
· Grand expectations and the New York Jets usually end up playing out like a script for a dark comedy. Maybe this year will be different with a talented defense and Aaron Rodgers at quarterback, but this year's edition of "Hard Knocks" will likely provide some foreshadowing should it ultimately go haywire. "Hard Knocks" has been around since 2001, and the most entertaining season was probably when the Jets were last the subject, in 2010, when Rex Ryan got his snacks and Patriots fans got their first look at future fan favorite Danny Woodhead.
· Nothing is imminent, but the buzz at ESPN is that Doc Rivers and Doris Burke will join Mike Breen on the network's top NBA broadcast team next season. It's ridiculous that Jeff Van Gundy, the most insightful and humorous NBA analyst on any network, was part of ESPN's recent layoffs. Breen, Burke, and Rivers (provided his voice holds up) would make for a solid team, but it's still a net negative with Van Gundy's departure. Should this scenario play out, Mark Jackson would likely move to the second team with Mark Jones.
· J.J. Redick has also been mentioned as a possibility. His "The Old Man and the 3″ podcast is terrific — his status as a 15-year NBA player and willingness to ask tough questions leads to guests opening up in a way that they don't often do with conventional media. (An episode this past week with Grant Williams offered welcome illumination on Joe Mazzulla's first year as Celtics coach.) But joining the top broadcast team would be a big leap. He was the dominant presence on ESPN's NBA Draft coverage, and not always in a good way, since the informed Jay Bilas was marginalized.
· Fox Sports continues to treat its baseball broadcasts like the Red Sox-Yankees rivalry is in its heyday, particularly with its studio show, and I'm not sure who wants this. Kevin Burkhardt is always game as host, but Alex Rodriguez remains inauthentic and weird, Derek Jeter has the weary look of a dad who spent the last five hours in a car with his kids and they long ago called his bluff about turning the car around, and David Ortiz is just there to needle both of them about 2004. OK, I suppose that last part is fine, at least around here.
· As previously reported, WEEI's "The Greg Hill Show" significantly closed the gap in June, the final month of the spring Nielsen Audio ratings, with 98.5 The Sports Hub's "Toucher & Rich" program. T&R, a longtime ratings monster in morning drive, got a 14.7 share in March, while Hill's show had a 10.2. The dip by "Toucher & Rich" as a lead-in affected the afternoon "Zolak & Bertrand" show, which fell from a 23.6 in May to a 13.5 in June. But WEEI's "Gresh and Fauria" didn't gain that audience, receiving a 5.5 in June, up 0.1 from May. Many listeners do turn to music in the summer.
· Dan Patrick set the stage for a long goodbye this week, signing a four-year contract extension with Fox Sports and iHeart radio and announcing that he plans to retire when that deal expires in 2027. His show, which also airs daily on the free version of Peacock, has always been my palate cleanser when I need a break from Boston sports radio for a couple of hours. Glad retirement is years away.
· Brian Barrett's "Off The Pike" Boston sports podcast for The Ringer is an essential listen. (Full disclosure: I've been a guest a couple of times to discuss Boston media matters.) It's never better than when he has Red Sox manager Alex Cora on, which he did this past week. Cora clearly likes Barrett and offers rare candor about his team.
· Just checked. Still don't care about your bets.
Get the latest Boston sports news
Receive updates on your favorite Boston teams, straight from our newsroom to your inbox.