Media
Rich Shertenlieb leaves 'Toucher and Rich' program on The Sports Hub
Co-host Fred Toucher announced at the top of Friday's show at 6 a.m. that Shertenlieb was no longer part of the morning radio show.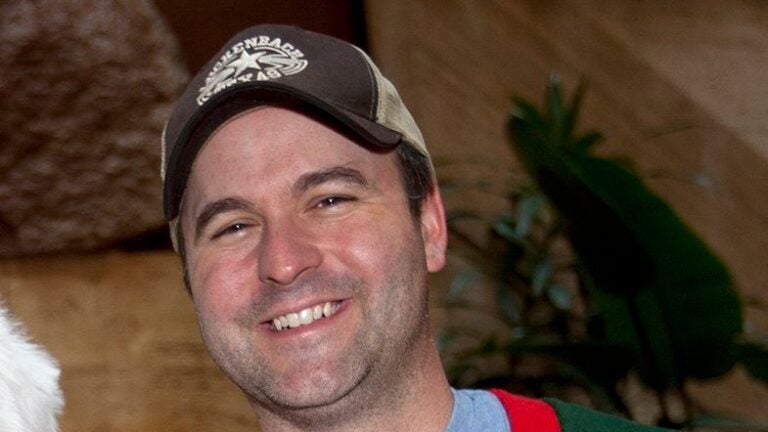 "Toucher and Rich," the highly-rated, humor-focused 98.5 The Sports Hub program that served as the morning bedrock for the radio station's rapid rise to ratings success, is no more.
Cohost Fred Toucher announced at the top of Friday's show that cohost Rich Shertenlieb was no longer part of the program and that Thursday had been his last day.
"Rich is not coming back," said Toucher near the end of a 20-minute segment in which he explained how their radio partnership got to the point of breakup.
The end of the show, which also featured third voice Jon Wallach, is not a surprise; for months there had been tension between Toucher and Shertenlieb, longtime radio partners who first worked together in Atlanta before coming to the Boston market at WBCN in 2006. But the abruptness is stunning.
Toucher said he found out that Shertenlieb was done at 98.5 The Sports Hub while driving home after Thursday's show.
"We do the show, we have the meeting after the show," he said. "I'm in my car driving back, and I get a call that yesterday was Rich's last show on the station. I assumed Rich was going to be here; we all assumed Rich was going to be here."
Shertenlieb provided a statement via email Friday, saying it wasn't his decision to leave the show so suddenly.
"I've got nothing but gratitude for the 98.5 The Sports Hub listeners that have shared their mornings with us,'' he wrote. "My thanks to the listeners, and to each member of the Toucher & Rich show and the team at the station. To the T&R team, I've appreciated your efforts and waking up early every day and sharing all the fun we've had together. You're an incredible group of guys.
"There's a lot to say and a lot more fun to have, and when we connect again every day, my commitment to you will be the same as it's always been, to have a great time together.
"It was not my decision to not say goodbye on the radio, nor was it my plan to leave the program and station this soon, but just know that I'll be announcing my plans in the near future. But for today, know that I TRULY LOVE YOU ALL and appreciate you sharing your time with me and the guys, and I can't wait to share what's next."
Beasley Media Group, The Sports Hub's parent company, provided a brief statement, saying, "We value Rich's contributions to the show over the years. Beasley offered to renew his contract for multiple years on terms better than his existing contract. He never accepted. We wish him the best."
Mike Thomas, one of the executives who put together the original Sports Hub lineup in 2009, is now in charge of WEEI as senior vice president and market manager for parent company Audacy Boston. When asked if he would consider bringing Shertenlieb to WEEI, he replied, "No comment."
In the past, Toucher and Shertenlieb had negotiated contracts together. But this year, they did it separately. Their deals were set to expire at the end of the year, but Toucher signed a multiyear extension last month. Neither Shertenlieb's name nor the name of the show was mentioned in the press release announcing Toucher's new deal.
"The prevailing wisdom in radio is if you're a team, you negotiate together because you have more value together as you do apart,'' said Toucher.
"Earlier this year, Rich said some stuff on and off the air about me that I didn't like. So I texted him some things that I had been holding on to from the course of our relationship that he did not like. And around that time or around maybe a little bit later, his agent told my agent, hey, maybe it's better if the guys negotiate separately. We've always negotiated as a team.
"During this whole process of the negotiations, we weren't talking. We talked about music and stuff like that off the air, but we never, ever, ever talked about the negotiations."
Toucher said on the air that management "wants me to say the station made him a multiyear offer for more money, that he chose not to accept. I knew that they weren't really getting anywhere in their negotiation. But I don't have any idea what the issues between them were. I don't. So I can't speak on it."
Tension plagued the show over the past several months, spilling onto the airwaves and social media. During a meeting with management in May, Shertenlieb accused Toucher of creating a hostile work environment.
Toucher had dealt with throat problems in the previous months, requiring serious treatment and a leave of absence. While he was absent, he posted on social media that Shertenlieb and others show personnel hadn't checked in to see how he was doing, which he later acknowledged was untrue. Shertenlieb was not on the show when Toucher apologized, having taken a sick day.
"When I was out with all of that, I got into a problem with Rich that became public," said Toucher. "He went to management. We had a meeting [in May] that was very, very bizarre.
"But after the meeting, I did what management wanted me to do. They asked if I would do something, I agreed. I thought the problem would go away if I bit the bullet. And from that point on, I thought it would be business as usual."
Save for occasional awkwardness, the show sounded the same in recent months. But Toucher acknowledged Friday that despite a long and successful history, they were never close off the air.
"I've known him for over 20 years," said Toucher, "but I don't really know anything about him."
No matter what their relationship was like when the microphones were turned off, their show was a remarkable success.
"It was a great partnership in that Rich was a great ideas guy," acknowledged Toucher, the more improvisational of the two.
"Toucher and Rich" became The Sports Hub's morning program upon the station's debut in August 2009, after WBCN was shut down. The Sports Hub soon overtook its established sports-radio competition, WEEI, in what are now called the Nielsen Audio Ratings, and the station remains a huge ratings success today.
In the most recent ratings book, "Toucher and Rich" was the No. 1 program in morning drive (6-10) during the summer in the men 25-54 demographic, finishing with a 15.3 share.
Fall ratings — Toucher and Rich's last period together in their 17 years in Boston — will be available Dec. 27.
Get the latest Boston sports news
Receive updates on your favorite Boston teams, straight from our newsroom to your inbox.