MLB
Game 7's heroes and goats, inning by inning
Relive all the twists and turns of the climatic game of the 2016 World Series.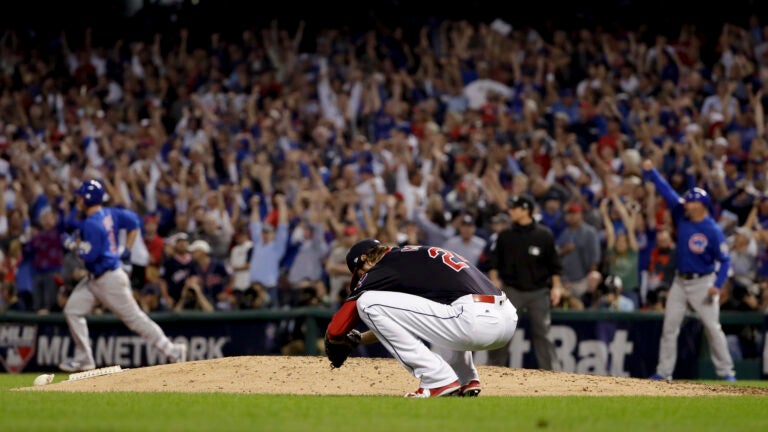 COMMENTARY
Game 7 had it all. Joy. Woe. Excellence. Incompetence. Free baseball. Costly miscalculations. Redemption. Rain. A drought. That curse. An Anchorman quote. Unlikely sluggers. Exhausted aces. Evocations of Grady Little. Exultation for Theo Epstein. And, of course, it had Bill Murray.
Over 10 tumultuous innings, plot twists abounded as the narrative unfolded. Heroes emerged, their actions Vine'd and retweeted. Goats blundered, their miscues lambasted on Twitter and meme'd. Some of those goats — not the infamous billy goat allegedly responsible for the Cubs' 108-year run of bad luck, of course — later earned cheers. Such was the ebb, flow and whoa! of the night.
When it was all over, the Chicago Cubs had defeated the Cleveland Indians, 8-7, to win the 2016 World Series, overcoming a 3-1 series deficit. Here is an inning-by-inning look at the dramatis personae:
1st Inning
The stage was set. The players were in place at Progressive Field for the first pitch not long after 8 p.m. ET, notably Indians pitcher Corey Kluber, who earned the win in games 1 and 4. He was vying to become the first pitcher to start and win three games in a single World Series since Mickey Lolich of the Detroit Tigers in 1968. Then this happened, on his fourth offering of the night.
Hero: Dexter Fowler
Hero: Kyle Schwarber, baserunner
On his 1st-inning steal, @kschwarb12 was nearly two-thirds of the way to 2nd when the pitch was released. pic.twitter.com/fIUPMgocdH

— #Statcast (@statcast) November 3, 2016
Kyle Schwarber, who has half a knee and is basically Matt Stairs Jr., just stole second base standing up.

— Jonah Keri (@jonahkeri) November 3, 2016
2nd Inning
After surrendering a run to the first batter of the game in a lackluster first inning, Kluber put a zero on the scoreboard for Cleveland in the second, with some help from his defense and the Cubs' aspiring speedster. In the bottom half, Cubs starter Kyle Hendricks reminded everyone that not all pitchers on his staff are incapable of throwing to first.
Hero: Lonnie Chisenhall
http://m.mlb.com/video/topic/63106348/v1210898983/ws2016-gm7-chisenhall-gets-schwarber-at-second
Goat: Kyle Schwarber, baserunner 
Kyle Schwarber getting thrown out at second is proof that some things aren't possible. Let some of your dreams be dreams. #game7 pic.twitter.com/6gjIqiX5Zm

— What's Trending (@WhatsTrending) November 3, 2016
Hero: Kyle Hendricks
Kyle Hendricks with another pick off! #Cubs #WorldSeries pic.twitter.com/kQ6SBVJSW9

— ✶ Sports Mockery ✶ (@sportsmockery) November 3, 2016
3rd Inning
With the Cubs still holding a 1-0 lead after two innings, veteran outfielder Coco Crisp led off the home third with a double to left. After advancing on a Roberto Perez sacrifice, he scored the game-tying run on a single by Carlos Santana. Following his equalizing RBI, Santana found himself involved in a play at second base that left the umpires and Javier Baez looking bad.
Hero: Coco Crisp
Goat: Javier Baez and umps
.@Indians challenge call that Carlos Santana is out at 2B in the 3rd; call overturned, runner is safe. https://t.co/iGrPKXc88f pic.twitter.com/YGQwflXVrA

— MLB Replay (@MLBReplays) November 3, 2016
Hero: Instant replay
See above.
4th Inning
The heart of the Cubs' order broke the tie in the fourth, providing reminders of the potency of Chicago's offense and the difficulty of pitching a Game 7 on short rest. Hendricks then retired the American League champs in order to preserve a 3-1 lead through four.
Hero: Kris Bryant
SAFE! Under the tag! #Game7 pic.twitter.com/ausiWLqXCQ

— MLB (@MLB) November 3, 2016
Goat: Rajai Davis
Bryant should have been dead to rights. Davis assumed he wasn't going. Lots of tight baseball.

— Seth Mnookin (@sethmnookin) November 3, 2016
Hero: Kyle Hendricks
TOP 5TH: Hendricks proving he wants to stay in this game. Sends them down 1-2-3. #Cubs lead 3-1.

— Chicago Sports ⚾️0️⃣ (@MyChicagoSports) November 3, 2016
5th Inning
Like his predecessor in Boston, Terry Francona may have left a trusted starting pitcher on the mound a bit too long in an elimination game. With his Indians already trailing, 3-1, to start the fifth inning, Francona let Kluber begin the frame. That choice was rewarded with a leadoff homer from Chicago's Javier Baez, redeeming himself for some previous fielding misadventures. Indians relief ace Andrew Miller, the MVP of the American League Championship Series, replaced Kluber following the longball, surrendering an RBI single to Anthony Rizo. Perhaps wanting to avoid a similar mistake, Cubs manager Joe Maddon then pulled his starting pitcher, Hendricks, sooner than many viewers thought was sensible. Maddon brought in the Jon Lester-David Ross battery during the inning, with a runner on first. The early returns did not validate the move.
Hero: Javier Baez
103.8 mph off the bat of @javy23baez is good enough to turn this pitch into a souvenir. https://t.co/feIOXuRDEV #Statcast pic.twitter.com/7aCYR5xTky

— #Statcast (@statcast) November 3, 2016
Hero: "The last time the Cubs won the World Series … " tweets
The last time the Chicago Cubs won the World Series, the existence of the Atom had only recently been established.

— Neil deGrasse Tyson (@neiltyson) November 3, 2016
Goat: Terry Francona
Terry Francona stuck with Corey Kluber too long. Time is a flat circle.

— Andy McCullough (@McCulloughTimes) November 3, 2016
Hero: Anthony Rizzo, David Ross and Anchorman quotes
"I'm in a glass case of emotions right now."- @ARizzo44 to @D_Ross3 ??? #WorldSeries #Game7 pic.twitter.com/KKvMMJ0Ekn

— FOX Sports: MLB (@MLBONFOX) November 3, 2016
Goat: Joe Maddon
I thought Tito's decision to send Kluber out in the 5th was bad (and probably Farrell approved), then Maddon lifted Hendricks.

— Greg A. Bedard (@GregABedard) November 3, 2016
Goats: Jon Lester and David Ross
Kip's out here scoring from second on wild pitches. #RallyTogether pic.twitter.com/eipeaEtXrO

— Cleveland Indians (@Indians) November 3, 2016
Goat: "The last time the Cubs won the World Series … " tweets
Halley's Comet has appeared TWICE in our skies since the last time the Chicago Cubs won the World Series.

— Neil deGrasse Tyson (@neiltyson) November 3, 2016
6th Inning
Grandpa Rossy sure knows how to spin a yarn to keep the kids entertained. Playing in his final career game at age 39, Ross produced an improbable home run off Miller, virtually unhittable throughout the postseason ahead of Game 7, not long after taking a wild pitch off his catcher's mask.
Hero: David Ross
Goat: Andrew Miller
This is the first time since moving to relief full-time in 2012 that Andrew Miller has allowed 4 hits in a game. pic.twitter.com/OzlaVE75rx

— ESPN Stats & Info (@ESPNStatsInfo) November 3, 2016
7th Inning
Tension mounted. Pitchers put up zeroes. The Cubs' 6-3 lead held, looking more formidable with each passing out. One notable fan did his best to rally the hometown fans at Progressive Field.
Hero: J.R. Smith
.@TheRealJRSmith rips off his shirt to pump up the fans #WorldSeries #RallyTogether pic.twitter.com/G97SOKrN4S

— fox8news (@fox8news) November 3, 2016
Hero: Jon Lester
Jon Lester was PUMPED after fanning Jason Kipnis with this nasty Curveball to end the seventh inning. pic.twitter.com/KeNFxsnACA

— Pitcher List (@ThePitcherList) November 3, 2016
8th Inning
After a shirtless J.R. Smith urged a rally, the Indians set about defending Cleveland's right to make 3-1 jokes in perpetuity. Maddon pulled Lester with two outs and a runner at first, bringing in Aroldis Chapman, a midseason arrival in Chicago via trade with the New York Yankees. The hard-throwing closer, who missed the first 30 games of the season due to a domestic violence suspension, had thrown 20 pitches in a non-save situation late in Game 6. Anyone believing in curses or karma may have felt relieved when Chapman promptly blew the save opportunity.
Hero: Rajai Davis
Rajai. Davis.

Cleveland. Legend. #Game7 pic.twitter.com/PptzTVwcu5

— MLB (@MLB) November 3, 2016
Representative Cleveland fan: LeBron James
Current mood in #TheLand!#RallyTogether https://t.co/7X0gUrGAf4

— Cleveland Cavaliers (@cavs) November 3, 2016
Goat: Aroldis Chapman
Aroldis Chapman, he of two home runs allowed ALL SEASON, just gave one up to Rajai Davis who slugged .388 this season. GAME SEVEN FOLKS

— MLB Daily Dish (@mlbdailydish) November 3, 2016
Goat: Joe Maddon
Aroldis Chapman threw 19 fastballs in that inning. Just 4 were clocked at 100 mph or more. Any doubt he felt the weight of his workload?

— Jayson Stark (@jaysonst) November 3, 2016
9th Inning
With the score even, 6-6, heading into ninth, Cleveland second baseman Francisco Lindor helped reliever Cody Allen prolong Game 7 with a sterling defensive play in the top half of the frame. Having already blown the save, Chapman did his part, putting himself in position for the win, in the bottom of the ninth before Mother Nature took over for 17 minutes. In between, there was a bunt attempt. Oh, yes, that was a thing with the World Series hanging in the balance.
Hero: Francisco Lindor
What a play by Lindor!! This game is unbelievable!! pic.twitter.com/4E8MiQ5TgZ

— NFL Update (@MySportsUpdate) November 3, 2016
Goats: Joe Maddon, Javy Baez and bunting
Football equivalent of that Baez full count Bunt attempt pic.twitter.com/6wQbtnRpeX

— Jason Collette (@jasoncollette) November 3, 2016
In my day they could lay down a WS winning bunt.

— Old Hoss Radbourn (@OldHossRadbourn) November 3, 2016
Rain Delay
With the teams briefly replaced on the field by a tarp, Cubs outfielder Jason Heyward summoned his teammates for an impromptu pep talk. Meanwhile, Twitter made Admiral Ackbar references and marveled at some apparent foresight.
Hero: Jason Heyward
"I told them I love them," Heyward said. "I told them I'm proud of the way they overcame everything together. I told them everyone has to look in the mirror, and know everyone contributed to this season and to where we are at this point.

"I said, 'I don't know how it's going to happen, how we're going to do it, but let's go out and try to get a W.'" [MLB.com]
Hero: Twitter prognosticator @RaysFanGio
2016 World Series.

Cubs vs Indians

And then the world will end with the score tied in game seven in extra innings #apocalypse

— GIO (@RaysFanGio) November 4, 2014
Goat: The tarp
IT'S A TARP pic.twitter.com/lv7jZxO0E4

— SB Nation GIF (@SBNationGIF) November 3, 2016
10th Inning
With these long and winding nine innings coming at the tail end of that 108-year wait, Ben Zobrist drove in the winning run for the Cubs in the top of the 10th to earn himself World Series MVP honors. In the bottom half, Cleveland would pull back a run against receiver Carl Edwards, Jr. With two outs and the series-tying run on base, Mike Montgomery closed out the long-awaited championship for the Cubs.
Hero: Ben Zobrist
Hero: Anthony Rizzo's back pocket
Representative Cubs fan: Bill Murray
The joy on Bill Murray's face pic.twitter.com/veA2lzSU35

— The Cauldron (ICYMI) (@CauldronICYMI) November 3, 2016
Goat: Billy Goat Curse
The Billy goat has left the building. #WorldSeries pic.twitter.com/vlLv2LhjO5

— Yahoo Sports (@YahooSports) November 3, 2016
Goat: 3-1 jokes
Man 3-1 sucks

— Draymond Green (@Money23Green) November 3, 2016
Goat: The guy with this tattoo
https://twitter.com/SInow/status/793998283362500611?lang=en