MLB
Yankees trade Brian McCann, $11 million to Astros for two young pitchers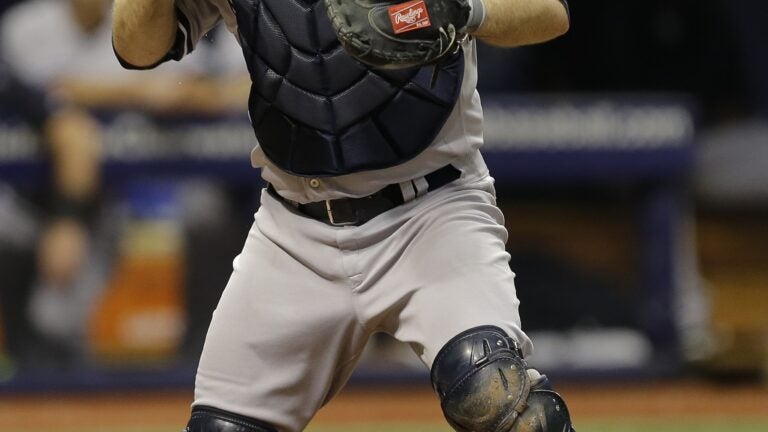 NEW YORK (AP) — Brian McCann still wanted to catch, a lot. So with his options limited in the New York Yankees' lineup, the seven-time All-Star gladly accepted a new opportunity in Houston.
McCann waived his no-trade clause and was sent, along with $11 million, to the Astros on Thursday for a pair of young minor league pitchers.
The Yankees acquired right-handers Albert Abreu and Jorge Guzman.
"It had to be the right fit," McCann said on a conference call. "It wasn't going to be just anywhere."
McCann's playing time diminished in the second half of the season as rookie Gary Sanchez emerged as a power hitter behind the plate. Sanchez hit 20 home runs in just 53 games.
"It was like nothing I'd ever seen before. He was the best player in the game," McCann said.
The 32-year-old McCann hit .242 with 20 homers and 58 RBIs this year.
"We entered the offseason with the acquisition of a catcher as a primary focus," Astros general manager Jeff Luhnow said in a statement.
"Brian McCann is a great fit for the Astros as he is not only a good defensive catcher, he is also a left-handed hitter with proven run-producing ability," he said. "His experience and his ability to impact his teammates will be a significant benefit to our team."
Jason Castro made the most starts at catcher for the Astros last year, batting .210 with 11 homers and 32 RBIs.
Evan Gattis, known more for his slugging than his catching, also saw time at the spot.
Houston and the Yankees met in the AL wild-card game in 2015. They both went 84-78 this year and missed the playoffs.
Yankees general manager Brian Cashman said the trade gives the team financial flexibility for potential free agents and trades.
"Houston stepped up and I think all parties got what we wanted," he told reporters.
McCann made 86 starts at catcher last season, his fewest since he was a rookie with Atlanta in 2005. He figured next year in New York likely would mean catching once a week, plus some platoon time as a designated hitter.
"I wanted to catch every day," he said. "I feel like I still have a lot of good years left."
McCann also likes what he sees in the Astros, praising "a lot of great young pieces."
"I wanted to be a part of it," he said.
McCann hit 24 homers in 2006 and has hit at least 18 home runs in every season since then. He has 245 career homers with 888 RBIs while batting .266.
This was McCann's third season in New York after signing an $85 million, five-year deal as a free agent.
McCann is due $17 million in each of the next two seasons, and the Yankees will pay $5.5 million both years.
The Yankees had a $15 million option for 2019 with no buyout. The option became McCann's if he had at least 1,000 plate appearances combined in 2017 and 2018, had at least 90 starts at catcher in 2018 and didn't end up that season on the disabled list.
The 21-year-old Abreu was a combined 3-8 with a 3.72 ERA for two teams in Class A. The 20-year-old Guzman was a combined 3-4 with a 4.05 ERA with two rookie-level teams.