MLB
Marlins plan to sell to group that includes Derek Jeter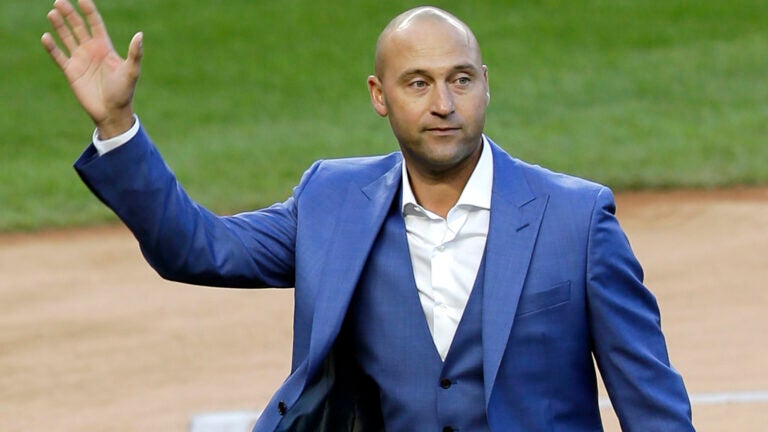 MIAMI (AP) — Derek Jeter wins again.
The Miami Marlins told Major League Baseball they intend to sign an agreement to sell the team to a group that includes the former New York Yankees captain, a person familiar with the negotiations said Friday.
Jeter would be a limited partner in the group led by venture capitalist Bruce Sherman, said the person, who confirmed the Marlins' plans to The Associated Press on condition of anonymity because the team had not commented.
The Marlins' months-long sale saga included many twists before owner Jeffrey Loria settled on the popular Jeter, who led the Yankees to five World Series championships before retiring after the 2014 season.
The person speaking on condition of anonymity said MLB was told Loria's sale price will be about $1.2 billion to the group, which includes more than 10 entities.
Among them is Sherman, who will be the controlling owner, the person said. Sherman has spent much of his financial career in New York and has a home in Naples, Florida.
Jeter will be in charge of baseball operations, said the person, who added the Marlins told MLB they intended to sign the sale agreement Friday night.
The Jeter-Sherman group beat out two other groups that pursued the team in the final weeks of negotiations. One group was led by South Florida businessman Jorge Mas, and another included former Florida Gov. Jeb Bush, who recently halted his pursuit of a deal.
Baseball Commissioner Rob Manfred said a month ago that all three groups offered about the same amount of money, but there were legal and financing issues that slowed the process. Jeter had trouble raising money as he sought additional investors.
MLB owners meet next week in Chicago. A sale requires approval of at least 75 percent of the major league clubs, and the approval process could take three to six months.
Marlins president David Samson declined to comment Friday.
Loria, 76, bought the Marlins for $158.5 million in 2002 from John Henry, who was part of a group that bought the Boston Red Sox.
Sherman is known for his philanthropic work and retired in 2009 as chief executive officer of Naples-based Private Capital Management.
Jeter, 43, retired after 20 seasons as the Yankees' shortstop. A 14-time All-Star, Jeter lives in Tampa and has long talked of his desire to own a franchise. He has no front office experience.
Marlins manager Don Mattingly, who also had a storied playing career with the Yankees, said he knew nothing about Jeter becoming a team owner, but predicted he would do well.
''Derek has been successful at everything he's tried to do,'' Mattingly said before Friday night's game against the Colorado Rockies. ''What Derek's been able to do with his career, who he is as a person, there's nothing in there that leads you to believe that he's not going to be successful with really whatever he wants to do.''
Rockies manager Bud Black said it would be good to get Jeter back in the sport.
''I think Derek Jeter needs to be in the game — that's the main thing,'' Black said. ''A player like Jeter and what he meant to his generation of players in that era that he played, and now to continue in the game, I think it's wonderful.''
Now the question is whether Jeter can help the Marlins win.
The value of the Marlins has climbed dramatically even though they haven't been to the postseason since 2003, the longest current drought in the National League, and are likely to miss the playoffs again this year. They were last in the NL in attendance 11 of the past 12 years despite a 2012 move to Marlins Park.
Loria is perhaps baseball's most unpopular owner. He has long been criticized in South Florida for his frugal ways and for the ballpark deal, which was heavily subsidized with public money.
His decision to sell the team became public in February, and Jeter's interest became public in April.
At the start of spring training, Samson said a ''confluence of events'' prompted Loria to put the franchise on the market. The owner was close to pitcher Jose Fernandez and badly shaken by the young ace's death in a boat crash last September.
___
AP Baseball Writer Ronald Blum in New York and AP freelance writer Chris Stock in Miami contributed to this report.