MLB
David Ortiz calls Terry Francona 'the best manager in baseball'
"No doubt about it."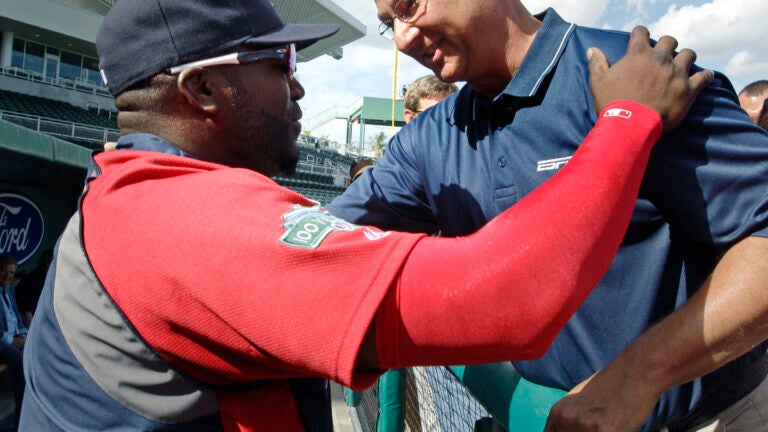 It's no secret that David Ortiz wasn't a fan of Bobby Valentine, given that he slammed the former Red Sox manager in his newest book, Papi: My Story. But Ortiz's relationship with Terry Francona is a much happier chapter in the retired slugger's life.
"Playing for Tito is like playing for your dad," he said on FOX. "Tito embraces you. He builds that confidence in you. He makes you feel comfortable."
"Playing for Tito is like playing for your Dad…the best manager in baseball."- @davidortiz ​on @Indians​' manager Terry Francona pic.twitter.com/6YjEA1FGZT

— FOX Sports: MLB (@MLBONFOX) September 17, 2017
"I mean, you're playing a long season," Ortiz continued. "You've got 25 guys with different mentalities trying to figure things out. Tito is the one key that helps everybody to be lined up, being on the same direction. Put them on the same direction, and all of sudden, you have what?"
Francona—who managed Ortiz and the Red Sox for eight seasons—recently led his current team, the Cleveland Indians, on a 22-game win streak. The spell was snapped four games shy of the league record, but the 58-year-old said he doesn't think "anything is over."
"To me, this is kind of a jumping off point," he told reporters. "Where do we go from here? It's up."
Holding a 14.5-game lead over the Minnesota Twins, Francona's Indians are in first place atop the AL Central and have already clinched their division. Last season, the team reached the World Series for the first time since 1997.
"The impact he has created with the Indians," Ortiz said, "Indians, late 90's, wonderful team. They dominated that division. Middle of the 2000's, you don't know where the team was going. Tito walks in. All of a sudden. Boom. World Series. Now look at where they're at. I think Tito is, like, the best manager in baseball. No doubt about it."