MLB
Tampa Bay Rays try to build their own Shohei Ohtani from the ground up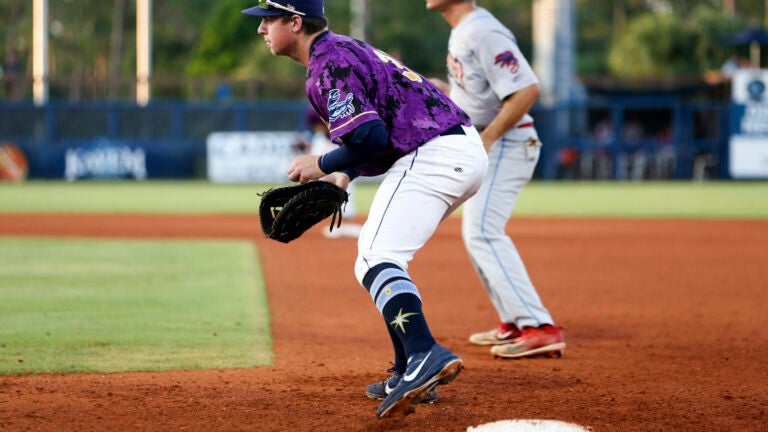 PORT CHARLOTTE, Fla. — The scout was confused. The Charlotte Stone Crabs were about to face the Dunedin Blue Jays last Tuesday night, but their website did not list a starting pitcher. John Vittas, the Stone Crabs' broadcaster, explained to the scout that when Brendan McKay pitches, he is always identified as "To Be Announced." That is because the computer system recognizes McKay only as a first baseman; it is not programmed to account for a hybrid.
Neither, perhaps, is the baseball world at large. In the major leagues, the tantalizing prospect of a long-term, two-way superstar took a grim turn last week when Shohei Ohtani, the Los Angeles Angels' pitching and hitting sensation, was placed on the disabled list with a grade 2 sprain of his ulnar collateral ligament.
Ohtani, who was thriving as a starter and a designated hitter, received a platelet-rich plasma and stem cell injection and will be re-evaluated near the end of the month. But he now faces the possibility of Tommy John surgery, which would cost him not only the rest of this season, but much of 2019, too.
No wonder, then, that Doc Watson, the pitching coach for the Class A Stone Crabs, answered succinctly about how the Tampa Bay Rays can minimize the injury risk to McKay, who ranks among the top 25 prospects in baseball.
"Well," he said, laughing, "you do it with a prayer and your fingers crossed."
The Rays, a perennially low-budget team, have invested significantly in building their own Ohtani from the ground up. After drafting McKay fourth overall last June from the University of Louisville, they gave him a signing bonus of just over $7 million — more than the 2018 salary of every player on their major league roster besides catcher Wilson Ramos.
The Rays base McKay's schedule on his experience at Louisville, where he had a 2.23 ERA and a .328 batting average in three seasons. The Stone Crabs use a six-man rotation, and this is McKay's six-day routine: pitcher, designated hitter, first base, bullpen session, first base, designated hitter — repeat. He does not hit on his pitching day, or on the day of his bullpen session, but he always stays busy, which he likes.
The Blue Jays chased McKay in the fourth inning last Tuesday, but he responded the next night by pulling a fastball over the right field fence for a home run. McKay had another job to do, and there was no time to dwell on a loss.
"That's a good way to think about it," he said. "You don't have to sit in the dugout or stand out there in batting practice and shag balls and think about what you did wrong. You're off doing something else to keep your mind off of it."
Last week's results were atypical for McKay, whose pitching is considered more advanced than his hitting. Before his start Monday night, he was 4-2 with a 1.99 ERA at two levels this season, having struck out 64 batters in 45 1/3 innings with only three walks.
"Ever since the first day I caught him in Hudson Valley, it's so easy being a catcher, just knowing that he's going to hit his spot," Zac Law, his Stone Crabs teammate, said in reference to McKay's first professional stop last summer. "He threw in the playoffs when we were playing in Staten Island, and it was just total domination. Hitters didn't have a chance. Even in Bowling Green, it wasn't fair."
McKay zipped through Bowling Green, a lower Class A affiliate, holding batters to an .096 average in six starts. He hit just .254 with one homer in 21 games there but showed keen plate discipline, with a .484 on-base percentage. He continues to take his walks with the Stone Crabs but has just 10 hits in 50 at-bats, and the one home run.
The Stone Crabs' hitting coach, Joe Szekely, said McKay's bat speed is obvious in practice, but the power he showed at Louisville — 18 homers in 64 games as a junior in his final season — has not yet translated. Szekely said McKay has a good eye but could be more aggressive at the plate.
"Even for a guy with the ability he has and the confidence he has, it's still tough if you were just working on one aspect of the game," Szekely said. "But both aspects, and also jumping levels — you want to be competitive on both sides of it. You don't want to be here on one and there on the other."
McKay, 22, is quiet but well-mannered; he made no demands before the draft last June, he said, because it was not his place to tell a potential employer how to use him. Three teams passed on him, including the Cincinnati Reds, who took the two-way high school star Hunter Greene with the No. 2 pick, but now use him only as a pitcher.
The Rays, though, saw no reason to hold back McKay. Nothing had stopped him yet, they reasoned, so why deny themselves a chance at such a rare talent?
"It's not common, certainly in the modern era of baseball, but it's also not common for someone, through his junior year in college, to be evaluated the way he was on both sides of the ball," said Erik Neander, the Rays' general manager. "Our feeling was: Why cut it off now, when we had him evaluated as a top talent both ways? Why take that away from him? He's made it this far; let the game dictate how this plays out."
McKay, who grew up near Pittsburgh, said he always assumed he would have to choose pitching or hitting, mainly because he had never seen anyone do both at the same time. He became aware of Ohtani as a college sophomore on a Team USA trip to Asia, where he noticed him in TV commercials.
Ohtani was a standout then for the Nippon Ham Fighters, and he came to the United States as an experienced two-way pro. The Rays, who are experimenting with setup men as starters on their major league roster this season, are a natural fit to try to develop their own.
"We're not afraid to try different things," said Dewey Robinson, a pitching coordinator for the Rays. "We have to, to compete with the Yankees and Boston, and even Baltimore and Toronto. For us to even think of competing with them, we have to look for an edge. And this is an edge."
They hope so, at least, but there is no real blueprint. Some players — Rick Ankiel, Adam Loewen, Jason Lane — have pitched and played in the field in the majors, but not at the same time. Many others — Trevor Hoffman, Kenley Jansen, David Peralta — made the switch in the minors. Brooks Kieschnick is remembered for doing both, but in two years as a reliever for Milwaukee, he made only four starts at DH and three in left field.
Even the most famous two-way player, Babe Ruth, played only two seasons, 1918 and 1919 with Boston, as a regular in the field and on the mound. (He scattered five pitching appearances across 15 years with the New York Yankees.)
"I think a lot of guys don't want to waste the time," McKay said. "Like if one is behind the other, they don't want to, hypothetically, get stuck somewhere waiting for one to catch up before they move. Or teams may not want to hold a guy back, if there's one clear-cut way."
That point underscores McKay's biggest challenge, perhaps even more than staying healthy: Since he is essentially two players in one, his skills must stay relatively equal to move up at the same pace. He wants badly to succeed at both, he said, but he will not stand in the way of his own progress.
"It's like in the draft situation," McKay said. "If say they wanted to say, 'Hey, you can go to the big leagues if you want to be a pitcher,' you're not going to say no. At one point there's going to be a situation that presents itself that you're going to have to pick. If you've got that opportunity to get into the big leagues, I think you're going to take it."
For now, there is no need to choose. The minor leagues are a laboratory for a team like the Rays, and the game will decide when to end the experiment — if it ends at all.
"When the speed of the game gets to the point where he can't handle one or the other, then we'll know," said Szekely, the hitting coach. "And if it doesn't, then we're going to have a pitcher and a hitter in the big leagues that's going to be productive on both sides. Now is just the fun time to sit here and see what he can do."