MLB
Joe Maddon shows deft touch as the Cubs add six wins in a row to the NL's best record
The Cubs keep winning through the kind of adversity that knocks some contenders out of the playoff race.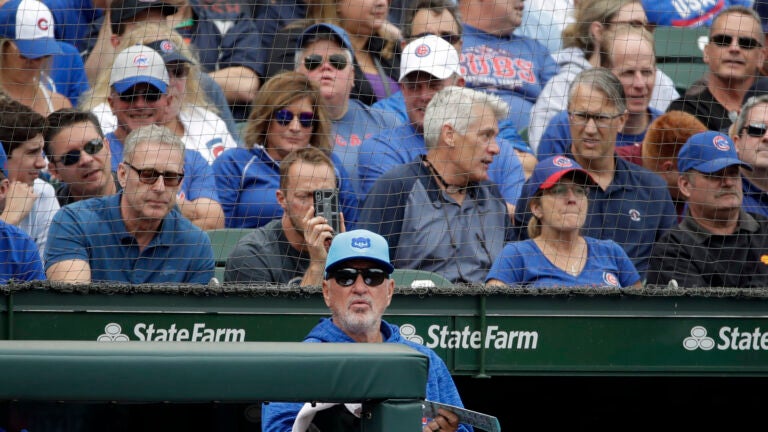 CHICAGO (AP) — At one point during Anthony Rizzo's tough start, the big first baseman visited Chicago Cubs manager Joe Maddon in his office.
Rizzo and Maddon talked hitting, and Maddon wrote down what he thought Rizzo's numbers would look like by the end of the season. Fast forward to the last days of August, and Rizzo's statistics are beginning to approach his usual numbers — where Maddon thought they would go eventually.
Only Rizzo might have to just trust his manager on that one.
"I wrote the numbers down a couple months ago. I just have to remember where I put them," a grinning Maddon said.
At the end of perhaps his most challenging season in Chicago, the 64-year-old Maddon remains as comfortable with himself as the day he took over four years ago, when he boldly talked about the playoffs at a bar in the shadow in the Wrigley Field.
Maddon's personality — his steady hand, and perhaps more importantly, his subtle changes over the years — is a major reason why the Cubs just keep winning through the kind of adversity that knocks some contenders out of the playoff race.
Playing without 2016 NL MVP Kris Bryant, closer Brandon Morrow and shortstop Addison Russell due to injuries, Chicago had won six in a row heading into Tuesday night's game against the New York Mets, running the NL's best record to 77-53. Yu Darvish and Tyler Chatwood, who were expected to help solidify the rotation after signing big free-agent deals, struggled all summer, but nothing has derailed the Cubs so far.
Credit Javier Baez for turning into one of baseball's biggest stars. Credit rookies David Bote and Randy Rosario for their unexpected contributions, and Steve Cishek and Pedro Strop for their consistent performances all year out of the bullpen.
And credit Maddon, who is working with a largely new coaching staff compared to last year, and still has the Cubs on track for their third straight division title and fourth consecutive playoff appearance.
"Every year, it's kind of just let us be ourselves," outfielder Kyle Schwarber said. "I think that he has full trust in us and I think that says a lot. We back him up, too. I think that's kind of how, it's a give and take. He gives us the rein and we always have his back at the end of the day."
Chicago's latest win streak coincides with Maddon's annual "American Legion Week," where he has his players come in later than usual — harkening back to when they were kids and hit the field when they arrived for the game. The Cubs still have themed road trips — dress like the flamboyant Strop was a big hit this year — but Maddon has largely stayed away from anything like his more famous stunts.
No petting zoos. No magicians. No Mariachi bands. The Cubs are no longer the wide-eyed group of kids Maddon had in 2015. They have grown up, and their manager has tweaked his style to fit his playoff-tested group that ended the team's infamous World Series championship drought.
"If you pick your spots more separately or not so close together, I think they have a greater impact, so I just think, I'm ashamed to say I might be maturing a bit," Maddon deadpanned. "That would be awful. But if that's true, I would really be disappointed in myself."
While that whole maturity thing is still in question, Maddon has made a couple decisions this year that helped keep the Cubs on top of the NL.
The three-time manager of the year has smartly picked his spots for Ben Zobrist, and the 37-year-old utilityman has responded with a more typical performance after struggling last season. Rizzo's resurgence was jump-started by a productive stint in the leadoff slot. He has let Baez be Baez, shrugging off the occasional baserunning blunder while the infielder repeatedly turns in electric plays in the field and at the plate.
The bullpen, a disaster in the playoffs last year, has been one of NL's best, helping the Cubs to a major league-best 41 come-from-behind wins.
"I think Joe does a good job of not hammering the little things, even when we're not playing well," left-hander Jon Lester said after Monday night's 7-4 victory over the Mets. "I think a lot of teams and organizations, when they don't play well, they run to the early (batting practices) … and maybe you'll see a (pitchers' fielding practice) thrown in there, whatever, but Joe goes the other way."
Maddon's deft touch will be tested when Bryant and Russell come off the DL, creating a logjam in the infield after the Cubs acquired second baseman Daniel Murphy last week in a trade with Washington. Of course, Maddon knows it's a problem many other teams would welcome.
And if anyone wants to talk it over, his door is always open.
"It's been a really interesting year," Maddon said. "A lot of great conversations. When they have issues, they come and talk to me about them. It's been really good."