MLB
MLB owners extend contracts with Rob Manfred and Fox
Manfred's contract extension carries him through 2024.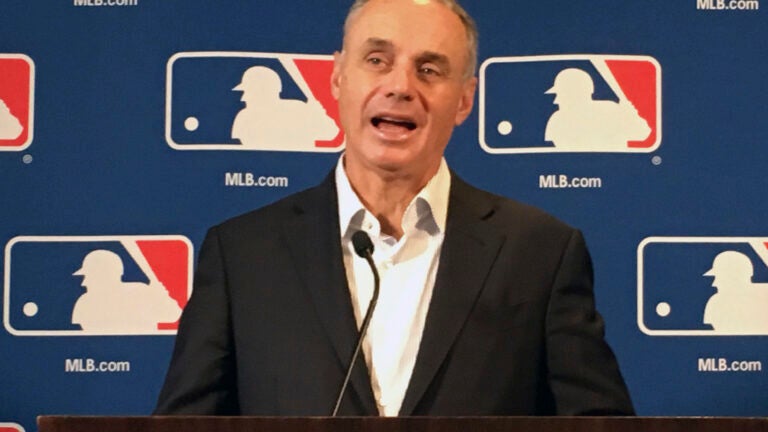 ATLANTA (AP) — Baseball owners have locked down their commissioner and their main broadcast partner, too.
Any decisions on speeding up the game and perhaps making it more enjoyable to watch will have to wait.
After wrapping up two days of meetings at a hotel next to the Atlanta Braves' SunTrust Park, the owners announced a new contract for Commissioner Rob Manfred, keeping him on the job at least through the 2024 regular season. The 60-year-old started a five-year term in January 2015.
"It seems like about 15 minutes ago I was spending a really dreadful day in a not-very-nice hotel suite in Baltimore waiting to see if I could get vote number — what was I looking for, 23 right?" quipped Manfred, who won the vote to succeed Bud Selig in August 2014 after beating out two other contenders. "It seems almost impossible that four years have gone by."
The owners also signed off on a new television deal with Fox, which still has three seasons to go on its current eight-year contract that pays baseball an average of $525 million per season.
The seven-year extension, which runs through 2028, will be worth just over $5 billion to MLB — roughly a 36 percent increase to an average of about $715 million per season.
Manfred was asked whether the owners had any reservations to making such a long-term commitment, especially giving the rapidly changing dynamics of the broadcast and online industries.
"I'm a huge believer in the idea that when you have a good partner, even when you're looking at an uncertain landscape, that good partners find a way to navigate that uncertain landscape," the commissioner said.
The relationship with Fox, which began in 1996, will continue to include the World Series and All-Star Game, as well as extensive playoff coverage on both the network and its all-sports cable channel, FS1.
The new agreement also commits Fox to showing more games from the League Championship Series on its main network, beginning in 2019. It was criticized for televising all but Game 2 in this year's seven-game NLCS between the Los Angeles Dodgers and Milwaukee Brewers on FS1, which has a narrower distribution. Starting next year, two of the first four games and Game 7 will be on Fox.
In addition to the extension with Fox, MLB also approved a $300 million, three-year with DAZN, a subscription video streaming service run by former ESPN president John Skipper. Manfred called it a key part of baseball's strategy to reach a new generation of fans.
DAZN will co-produce a nightly highlight show at the MLB Network in Secaucus, New Jersey, and do live cut-ins to games Monday through Friday, an arrangement that steers clear of national broadcast slots held by Fox and ESPN on the weekend.
"The owners have shown courage, because we are new," Skipper said. "We will make sure that young fans have a whip-around show (similar to NFL's Red Zone) that shows every home run, every highlight. We will get them interested in the game."
While the deals with Manfred, Fox and DAZN were expected , baseball has yet to come to a consensus on the best ways to improve a sport that suffered a 4 percent dip in attendance this season to 69.6 million, plunging to its lowest level since 2003.
Manfred and the owners continue to look at ways to speed play . Nine-inning games averaged 3 hours, 4 minutes in 2018. While that was 4 minutes lower than the previous season, it still matched the third-highest average in baseball history.
Baseball's style of play is also under scrutiny as teams have increasingly become reliant on a home run-or-bust offensive strategy to beat defensive shifts and reliever-heavy pitching staffs that are able to mix and match for almost any situation.
Tampa Bay , most notably, even began using relievers to start games, only expecting to get an inning or two out of them before beginning a series of changes. While baseball set a record for homers in 2017 and stayed close to a record level this year, it also had more strikeouts than hits for the first time in 2018 as the cumulative batting average dipped to .248 — the lowest since 1972, the year before the designated hitter was introduced in the American League.
Chris Marinak, MLB's executive vice president for strategy, technology and innovation, provided owners with a report on those issues. Manfred refused to go into details, saying he preferred to reach a consensus with the players' union. That includes any decision on a pitch clock, which the owners have the right to impose without union approval under the labor agreement.
Manfred and Tony Clark, head of the MLB Players Association, have been exchanging dates to discuss possible improvements, though the commissioner stressed that no major changes are expected.
"The owners are realistic about how the business performed," Manfred said. "The focus of the conversation, however, was to make sure we do everything we can to get as many fans in the ballpark in 2019 as we possibly can. We do think we have some good ideas we'll be rolling out in the next few months."
Yankees owner Hal Steinbrenner stressed that baseball merely needs some minor tweaking, not a massive overhaul.
"There are reasons the game had changed," Steinbrenner said. "I don't see those changes reverting because, quite frankly, I think those are good changes. There's only so much we're going to be able to do. But we have to continue to try to do everything we can. It's not something we can ignore."
Manfred said MLB is expected to announce a host for the 2021 All-Star Game sometimes early next year. He acknowledged that SunTrust Park is one of the contenders.
The owners got a tour of the 2-year-old stadium, notable for the adjacent mixed-use development that is also controlled by the Braves. It includes restaurants, bars, retail shops, apartments, an office tower as well as the hotel where the meetings were held.
Atlanta has hosted two previous All-Star Games, most recently in 2000 at its previous home, Turner Field.