MLB
Morning sports update: Former Red Sox infielder Will Middlebrooks is retiring
Also: Terry Rozier met his idol, the latest on Antonio Brown, an epic bat flip, and more.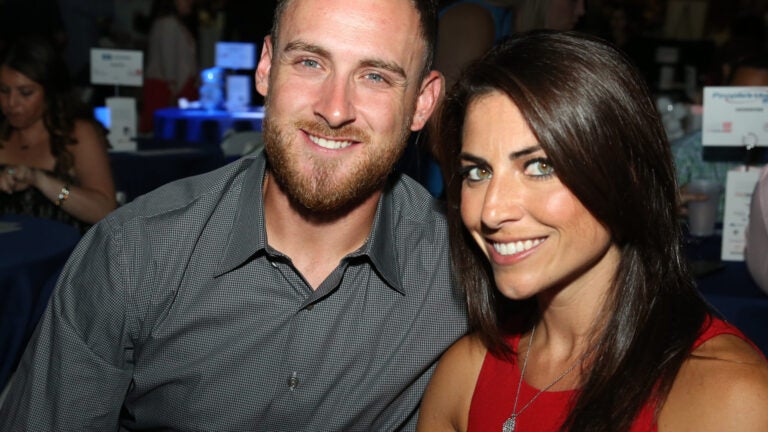 The Celtics lost to the Heat in Miami on Thursday, 115-99. Also, the Bruins fell to the Capitals, 4-2.
The Patriots play on Sunday at Gillette Stadium in an AFC Divisional Round playoff game against the Chargers. Kickoff is set for 1:05 p.m.
Will Middlebrooks is retiring from playing baseball: Infielder Will Middlebrooks, who played for the 2013 World Series champion Red Sox, is retiring from professional baseball.
As Pete Abraham of the Boston Globe reported, the 30-year-old – who suffered multiple injures, including a broken leg, in spring training with the Phillies last year – has decided to call time on a Major League career that began with a call-up by the Red Sox in 2012. Middlebrooks played parts of three seasons in Boston from 2012-2014. He also helped the team win the World Series in 2013, swatting 17 home runs in the regular season.
Middlebrooks was traded to the Padres in 2014 for catcher Ryan Hanigan. During his time with the Red Sox, Middlebrooks began dating reporter Jenny Dell. The two married in 2016, and had a child in 2018.
Dell expressed her pride at what's next for Middlebrooks.
I've watched this man do everything in his power to rehab his leg/ankle back to playing shape but unfortunately, there is no coming back from the last injury. He has so much more to give to the game… I can't wait to see what's next for him. Beyond proud of @middlebrooks. ❤️ https://t.co/leVM3QZGrw

— Jenny Dell (@JennyDell_) January 11, 2019
More from Boston.com:
Terry Rozier fulfilled a longstanding dream: Despite losing to the Heat on Thursday, Celtics guard Terry Rozier ended the game by swapping jerseys with Heat veteran Dwyane Wade. Wade has been Rozier's idol since he was a kid. He tweeted as much in 2012, while still in high school:
@DwyaneWade you been my favorite since you started with no doubt and will always be my favorite can you check me out onYouTube? Terry rozier

— Terry Rozier (@T_Rozzay3) August 29, 2012
After the game, Rozier was determined.
.@T_Rozzay3 says of swapping jerseys with @DwyaneWade, "I wouldn't let no one else get it … I told him, 'When this day comes, I need that jersey.'"

— Boston Celtics (@celtics) January 11, 2019
.@DwyaneWade and @T_Rozzay3 swap jerseys postgame. ? pic.twitter.com/45HiTcumha

— NBA on TNT (@NBAonTNT) January 11, 2019
An early candidate for best bat flip of 2019: 19-year-old Fernando Tatis Jr, a prospect in the Padres system and the son of former Major Leaguer Fernando Tatis Sr., crushed a walk-off three-run home run in the Dominican Republic Winter League on Thursday. His bat flip celebration was one to remember.
¡Briiiiillaaan! ????

Cuadrangular de @tatis_jr que le da la victoria a @EOBASEBALLCLUB ?

Cortesía de @AFPSiembra pic.twitter.com/AdSSwndzL0

— LIDOM (@LIDOMRD) January 11, 2019
New York headline writers are on the Gase: With the arrival of Adam Gase as the next head coach of the New York Jets, the city's pun-heavy back pages got a little help from Sports Illustrated writers Connor Orr and Jenny Vrentas, who brainstormed a few ideas.
Of course, New York media has already had its early say:
I'm gonna go get the papers, get the papers: back page edition. @nyjets with the hat trick. Welcome to New York, #AdamGase. #FinsUp pic.twitter.com/KHgsgCKudW

— Robert Shields (@rshields37) January 10, 2019
The Antonio Brown saga continues: After Steelers president Art Rooney II said on Thursday that it's "hard to envision" wide receiver Antonio Brown being at the team's training camp at the start of next season, Brown posted a photo of himself shaking hands with Rooney on his social media.
Good Business #Boomin pic.twitter.com/LQPrBuuYPR

— Antonio Brown (@AB84) January 10, 2019
Brown missed the team's final game of the season, reportedly because he refused to practice in the week leading up to the season finale against the Bengals, as well as skipping team meetings and not returning phone calls from Steelers leadership. The feud has continued to spark rumors about a potential offseason trade.
On this day: In 1987, John Elway led the Broncos on "The Drive," going 98 yards to tie the score against the Browns in the fourth quarter of the AFC Championship Game. The Broncos won in overtime, 23-20, advancing to the Super Bowl.
TDIH:
98 yards to go. Down 7.

John Elway produced "The Drive" helping lead @broncos to playoff win. (Via @nflnow) https://t.co/Fr5X5IHhqs

— NFL (@NFL) January 12, 2017
Daily highlight: Marcus Smart with the rejection.
https://twitter.com/celtics/status/1083542672818589696