MLB
David Ortiz's Hall of Fame candidacy got a big boost on Tuesday
Edgar Martinez becomes the most prominent designated hitter to reach Cooperstown.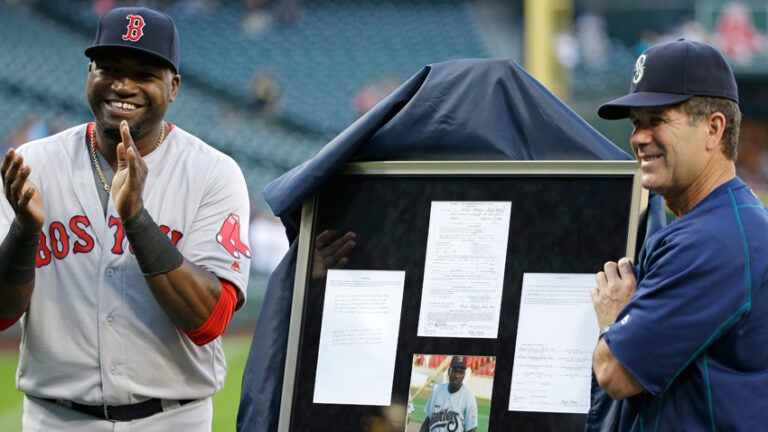 It took Edgar Martinez all 10 of his opportunities to get into the Baseball Hall of Fame via the Baseball Writers Association of America ballot, but the Seattle Mariners slugger was elected with Mariano Rivera, Roy Halladay, and Mike Mussina on Tuesday. They will join Harold Baines and Lee Smith, elected via a smaller committee, as the Class of 2019 on July 19-22 in Cooperstown, N.Y.
If David Ortiz's candidacy needed a boost, it couldn't have received a bigger one.
The 2019 season will be the 47th with the American League using the designated hitter, but there absolutely remains a stigma that DHs aren't complete players. Keith Olbermann called the DH "a rule that lets some lucky defensively unqualified players who wouldn't be daily starters last for years" in the moments before Martinez's election on Tuesday and, though he doesn't have a Hall of Fame vote, said he wouldn't be able to vote a DH into the Hall of Fame because "they must meet none of the defensive thresholds to maintain the plate appearances that the other hitters must."
Lightning rod that he is, Olbermann is far from alone. While there's routinely talk of pitchers not being worthy of Most Valuable Player awards because of their "part-time" status, a half-dozen have won them since 1973. No player who was a DH for at least half his at-bats in a season has won an MVP — Don Baylor, in winning the American League award in 1979, was a DH roughly 40 percent of the time.
When Martinez hit .356 and led the AL in runs, doubles, on-base and OPS in 1995, he finished a distant third behind Mo Vaughn and Albert Belle, whose snub is viewed as among the worst ever when the Seattle icon might have the strongest case of the three. Ortiz was top-five annually from 2003-07 in AL MVP voting, but topped out with a second to Alex Rodriguez in 2005.
The Hall of Fame runs similarly. When Jim Thome was elected to the Hall of Fame last summer, he became just the third player in Cooperstown with at least a third of his plate appearances coming as a DH, joining Paul Molitor (2004) and Frank Thomas (2014). Thomas, who played some DH in all but one of his 19 seasons and was a primary DH for the final 11, was the only one above the halfway mark at about 57 percent.
Baines' controversial election in December made it four, the longtime White Sox getting just shy of 60 percent of his plate appearances as a DH, but Martinez takes it to another level. Essentially a full-time DH for his final 10 seasons, he got 72 percent of his plate appearances that way.
Ortiz, when he first reaches the Hall of Fame ballot at the end of 2021, will do so with 88 percent of his more than 11,000 career plate appearances as a DH.
And though Martinez is the namesake for the annual award given to the best designated hitter, Ortiz — who won eight of them, plus seven Silver Sluggers — certainly compares favorably to the now Hall of Famer. Though Martinez (.312) hit for a far better average than Ortiz (.286) and leads him in most of the advanced metrics, Ortiz hit for far more power, slugging 541 home runs to Martinez's 309.
The Sox slugger's playoff pedigree is also unparalleled, with three walk-off hits and a World Series MVP in 2013 among his three championships. Ortiz's .947 playoff OPS (.289/.404/.543) tops Martinez's .873 despite Ortiz playing more than twice as many postseason games. Playing in Boston, with countless career highlights against the Yankees and on the biggest stages, will also carry far more weight than a career full of late-night games in Seattle.
Using the Bill James 'Similarity Scores' concept, four of Ortiz's top-10 comparables are Hall of Famers — Thomas (No. 1), Thome (No. 4), Jeff Bagwell (No. 7) and Willie McCovey (No. 8). Two others — Manny Ramirez (No. 3) and Rafael Palmeiro (No. 6) — would be if not for performance-enhancing drug issues. Ortiz has those as well, of course, and only time will tell how strongly that is held against him.
The stigma about his position, however, looks as though it's fading.