MLB
Bryce Harper just broke the MLB contract record … sort of
His $330 million still doesn't come close to some deals of economies past.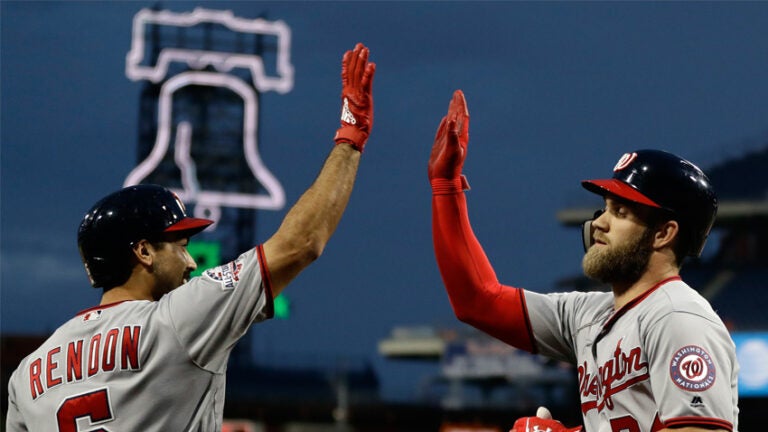 It isn't wrong to say that 2015's "Star Wars: The Force Awakens" is the highest domestic-grossing film in history at $936 million. It is. It's also not wrong to point out that, adjusted for ticket-price inflation, 1939's "Gone With The Wind" nearly doubles it when the shade under $200 million it pulled in is put in some form of context. (The original "Star Wars" is second on that list, with "The Force Awakens" a respectable 11th.)
How you process such matters is largely a matter of personal preference and how persnickety you feel like being. At worst, it should offer a realization that raw totals usually need to be compared more than in just the primary sense. Economies change. Values change. Everything, in some sense, is relative. With that in mind, consider Thursday's big baseball news.
Bryce Harper will, in fact, receive the largest contract by dollars in the history of the sport when his reported 13-year, $330 million deal with the Philadelphia Phillies becomes official. It is a franchise definer, to be sure, especially given it reportedly has no opt-out clause. A length never seen in basketball and football, and one since phased out in the NHL. (Five active players are on contracts of at least 13 years, with Shea Weber's 14-year, $110-year deal signed with Nashville in 2012 the product of an offer-sheet war.)
That largest-by-dollars, though? Given Giancarlo Stanton signed for $325 million five years ago, you can likely see where this Harper discussion is headed at least generally.
Specifically, it's headed behind Manny Ramirez's eight-year, $160 million contract with the Red Sox in 2001. As well as five others that top it when accounting for the changing, growing anti-player baseball landscape.
In mid-December, the sabermetrically inclined Fangraphs dug into this idea, formulating a list of the largest contracts in baseball history if all are calculated in 2019 dollars. Rather than simply scaling by inflation, however, writer Craig Edwards "attempted to replicate the big contracts over the last couple of decades using baseball salaries as the base for inflation." There's some necessary educated guessing involved, but it offers context to the contracts of both Harper and San Diego's Manny Machado.
Neither of whom crack the top six in Edwards' estimation. His numbers, with some analysis of the deals.
$592 million — Alex Rodriguez, 2000-01 (10 years, $252 million): That number looks downright comic, but it's worth remembering that at the time it was signed, so did Rodriguez's. The largest professional contract prior to his deal was given to Kevin Garnett by the NBA's Minnesota Timberwolves, and it was for just $126 million. (Pitcher Mike Hampton had signed with the Colorado Rockies for $121 million earlier in the week.) It was just $2 million more than the man who offered it, Texas Rangers owner Tom Hicks, paid for his franchise in 1998.
A-Rod was, to be clear, as deserving of that deal as any other. In those 10 years, he played at least 150 games in seven, posted a .971 OPS, cracked 424 home runs and won three MVP awards. That deal, however, crippled the Rangers. They won 73, 72 and 71 games in the three seasons before A-Rod was traded to the Yankees, and had to keep paying him until he opted out of it during the 2007 World Series. Hicks openly regrets the deal and, for multiple reasons, ended up in bankruptcy court.
$448 million — Alex Rodriguez, 2007-08 (10 years, $275 million): Signed amidst acrimony between team and player, but with the Yankees likely dreaming of Rodriguez breaking all sorts of all-time records in pinstripes … yeah, make that two megadeals regretted by their respective owners. A-Rod only played parts of eight seasons, missing most of 2013 and all of 2014 due to the Biogenesis scandal and suspension, and was a shell of himself at the end. He did, however, help deliver the 2009 championship that remains New York's last.
$444 million — Derek Jeter, 2000-01 (10 years, $189 million): A year after George Steinbrenner backed out of a seven-year deal with the Yankee captain, the A-Rod deal and a third straight New York championship raised the price of poker. Notably, that 2000 title was the last until 2009, and Jeter … well, five Gold Gloves, four Silver Sluggers, a .310 average and a bucket of intangibles aren't nothing, but they're less than a Bronx diehard will try to sell you. (Jeter had baseball's 28th-best OPS in that span among players with 6,000 plate appearances, though it was tops among primary shortstops.)
$393 million — Giancarlo Stanton, 2014-15 (13 years, $325 million): "It's a landmark moment for the franchise and Giancarlo," then-Marlins owner Jeffrey Loria told reporters at the time, "and it's for the city and fans to rally around." Loria was gone within three years. Stanton wasn't far behind.
$376 million — Manny Ramirez, 2000-01 (8 years, $160 million): The rare megadeal without much in the way of regret, though your closeness to Ramirez during his final-days-in-Boston meltdown could affect that. Eight All-Star teams, six seasons with an OPS of at least 1.000, six seasons of at least 35 homers, a batting title, and two force-of-nature Octobers that ended in World Series victories.
$358 million — Albert Pujols, 2011-12 (10 years, $240 million): The Angels offered the future Hall of Famer $40 million more than his former team, St. Louis, and stole him from a place most assumed he'd never leave. It's a much safer assumption he won't be leaving Anaheim before the end of the 2021 season without some serious financial aid, because no one's going to pay $28 million, $29 million and $30 million to a 39-, 40- and 41-year-old who was a below-average MLB player each of the last two years.
The Cardinals, for comparison's sake, paid less than half that for Pujols's eight prior seasons, in which he won three MVP awards and St. Louis won two World Series. Oops.
Ken Griffey Jr.'s nine-year, $116.5-million deal signed with Cincinnati in February 2000 comes in equal to Harper's $330 million by Edwards' calculations, with Machado's $300 million from the Padres at No. 11. The $260 million that Nolan Arenado just agreed to with Colorado would fall just outside the top 20.