MLB
Craig Kimbrel is still available. Should the Braves sign him now?
The case for Kimbrel returning to the Braves hinged on need and cost.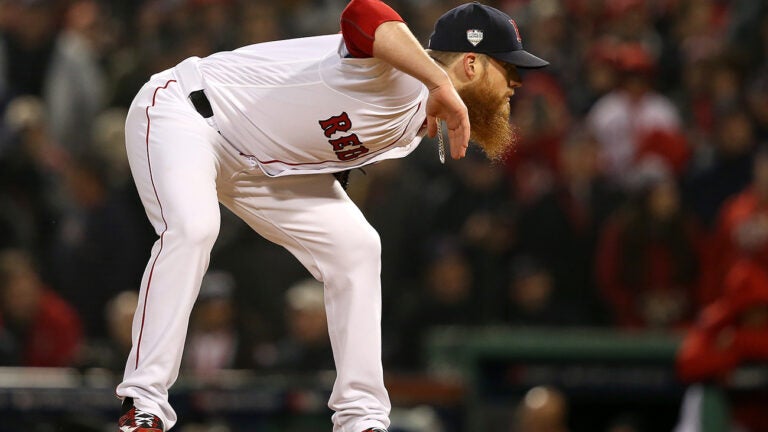 ATLANTA — Hello again. Remember me? I'm the guy who keeps saying the Atlanta Braves don't need to spend big on free agents. I'm here today to suggest that the Atlanta Braves … might need to spend big on a free agent.
The Braves' pitching dynamics changed over the weekend, and not because the Braves grew so frustrated with Sean Newcomb that they shipped him to Gwinnett. That was a significant development for Newcomb, yes, but there are — stop me if you've heard this already — enough young arms on hand to fill out a rotation. (Indeed, Newcomb's absence has become Touki Toussaint's opportunity.)
No, the biggest thing that happened was that the closer got up to close and sat back down.
Arodys Vizcaino has a sore shoulder. The Braves surely suspected as much. He was throwing his four-seamer at 95 mph, down from his accustomed 98, and the axiom is baseball holds: If the command is faulty, it's the elbow; if the velocity is down, it's the shoulder. We concede that this might be one of those times when a month's rest is all that's needed, but what if it's something more?
Even with Vizcaino, the Braves' relief corps is substandard. Its bullpen ERA is the 20th-best in the majors. Such, however, is the state of National League East bullpens that 20th-best in the bigs is enough to be the best — by 0.03 of an earned run — in the division.
Through 15 games, or roughly one-tenth of a regular season, the Braves have gotten away with having shaky relievers because their division brethren are no less shaky.
The Braves awoke Monday a half-game out of first place. Unclear is how much longer they can go with the likes of Jonny Venters (ERA of 20.25) and Luke Jackson (WHIP of 1.680). Also unclear is when/if Darren O'Day will be ready to provide something/anything.
And here you're saying: "Those guys are middle relievers, not closers." You're right. But Vizcaino being unavailable pushes the load on everyone else both upward and downward: A.J. Minter having to work the ninth means A.J. Minter can't work the eighth.
It's possible Minter could seize this moment and establish himself as the Braves' closer for the next five years. That's usually the way closers become closers. But what if he doesn't?
Back to what Alex Anthopoulos said last October of a big-ticket free agent: Such a player, the general manager contended, would need to be "the one final piece for which you scratch and pay top dollar. That 25th piece is going to carry the other 24."
A starting pitcher, even a great one, doesn't quite do that: He works every fifth day. A closer, however, comes … well, closer to meeting that criterion. He can work three days in a row. (Admittedly only for one inning.) And nothing deflates a team more than a string of last at-bat losses.
You've known for the past 480 words where this is going, and here it is: Craig Kimbrel, one of the five best closers ever, is available. Still available, we emphasize.
That Tax Day arrived with him unemployed was a function of overreach. His original asking price was believed to be $20 million a year for six years, which no team was ever apt to meet. (Every team has an analytics department, and one of the core tenets of analytics is that closers are overrated.)
Over the weekend, Ken Rosenthal of the Athletic suggested that Kimbrel is now seeking something in line with the contracts afforded Wade Davis (three years at $17 million per) and Zach Britton (three years at $13 million per). Split the difference and you get $15 million over three years for a 30-year-old who has been an All-Star seven times over the past eight seasons. We note that the Braves paid $23 million for Josh Donaldson, who's 33 and who was coming off his worst season in the majors.
As previously discussed in this space, the case for Kimbrel returning to the Braves hinged on need and cost. As good as Kimbrel is, he's not four times better than Vizcaino, who's making $4.8 million this season.
When healthy, Vizcaino is a more-than-serviceable closer. He's no longer healthy, and Kimbrel is said to have come down in price. And with their closer on the injured list, the Braves' need just increased.
In March, Kimbrel would have been something approaching a luxury — an upgrade, yes, but a pricey one. Back to analytics: How much difference is there between the best ninth-inning-worker and the seventh-best? But closers aren't overrated if you don't have one, and Minter isn't quite a proven commodity.
With Kevin Gausman back and Mike Foltynewicz almost ready and Mike Soroka making rehab starts, the Braves have ridden out their early crush of rotational issues, and their everyday eight looks splendid. (It's second among NL teams in OPS.)
The obvious hole is in the bullpen, especially sans Vizcaino. Having Kimbrel to work the ninth would again free Minter for eighth-inning duty, and surely somebody can be found to handle the seventh/sixth. (Surely, I say.) The contract extensions awarded Ronald Acuna and Ozzie Albies have freed the Braves from fretting over their two best young players for the next decade, which isn't to say it's now time to splurge. It might, however, be time to spend.
I wouldn't have signed Craig Kimbrel in February. At the right price, I would now.