MLB
New York Yankees clinch first AL East title since 2012 with 100th win
The Yankees defeated the Angels, 9-1, Thursday night in the Bronx to capture the division.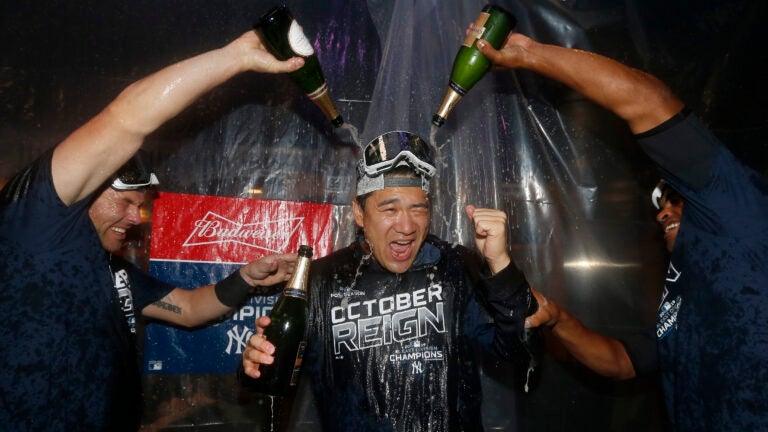 NEW YORK — A month into the 2019 season, the New York Yankees were a sliver above .500 and their lineup was jarring. As the team faced the San Francisco Giants on April 26, five Yankees who had started on opening day were on the injured list, including the star outfielders Aaron Judge and Giancarlo Stanton. Key pitchers such as Luis Severino and Dellin Betances had been out since spring training.
The Yankees' starting left fielder that day? Infielder Thairo Estrada, who missed most of the 2018 season because of a gunshot wound he sustained during a robbery attempt in his native Venezuela during the offseason. It was Estrada's third major league game, yet he was playing the outfield for the first time in his life.
"We have a new face in our locker room every day," first baseman Luke Voit said then. "It's fun, man, because no one thinks we should be winning these games."
Somehow, the Yankees won that game — and many more after that, despite countless cortisone shots, X-rays and trips to the doctor. And on Thursday, the team nicknamed the Hodgepodge Yankees, the Scranton Yankees (a nod to their Class AAA team) and the B-Team Bombers secured the franchise's first American League East title since 2012 with a 9-1 win over the Los Angeles Angels.
"I keep saying, it's going to make for a good World Series DVD," said pitcher CC Sabathia, one of two holdovers, along with outfielder Brett Gardner, from the Yankees' last team to win the World Series, in 2009.
A decade ago, a 100-win season was enough for the Yankees to win the division, as they did in 2002, '03, and '04 as well as '09. But last year, their 100 wins weren't enough for more than a wild-card playoff spot behind the Boston Red Sox, who won a franchise-record 108 games on the way to a World Series title.
This season, the Red Sox couldn't continue their success, while the Yankees won their 19th AL East crown, more than any other team since the division was born 50 years ago. Now, with eight games remaining in their regular season, the Yankees (100-54) will turn their focus to getting healthy (first baseman/designated hitter Edwin Encarnacion and catcher Gary Sanchez are still recovering from injuries) and to securing home-field advantage in the American League playoffs over the Houston Astros, and over the Los Angeles Dodgers for a potential World Series matchup.
This year's Yankees ended a six-season division-title drought that was certainly not caused by a lack of talent. But many injuries, the Alex Rodriguez suspension and rosters full of aging players (from Derek Jeter to Mark Teixeira to Rodriguez) derailed hopes year after year. Half a billion dollars in free-agent spending before the 2014 season — on players such as Masahiro Tanaka, Jacoby Ellsbury, Brian McCann and Carlos Beltran — weren't enough to buy a championship.
Needing an injection of young talent, Brian Cashman, the longtime Yankees general manager, made a series of moves during the 2016 season that paved the way for the current core of players, including infielder Gleyber Torres, Sanchez and Judge.
In a surprisingly fast revival, the 2017 team went to the playoffs as a wild card and fell one victory short of reaching the World Series. Still some substantial adjustments, including the addition of Stanton and the replacement of manager Joe Girardi, remained to be done.
This season, to overcome a major-league record 30 players on the injured list, the more-disciplined Yankees needed a combination of their financial might (a payroll more than $230 million, the third-largest in baseball) and a modern, data-driven approach to rounding out their roster.
In recent years, they used their coffers to sign standout free agents (closer Aroldis Chapman, relievers Zack Britton and Adam Ottavino, and infielder D.J. LeMahieu) or to trade for players with huge contracts (Stanton). But they also leaned heavily on scouting and analytics to unearth players such as Mike Tauchman, infielder Gio Urshela, and Voit, and then to help them improve through coaching.
"Despite everything that we've gone through — which, every year is very different in terms of challenges — this particular group has found a way, from all of us involved, to overcome all obstacles to address that first goal, which was win the division," Cashman said.
The injury setbacks have kept coming throughout the season. Betances is gone again after sustaining a fluky partial tear of his left Achilles' tendon during his season debut Sunday. It will keep him out of the entire postseason.
The Yankees will also be without starter Domingo German indefinitely; he was placed on administrative leave Thursday afternoon as MLB proceeded with an investigation under the terms of its domestic violence policy.
The only player from the opening day lineup not to land on the injured list was Torres. The only starting pitcher from the rotation who did not publicly deal with an injury was Tanaka. In all, it took 53 players to get this far.
And while injuries decimated various parts of the roster, the offense and the bullpen remained among the best in baseball, overcoming any deficiencies in the starting rotation or on defense. Reinforcements arrived with the return of healthy stars, such as Severino on Tuesday and Stanton on Wednesday.
"I've never been on a team like this," Encarnacion said. "And I've been on good teams, but not with this much depth."