MLB
David Price was right: This is no time to be playing Major League Baseball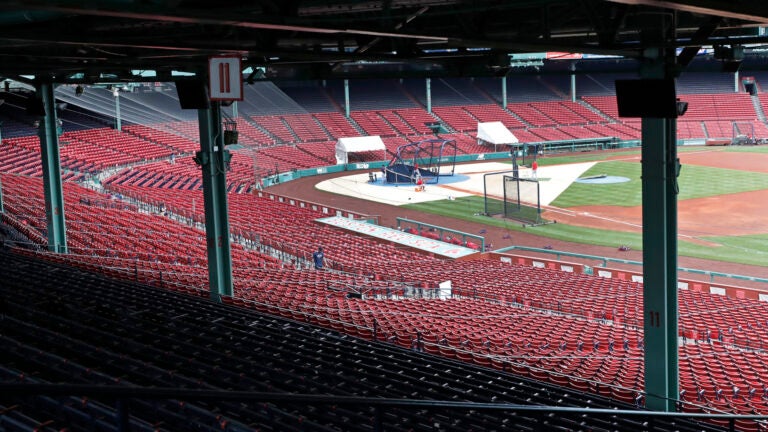 David Price has it right.
I'll admit, I cannot recall writing this sentence often if at all during Price's tenure with the Red Sox. But then, these are strange days, and those little fires from his time in Boston couldn't seem more distant or less important now.
Price made a decision over the weekend that carries far more weight and significance than any of those silly controversies about Fortnite, "holding all the cards," and belligerent browbeating of a broadcaster. He decided to opt out of pitching for the Dodgers this season due to the COVID-19 virus and forgo his eight-figure salary.
When Price announced on July 4 that he would sit out the season "in the best interest of my health and my family's health," I thought it was a bold decision, perhaps even noble.
As I write this three days and one worrisome news story after another later, I consider it something more: The first cue that Major League Baseball should take the burden off the players, stop disingenuously conflating the nation's need for normalcy with its own desperate desire to recoup every dime that has been lost, and shut the whole thing down until 2021, when, if this isn't too wishful, the pandemic might be under better control, testing will be easier to conduct, and even the Karens and Aubreys among us will finally have the sense to wear a mask.
Maybe that is too wishful. It's sadly inevitable that the most granite-skulled members of society will resist social distancing and mask-wearing right up until a loved one is hooked up to a ventilator. In a more macro and less sinister sense, baseball's attempt at a restart is also a resistance of the common good. The truth is that shutting down the season now is a better alternative than allowing this slow bleed of bad news to continue right up until something so troubling happens that there is no choice to shut it down, immediately.
It feels like the past week has been a buildup to such a moment. Consider: Several teams, including the Cubs and Giants Tuesday, had to push back or cancel workouts because testing results had not been received; the wife of Braves star Freddie Freeman wrote on Instagram that his battle with the virus has "hit him like a ton of bricks"; Nationals GM Mike Rizzo ripped the league for a testing plan that was already faltering just a few days into "Summer Camp"; four Red Sox tested positive, including ace Eduardo Rodriguez; and more than 30 positive tests have been confirmed overall around the majors.
Price, a former Cy Young winner and 2018 Red Sox World Series hero who has banked more than $207 million in his career, is so far the most prominent active player to opt out from baseball's restart. But he's not alone, and logic suggests many others – players that can afford it, anyway – will follow his lead between now and the scheduled July 23 opener.
Atlanta's Felix Hernandez, a former ace whose decision hasn't drawn much buzz since he is close to the 19th hole of his career, also has chosen to sit the season out, as has fellow Brave Nick Markakis, a respected veteran who will be closer to 3,000 hits when his career is complete than many realize. Nationals lifer Ryan Zimmerman is sitting out their championship defense. As of Tuesday, nine players had decided to sit out, while others acknowledged pondering doing so, including former Most Valuable Player Buster Posey and the best player of his generation, Mike Trout.
If Trout, a three-time American League Most Valuable Player, decided to sit, the season would seem even less authentic than it does now, at 60 games, with a regionally reworked schedule and convoluted rules alterations. I almost hope that he does, and not just for his family's well-being (his wife is pregnant); the absence of the sport's best player and ambassador might – might – just push MLB a few steps toward doing the right thing and shutting it all down before it can get worse.
And it will get worse, between now and Opening Day. I'm not sure how many players will have to become as ill – or worse – than Freeman before the MLB considers aborting this plan, but the trends of the pandemic suggest he will not be alone.
The restart of Major League Baseball is a mess, and it's barely begun. No, it's not of catastrophic proportions, not yet – that adjective is reserved for the real world right now. But it's tempting catastrophe with its already faltering testing plan and desperation to sprint through the season to get that sweet, sweet postseason revenue.
This season isn't designed to reveal the best team over the long haul. It is, as the Red Sox' J.D. Martinez noted Monday, set up so that the healthiest team, the one that has been blessed to have best dodged the virus, prevails in the end.
That's no way to play, and it's no reason to play. Though I suppose it does give cruel new meaning to the concept of last man standing.