MLB
Brewers select Boston College's Sal Frelick with 15th pick in MLB Draft; Conn. player chosen at No. 7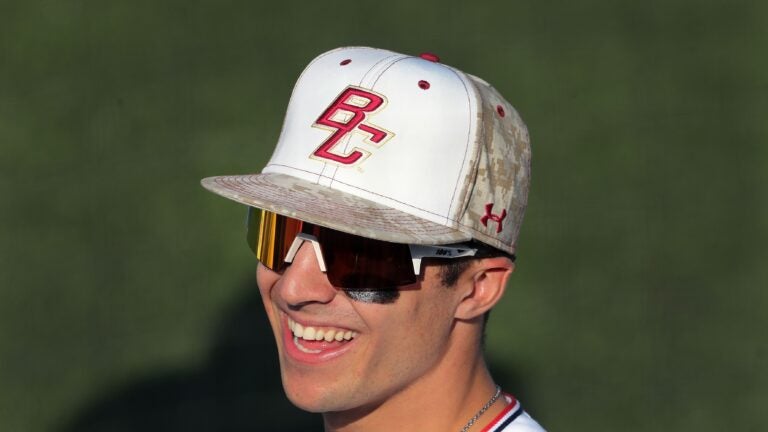 The Milwaukee Brewers chose Boston College center fielder Sal Frelick with the No. 15 pick in the Major League Baseball Draft on Sunday.
Frelick played football, hockey, and baseball at Lexington High and was the 2017 Massachusetts Gatorade Football Player of the Year as a senior.
Frelick hit .359/.443/.559 as a junior at Boston College this past season.
Brewers area scout Ty Blankmeyer said that Frelick has the "it" factor, and the first thing that stood out to him was how he was a winner.
"The big thing from a performance standpoint is when he walked on the field every day, there was always something he did to help his team win, help his team give his team a chance," he said. "Whether it was making a diving play, whether it was getting the big hit like he did in a huge comeback first Auburn early in the year, whether it was moving a runner over, it was like countless.
"He could lay down a bunt; he could beat you in two-strike counts; he can hit for power like it's everything he did, like he finds a way to win. So he's a winner. You know, that's the bottom line."
Frelick stands just 5-foot-9-inches and 180-pounds, but Blankmeyer said his "game is big in many different ways."
"It doesn't bother him. He acts like he's the biggest dude on the field," he said. "The twitch and the athleticism and explosiveness make up for all that. I don't care how big you are because this guy, his game is big. He might be quote-unquote 'small', but his game is not. When you go watch him in the game, he always does something to make you get up out of your seat; it's like 'whoa' he's an exciting player."
MLB offers teams a gradually diminishing bonus "slot recommendation" based on where every player is selected in the draft. The recommended value of a team's picks in the first ten rounds defines its total bonus pool, roughly the total amount a team has to spend in the draft.
The designated slot value for the signing bonus for the No. 15 pick is $3,885,800
Another player from New England, lefthanded pitcher Frank Mozzicato from East Catholic High in Manchester, Conn., was chosen by the Kansas City Royals with the No. 7 pick.
"I'm speechless right now. It's been my dream since I was nine years old to play professional baseball," Mozzicato said via a Zoom conference call. "I couldn't be more excited to get my career started in Kansas City. It's an awesome fit. I'm just ready to go."
Four straight no-hitters last season put Mozzicato on the national radar. He was the highest-drafted Connecticut high schooler since Bobby Valentine went fifth overall in 1968.
"It's an honor. It's incredible my name is affiliated with Bobby Valentine and other greats," he said. "It's really an honor. I couldn't be more lost for words. It's amazing, I'm just super excited."
Mozzicato said he grew up a Yankees fan, but that he's now a "big" Royals fan.
Six months ago, the draft was not a thought for Mozzicato.
"It never really crossed my mind, the whole being drafted thing," he said. "My main focus going into the season was preparing the right way, preparing to play high school baseball and winning a championship."
The designated slot value for the No. 7 pick signing bonus is $5,432,400.
The Atlanta Braves selected Ryan Cusick of Sudbury with the No. 24 pick. The 6-foot-6-inch righthanded pitcher passed on a chance to turn pro out of Avon Old Farms and possesses one of the best fastballs in the draft class, reaching triple digits.
Cusick was second-team All-ACC this season and struck out 206 batters over 158 career innings at Wake Forest.
The designated slot value for the 24th pick signing bonus is $2,831,300.
It marked the third time in the history of the MLB draft three New Englanders were selected in the first round.
Get the latest Boston sports news
Receive updates on your favorite Boston teams, straight from our newsroom to your inbox.