MLB
The postseason is Carlos Correa's time, but his time in Houston appears to be running out
A major subplot to this postseason, at least in Houston, is whether the Astros' final game will mark Carlos Correa's final time in their uniform.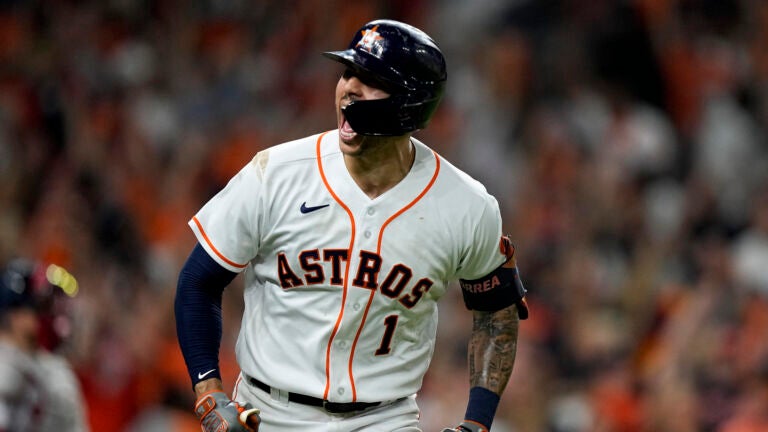 HOUSTON – When Houston Astros shortstop Carlos Correa punctuated his titanic, seventh-inning, go-ahead home run Friday night in Game 1 of the American League Championship Series with a theatrical gesture – tapping his right index finger on his left wrist – and three words shouted to his dugout ("It's my time!"), it was widely understood to have a specific and immediate meaning: Since his first postseason with the Astros as a 21-year-old rookie in 2015, October has been Correa's time to shine.
The gesture was "to my teammates," said a man whose 18 career postseason homers tie him for seventh all-time, alongside names such as Mickey Mantle and Reggie Jackson. "When the playoffs start, they always tell me, 'It's your time now to go out there [and] hit homers.' "
But there was another way to interpret what Correa did and said that night: In the larger context of where he is as a young adult, this is also Correa's time, the prime of both his career and his life. He proposed to his then-girlfriend, Daniella Rodriguez, on live television in the aftermath of the Astros' 2017 World Series victory, and the couple announced in June that they are expecting their first child, a boy. Sometimes after Astros wins, he can be spotted kissing his pregnant wife's belly.
"I want to be able to show my son when he's older everything I accomplished," Correa said Friday night. "And now, I play for him."
And this winter, Correa is expected to cash in big in free agency. Having just turned 27 in September and coming off a season in which he led all position players in wins above replacement (7.2, per Baseball-Reference), he is considered the top prize of this offseason's shortstop-rich market – with the 10-year, $341 million extension Francisco Lindor signed with the New York Mets this spring as the benchmark.
A major subplot to this postseason, at least in Houston, is whether the Astros' final game – whether it comes this week at Boston's Fenway Park, where the ALCS continues Monday night with Game 3 of a series tied at one win apiece, or at the end of a World Series that could stretch into November – will mark Correa's final time in their uniform.
It is possible Correa has already played his last game for the Astros at Minute Maid Park. As the series shifts to Boston, Houston is facing a dire pitching shortage following injuries to ace Lance McCullers Jr. during the division series and to rookie right-hander Luis Garcia in Saturday's Game 2 of the ALCS. McCullers remains sidelined for the ALCS, and Garcia's status is still being evaluated. But for the Astros, who are running out of pitching options, winter, at least metaphorically speaking, feels dangerously close at hand.
Though the possibility exists that Correa re-signs this offseason, there seems to be little optimism on either side of extending a marriage that has helped the franchise to the most fruitful era in its history: five consecutive ALCS berths and two World Series appearances, including the 2017 victory later tainted by the revelation of a sign-stealing scheme.
"I never count anything out. We haven't done it in the past. . . . Something in the neighborhood of five [years] is the most we've ever done since I've been here," Astros owner Jim Crane, who bought the team in 2011, told the Houston Chronicle during the division series in comments not exactly oozing with optimism. "Things can change. We're not counting it out."
In the same story, Correa, who cut off negotiations after spring training so he could focus on the season, informed the paper that team officials told him during the sides' aborted negotiations in March (in which the Astros' top offer was reportedly $125 million for five years): "We don't believe in long contracts. We don't believe in big contracts."
The longest free agent contract Crane has handed out was the four-year, $52 million deal for outfielder Josh Reddick in November 2016. The past two offseasons have seen the Astros part ways with ace Gerrit Cole and center fielder George Springer, who took nine-figure deals with the New York Yankees and Toronto Blue Jays, respectively.
During this postseason, Correa has spoken little about his pending free agency or the likelihood of his staying with the Astros – at least with the Houston-area media – saying he wanted to keep his focus on the field. However, in an interview Wednesday with a Spanish-language podcast based in his native Puerto Rico – and later translated into English and published by the Chronicle – Correa said he didn't think the Astros would raise their offer to him "given the way they disrespected me" with the March offer.
"And what about the season I had and now the playoffs?" he added. "[My] value has risen."
If Correa makes it to the open market, which seems a given, the list of teams that could make a play for him is long and could include the Detroit Tigers (managed by Correa's former Astros manager AJ Hinch), Philadelphia Phillies, Seattle Mariners and Texas Rangers. The Yankees, with their deep pockets and acute need at shortstop, are another intriguing possibility – assuming their players and fans could stomach the thought of one of the perpetrators of the scheme that helped end the Yankees' juggernaut 2017 season in the hallowed pinstripes.
That scheme remains a stain on both his playing record and his character. But while that may never completely go away, it is also true that Correa has stood out among his fellow participants in his principled and honest handling of its aftermath. While his teammates largely hid behind statements crafted by crisis-management consultants, it was Correa who expressed the deepest sense of contrition.
"When you look back at it, it's just terrible," he told reporters in 2020. "It's not right for the game of baseball, the game that we grew up loving so much. . . . It's not right to know what [pitch is] coming and do what we did. We were wrong. We were wrong. And we have to own that. Whatever comes this year on the road from the fans, we have to take that."
It was Correa who stood up for teammate José Altuve, whose MVP season in 2017 was widely viewed as tainted by the scandal but whom Correa and others claimed did not participate in the sign-stealing scheme.
And it was Correa who put his voice forward when Washington Nationals catcher Kurt Suzuki and others accused the Astros of cheating during Washington's run to the World Series in 2019 – a claim disputed by MLB's official investigation into the scheme – with a passionate defense of himself and his teammates.
"Don't go out there and tell reporters we were cheating when [MLB confirmed] there was nothing going on," Correa said in 2020. "Oh, and [the Nationals] won the championship – and you're still talking about that? Enjoy the ring. Enjoy your teammates. Enjoy what you guys accomplished. Congratulations, you guys. You guys played better than us. That was it."
Such public stances, plus his many humanitarian efforts in Puerto Rico and Houston, have made Correa not only the heart and soul of the Astros' franchise but also its voice and its conscience.
"Carlos Correa is not a villain," McCullers told reporters. "He's an amazing human. He's a humanitarian. He takes care of Houston. He takes care of Puerto Rico. He's a great friend. He's a great husband."
In Houston, there is no ambiguity about Correa. Here, he is the Astros' conquering hero, especially when October arrives. But now it feels like winter is coming. This may be Correa's time, but it could soon be time for him to move on to his next phase in life.
Get the latest Boston sports news
Receive updates on your favorite Boston teams, straight from our newsroom to your inbox.