MLB
Shohei Ohtani homers 100 years after Babe, leads Angels over Yanks
Ohtani, 28, is eligible to become a free agent after earning $30 million this season and he could surpass Trout's $426.5 million, 12-year contract.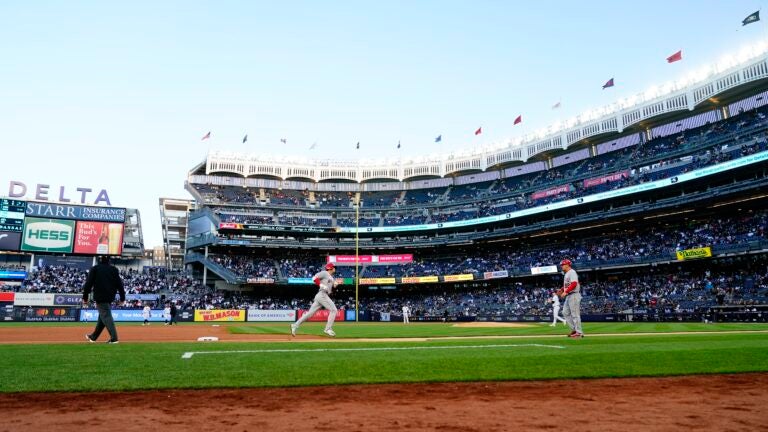 NEW YORK (AP) — Shohei Ohtani followed Babe Ruth's example and homered on the 100th anniversary of the original Yankee Stadium.
When the two-way star finished circling the bases and reached the Los Angeles Angels dugout, he was met by Brett Phillips, who placed a kabuto helmet on his head, modeled on one used by ancient Japanese warriors.
Just like Ruth in those old black and white photos, Ohtani wears a crown.
"It's pretty heavy. You've got to brace yourself a little bit," teammate Mike Trout said after Ohtani's two-run homer in the first inning Tuesday night sparked the Angels to a 5-2 win over New York.
Ohtani ordered the helmet from Japan with the help of translator Ippei Mizuhara, and the Angels are using the chapeau to celebrate home runs this season. Ohtani was aware of the Yankee Stadium history — to a point.
"I knew it was the 100th anniversary, but I didn't know Babe homered," he said through Mizuhara.
In a starry matchup that included three AL MVPs, Ohtani turned on an 88.7 mph sweeper from Clarke Schmidt (0-1). The 116.7 mph shot landed in the Yankees bullpen in right-center, 391 feet from home plate, for Ohtani's fourth home run this season and eighth in 18 games against the Yankees.
Ohtani, 28, is eligible to become a free agent after earning $30 million this season and he could surpass Trout's $426.5 million, 12-year contract. Yankees fans dream about Ohtani moving to the Bronx.
"It's a beautiful field. Passionate fans," Ohtani said. "I always look forward to playing here."
When the original Yankee Stadium opened across 161st St. on April 18, 1923, Ruth capped a four-run third inning with a three-run homer off Boston's Howard Ehmke in New York's 4-1 win to inaugurate America's first three-deck stadium.
Trout remembered back to 2008, the original ballpark's final year. He played there in a high school showcase during his junior season. He thinks the new one is special, too.
"There's something about the dirt. It's different," he said.
Ohtani took a rare round of on-field batting practice in nearly empty Yankee Stadium. The 2021 AL MVP is baseball's most famous two-way player since Ruth, and has bettered the Bambino by simultaneously starring as a full-time pitcher and hitter.
"I just wanted to see my ball's flight, because it's impossible to do that inside," Ohtani said, predicting he will take BP on the field more often this year.
Fans in the crowd of 37,883 were given special commemorative tickets to mark the centenary.
Trout, the 2014, '16 and '19 MVP, singled and doubled for the Angels on a cool night.
Reigning AL MVP Aaron Judge hit a bases-loaded sacrifice fly in a two-run fourth after Andrew Wantz (1-0) walked rookie Anthony Volpe with the bases loaded.
Trout doubled in the top half and challened Judge's arm in right to score on Anthony Rendon's single, and Hunter Renfroe followed with an RBI double for a 4-0 lead. Ohtani created the final run in the fifth when he reached on catcher's interference, stole his first base since last July, continued to third on Kyle Higashioka's throwing error and scored on Rendon's sacrifice fly.
"A lot of people ask me if he is human," teammate Gio Urshela said.
Mound matters
Schmidt allowed four runs and six hits in 3 2/3 innings, swelling his ERA to 8.79 in four starts.
Angels starter José Suarez gave up two runs, three hits and a career-high six walks in 3 1/3 innings. José Quijada got three outs for his third save, finishing a combined four-hitter by five pitchers.
Season debut
New York's Oswald Peraza made his season debut, starting at second base and going 1 for 3 with a walk.
Switch
Urshela started at second base in his first appearance at the position since Oct. 1, 2017, for Cleveland.
Catcher in the wry
Angels rookie catcher Logan O'Hoppe, who is from nearby Long Island, went 1 for 3 with a single and a walk in his first big league game at Yankee Stadium. He recalled sitting in the seats and catching a home run from Baltimore's Manny Machado off CC Sabathia on April 6, 2018. O'Hoppe estimated several hundred family and friends will attend the series.
Trainer's room
Angels: 1B Jared Walsh (headaches and insomnia) is working out in California.
Yankees: DH Giancarlo Stanton (strained left hamstring) likely will be sidelined for six weeks. … CF Harrison Bader (strained left oblique) probably will start a minor league injury rehabilitation assignment on Friday. … LHP Carlos Rodón (strained left forearm) remains bothered by his back. … 3B Josh Donaldson went 1 for 3 and played four innings in the field for Double-A Somerset, his first game since straining his right hamstring on April 5.
Up next
RHP Jhony Brito (2-1), chased after seven runs and two outs against Minnesota in his last outing, takes the mound for the Yankees on Wednesday night, when RHP Griffin Canning (0-0) starts for the Angels.
Sign up for Red Sox updates⚾
Get breaking news and analysis delivered to your inbox during baseball season.