MLB
Mets' Max Scherzer ejected for sticky stuff after umpire check
The three-time Cy Young Award winner loudly proclaimed his innocence afterward.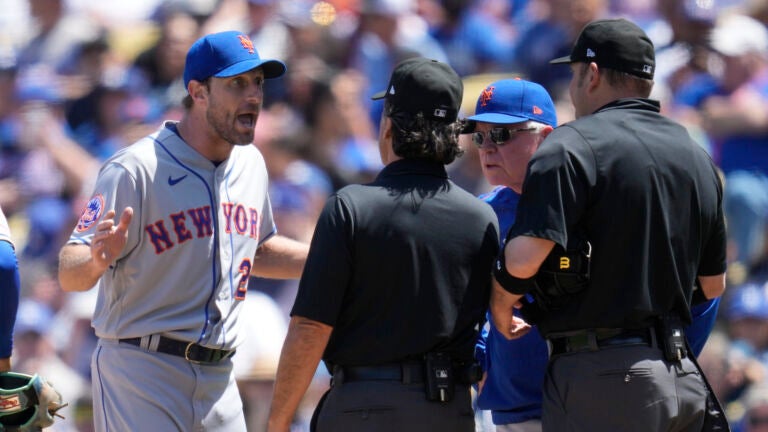 LOS ANGELES (AP) — Max Scherzer swore on his children's lives he put nothing but sweat and rosin on his hands at Dodger Stadium. The umpires still ejected him Wednesday, telling the Mets ace his hand was too sticky to possibly be legal.
The three-time Cy Young Award winner loudly proclaimed his innocence afterward. Scherzer also praised his bullpen for saving the Mets' day after his early exit.
Scherzer was ejected in the fourth inning after the umpires' check of his hands, but five relievers came through and Brandon Nimmo went 5 for 5 in New York's 5-3 victory over the slumping Los Angeles Dodgers.
Scherzer was visibly furious when umpire Phil Cuzzi tossed him following an inspection and a lengthy conversation that included plate umpire Dan Bellino, the crew chief.
"Yes, when you use sweat and rosin, your hand is sticky," Scherzer said. "I don't get how I get ejected when I'm in front of MLB officials doing exactly what you want and being deemed my hand is too sticky when I'm using legal substances."
The trouble started after the second inning, when Cuzzi determined Scherzer's hand was stickier and darker than normal. Cuzzi ordered Scherzer to wash his hand, which Scherzer said he did with alcohol while a Major League Baseball official watched.
After the third inning, Cuzzi then determined the pocket of Scherzer's glove was "sticky," likely with too much rosin, and he ordered Scherzer to change gloves. The umpires then checked the 38-year-old right-hander again before the fourth, and his hands were even worse than before.
"As far as stickiness, level of stickiness, this was the stickiest that it has been since I've been inspecting hands, which now goes back three seasons," Bellino said. "Compared to the first inning, the level of stickiness, it was so sticky that when we touched his hand, our fingers were sticking to his hand. And whatever was on there remained on our fingers afterwards for a couple innings, where you could still feel that the fingers were sticking together."
Scherzer had pitched three scoreless innings of one-hit ball before his early exit. It was his shortest start since June 11, 2021, when he threw 12 pitches for Washington before leaving with a groin injury.
"I knew I was going to get checked (before the fourth), so I'd have to be an absolute idiot to use anything else," Scherzer said. "I literally go out there with sweat and rosin, (and) I get ejected."
Bellino and Cuzzi weren't buying it, saying something was out of the ordinary with Scherzer.
"Every pitcher we check, we're accustomed to what that rosin residue will be on a pitcher's hand," Bellino said. "The fact that this went so much further was indicative that there was something likely more than just rosin. Something that was so sticky that, whatever it was, it was all over the palm. It was up on the inside of the fingers."
Mets manager Buck Showalter noted that Cuzzi is "certainly a guy that's known for" throwing out pitchers. Cuzzi was on the crews that ejected Seattle's Héctor Santiago and Arizona's Caleb Smith in 2021, the only pitchers suspended for sticky substances since MLB's crackdown began. Both pitchers adamantly denied wrongdoing.
Scherzer and the umpires all refused to speculate on whether Scherzer would receive the automatic 10-game suspension handed out to violators of the rule.
"Now it's becoming a legal matter, and I don't want to comment," Scherzer said.
Jimmy Yacabonis (2-0) had to warm up on the mound after getting the abrupt call from the bullpen, but he pitched 2 2/3 innings of two-hit ball after following Scherzer's ejection. Adam Ottavino gave up David Peralta's ninth-inning homer, but finished for his third save.
Sign up for Red Sox updates⚾
Get breaking news and analysis delivered to your inbox during baseball season.