MLB
Friday just so happened to be a spectacular day for former Red Sox stars
Mookie Betts, J.D. Martinez, Nathan Eovaldi, Michael Wacha, and more made their absence felt.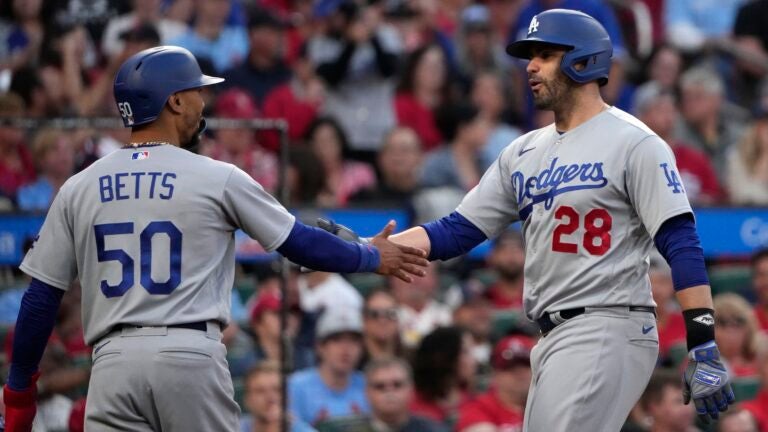 When it rains (at Fenway Park), it pours (around the majors).
Former Red Sox standouts Nathan Eovaldi, Michael Wacha, Mookie Betts, J.D. Martinez, and more all made some serious noise Friday.
Eovaldi and Wacha earned pitcher of the month honors.
Eovaldi, now with the Texas Rangers, went 4-0 with a 0.96 ERA and 31 strikeouts in May. He pitched 37.2 innings and posted a WHIP of 0.85.
Wacha, a member of the San Diego Padres, was 3-0 with a 0.84 ERA and 26 strikeouts for the month. He had the best ERA, WHIP (0.72), opponents average (.147), and opponents OPS (.405) in Major League Baseball.
Red Sox pitchers posted a 4.36 ERA in May.
Martinez hit his 13th home run, meaning he's now just three away from matching his 2022 total with the Red Sox. He has eight homers in the last 12 games and hit .311 with 24 RBIs in May.
Betts blasted two homers for the second-straight game, finishing the night 4-for-4 with three RBIs. He became the only player in the modern era to record four-plus hits, hit a leadoff homer, hit multiple homers, record a multi-hit inning, and steal a base in the same game.
Kyle Schwarber also happened to have two hits and score a run for the Phillies on Friday. Xander Bogaerts had a hit and RBI for the Padres, Andrew Benintendi got a hit and RBI for the White Sox, and Hunter Renfroe recorded a hit for the Angels. Daniel Bard lowered his ERA to 0.55.
This all came on a day when the club placed Chris Sale on the injured list.
A tiny silver lining for Red Sox fans? The Dodgers beat the Yankees. That's about it.
Sign up for Red Sox updates⚾
Get breaking news and analysis delivered to your inbox during baseball season.