MLB
The Home Run Derby still has plenty of clout and appeal at this address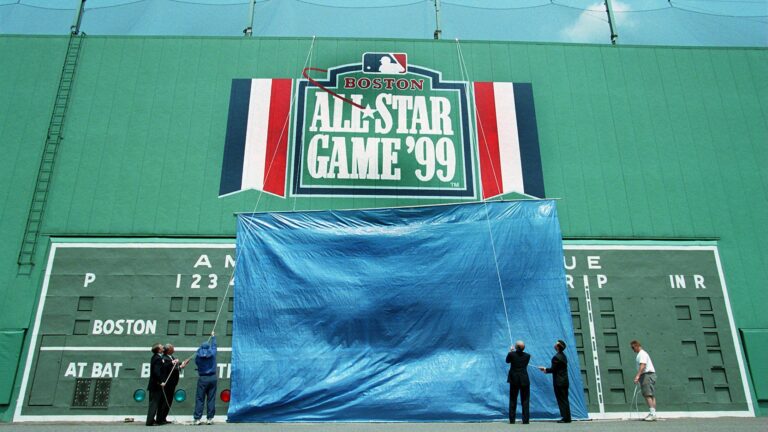 I'm still a sucker for the Home Run Derby. I suspect this makes me an outlier in the 50-and-over-old-crabby-white-male demographic, what with juiced baseballs, the launch-angle revolution, and a stupefying all-or-nothing approach of so many hitters in recent years combining to suffocate the appeal of a home run in actual games, let alone an exhibition.
But I love it. Always have. My appreciation started with watching ESPN reruns in the '80s of the 1960 black-and-white television show, hosted by Mark Scott ("It's a home run or nothing here on 'Home Run Derby' ") and featuring youthful superstars such as Willie Mays, Henry Aaron, and Mickey Mantle.
Major League Baseball began featuring a Home Run Derby in 1985, but the modern version didn't air on television until 1993, and ESPN didn't carry it live until 1998. A year later, at Fenway, a jacked-and-pumped Mark McGwire launched multiple baseballs over the Green Monster and toward the moon, while Ken Griffey Jr., as universally popular as any player of his era, actually won the memorable event.
There have been other astounding moments — Griffey hitting the warehouse beyond the right-field fence at Camden Yards was also epic — but the '99 Derby at Fenway was the pinnacle. I'm still envious of anyone lucky enough to be in attendance.
This season's Home Run Derby airs live from Seattle's T-Mobile Park Monday night at 8 p.m. on ESPN, with a StatCast version airing on ESPN2. The Red Sox have no representative, though the Dodgers' Mookie Betts ought to draw plenty of rooting interest around here.
Karl Ravech, who took over as host for Chris "Back-Back-Back-Back" Berman in 2017, will be joined by analyst Eduardo Perez and reporters Buster Olney and Alden Gonzalez on the main broadcast. Kevin Brown (the Orioles broadcaster, not the losing pitcher of Game 7 of the 2004 ALCS) will call the alternate StatCast broadcast with Jessica Mendoza and Mike Petriello.
Ravech, a Needham native, still finds himself marveling at the skill of the participants even while focusing on calling the event.
"In a lot of ways when we grew up, the heavyweight champion of the world was recognized nearly as universally as any other athlete,'' said Ravech. "If you go way, way back to when Babe Ruth was playing, there is something about a home run and a home run champion that resonates with people.
"It resonates not only with the people in the stands and watching, but it resonates with their fellow competitors. I know you have all seen when you watch the other players who are sitting on the first and third base side get into this in such a way, you realize that what we're witnessing is something unique.
"Having watched many of these things back over the last couple of weeks [in preparation], I find myself sometimes not recognizing how amazing it is what's happening right in front of you. When Vladimir Guerrero Jr. gets on a roll, when Pete Alonso gets on a roll, sometimes we're so close to it you can't appreciate it. But when I watch it back, I'm like, 'Oh, my God, do you realize what is going on here?' "
Of course, Ravech doesn't have the time to appreciate and ponder the feats of the participants that viewers at home do. He's too busy trying to keep up.
"I would say this, the Home Run Derby is as difficult an event that I call because of the speed of it,'' he said. "The concept of you can't throw a pitch until the prior one lands is not necessarily obeyed all the time.
"It just makes it hard. There [is], more often than not, more than one baseball in the air. It may be very close to a seat when the next one goes off. I don't know what it's like to be an air traffic controller, but it feels like that. We have one coming in over here on runway seven and one departing on runway four. There is a unique challenge to doing the Home Run Derby. There's no doubt about it.
"Sometimes you just want to watch along with the people at home because it is such a unique skill set to not only hit a ball that far, but to do it that often, that repetition under the spotlight and no cage around you and all these people watching and the pressure, it is an incredible athletic achievement sometimes I think we take for granted."
Some do take it for granted. But not me. Say, do you think all of those McGwire blasts from 24 years ago have landed yet?
Top scores for college
Curious to discover whether the huge viewership of the men's College World Series carries over to ESPN's coverage of the MLB Draft on Sunday night. Louisiana State's clinching Game 3 win over Florida in the tournament final drew 3.59 million viewers, the largest for a college baseball or softball final on the network. Louisiana State stars Paul Skenes and Dylan Crews and Florida's Wyatt Langford are expected to be selected at the top of the draft … Enjoyed hearing Michael Holley paired up with Rob "Hardy" Poole on 98.5 The Sports Hub this week while much of the regular lineup was on vacation. The rapport was effortless … The game goes on for Jonathan Papelbon and Will Middlebrooks, who along with Adam Pellerin kept it entertaining on NESN during a rain delay in the Red Sox' Fourth of July matchup with the Rangers. I've long thought Middlebrooks would become an excellent analyst. The chaotic-in-a-good-way Papelbon could be too.
Sign up for Red Sox updates⚾
Get breaking news and analysis delivered to your inbox during baseball season.