MLB
Shohei Ohtani's future is still uncertain as the Angels ponder a momentous decision
"We're in midseason, obviously, and I'm trying to focus on the season and block everything else out."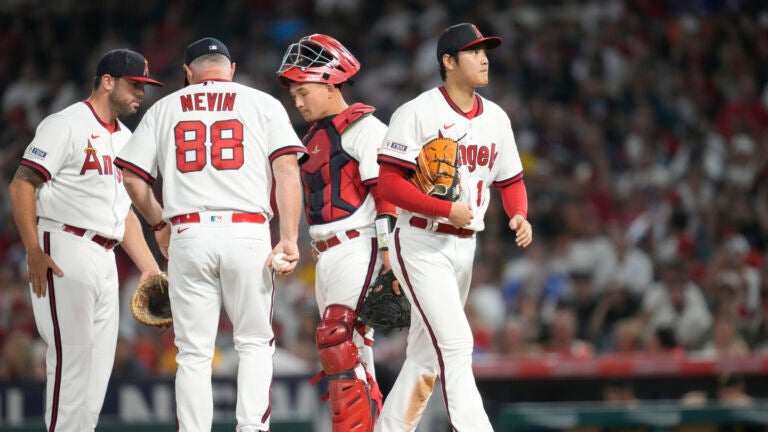 ANAHEIM, Calif. (AP) — Angels fans rose and roared when Shohei Ohtani walked toward the dugout after a tumultuous Friday night on the mound. The Big A echoed with "M-V-P!" chants for the unique talent who has revolutionized baseball over the last six seasons in Orange County.
The chants and cheers had a melancholy note, however.
Most of those fans were aware this might be their final chance to thank him.
Ohtani's future has been the talk of baseball all year long, and the forecast isn't much clearer as the Los Angeles Angels reach the last 10 days before the MLB trade deadline. Ohtani is in the final year of his contract before unrestricted free agency, and the Angels must decide whether to trade their generational superstar for a probable motherlode or risk the possibility of losing him for practically nothing in the winter.
Every serious Angels fan understands the stakes of the next several days — and of the next few months, if the Halos don't trade Ohtani at the deadline. Ohtani also understands the nature of the current spotlight on him, but the major league home runs leader claimed he isn't thinking about a potential farewell to his only major league team.
"That did not cross my mind at all," Ohtani said through his translator Friday of the possibility he had just made his last home mound appearance for the Angels, who will be on the road next week. "Obviously, I'm a part of the Angels at this moment, and I feel like we're in a decent spot to make a playoff run, so I just try not to really think about that."
Ohtani said he has no assurances he won't be traded, and he didn't acknowledge any discussions about a contract extension. His representatives have previously said he's likely to explore free agency, increasing the stakes of the Angels' decision.
It seems Ohtani, his teammates and their fans are all waiting on a move — or no move at all — by Angels owner Arte Moreno and general manager Perry Minasian.
"I've never really had any sit-down talks like that," Ohtani said when asked if he had considered short-circuiting this whole drama by committing to the Angels before free agency. "I see Perry like once a week in the clubhouse, and we've never really had conversations about that."
Strong arguments can be made on both sides of this debate, and the sheer volume of opinions on the topic has become noticeable even to Ohtani, whose ascetic lifestyle usually limits distractions. He wasn't at his sharpest Friday night, but he earned his eighth mound win of the year despite allowing four homers by the Pittsburgh Pirates.
"We're in midseason, obviously, and I'm trying to focus on the season and block everything else out," Ohtani said. "I think we're in a decent spot to make a playoff run, which is all I'm really focused on at this moment."
The Angels (50-48) have said they're unlikely to trade Ohtani, particularly if they're in the postseason race at the deadline. But their position with 10 days to go doesn't really help: They're four games out of the final AL wild card spot with two teams ahead of them, standing precisely on the fringe of contention after a four-game winning streak despite the injury absences of high-priced sluggers Mike Trout and Anthony Rendon.
Ohtani is always careful not to make strong public pronouncements about his future, other than to stress his desire to be on a winning team. The Angels have never been winners with Ohtani, compiling five straight losing seasons since he came stateside while remaining out of the postseason since 2014.
But the drama hasn't stopped the Angels from teasing their two-way superstar teammate about his uncertain future.
"Around this time of the year, with all the talk surrounding it, we kind of joke around a lot," Ohtani said of the clubhouse discussions. "But it's nothing serious."
Even with the speculation around Ohtani about to reach a peak, the injury-weakened Halos are still fighting and winning — four straight victories and five of six overall. When Ohtani gave up four homers to Pittsburgh, the Angels hit four homers of their own and pitched nearly flawlessly in relief for an 8-5 victory.
"Being able to pick up Ohtani when he's done that so much throughout the year and throughout his entire career, to be able to help him out today was awesome for all of us," said Angels newcomer Mike Moustakas, whose three-run homer was his fifth in 17 games since arriving.
If Ohtani is fatigued by the frenzied speculation around him, he isn't acknowledging it. Manager Phil Nevin didn't think it played a role in Ohtani's spotty pitching performance, instead speculating that Ohtani might have been overly fatigued by running the bases four times.
"It's nothing mental with him," Nevin said. "He's the most mentally strong person I've ever been around."
Get the latest Boston sports news
Receive updates on your favorite Boston teams, straight from our newsroom to your inbox.