MLB
García powers Rangers to first World Series since 2011 with 11-4 rout of Astros in Game 7 of ALCS
Nathaniel Lowe also went deep to give Texas — one of six major league teams without a World Series title — its first berth in the Fall Classic since consecutive trips in 2010 and 2011.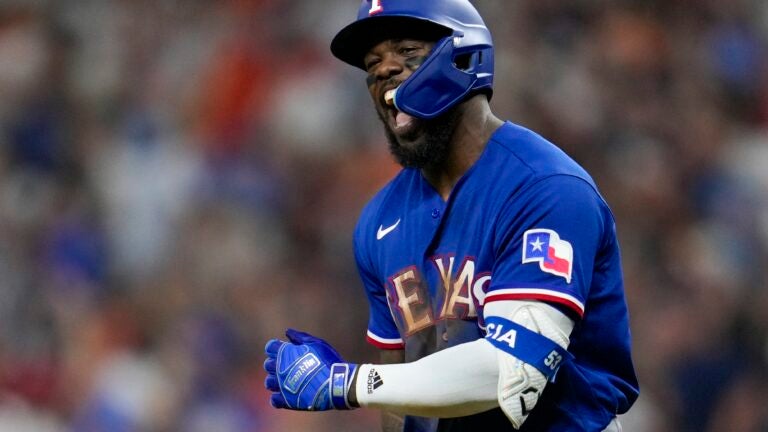 HOUSTON (AP) — Adolis García and these road-happy Rangers are not only tops in Texas — they're best in the American League.
García homered twice and drove in five runs as the Texas Rangers reached their first World Series in 12 years with an 11-4 blowout of the Houston Astros in Game 7 of the AL Championship Series on Monday night.
Corey Seager got things started for the Rangers with a long home run in the first inning. Nathaniel Lowe also went deep to give Texas — one of six major league teams without a World Series title — its first berth in the Fall Classic since consecutive trips in 2010 and 2011.
García homered for the fourth straight game and set a record for RBIs in a postseason series with 15. He had four hits, scored three times and was the obvious choice for ALCS MVP in a series that saw the road team win every game.
"He's a bad man, isn't he?" Seager said. "To be able to come into this atmosphere and get booed every at-bat and do what he did was really special. It was really fun to watch."
After winning their Lone Star State showdown with rival Houston, the resilient Rangers open an all-wild card World Series at home Friday night against Arizona or Philadelphia, who play the decisive Game 7 of their NLCS on Tuesday night.
Bruce Bochy, who came out of retirement this season to manage the Rangers, became the first skipper to win a League Championship Series with three different teams, after leading San Diego and San Francisco to NL pennants.
He's spearheaded a swift turnaround with Texas, making its first playoff appearance since 2016 after losing 102 games in 2021 and going 68-94 last year.
"I didn't know if I'd get back in it. And here I am. I know how blessed I am," Bochy said. "We've had our streaks. We've had our injuries. They keep getting up. To come in here and beat such a great team like Houston — and congrats on their year. But it's great to be wearing the horns in Texas."
Meanwhile, the defending World Series champion Astros were finally dethroned.
Fittingly, it came at home, where they went 40-47 this year and 0-4 in this series. They won all three games at Texas and came home a win shy of their third straight pennant, but Houston's pitching staff got pounded for 20 runs in the final two games of the team's seventh consecutive ALCS.
No club has repeated as World Series champion since the New York Yankees won three straight from 1998-2000.
"I don't like tipping my cap to anybody," Astros manager Dusty Baker said. "But when someone beats the hell out of you, what are you going to do?
"We have been spoiled around here as far as winning and winning and winning. And heck, I've been here four years, and we've been to two World Series and two Championship Series. We have nothing to be ashamed of or nothing to hold our head down about. We're down, but we're not out. And every team in baseball would trade to have had the last four years that we've had."
Texas led the AL West for most of the year, only to squander the division crown to Houston with a loss at Seattle on the final day of the regular season that sent the streaky Rangers on the road to begin the playoffs.
Turns out, that was no problem.
They have gone 8-0 away from home in these playoffs, joining the 1996 Yankees as the only teams to win their first eight road games in one postseason.
"This team right here, we are family, and they push me every day to play hard," García said.
Jordan Montgomery, normally a starter, came out of the bullpen on two days' rest and pitched 2 1/3 scoreless innings for the win. The big left-hander, acquired from St. Louis at the trade deadline, improved to 3-0 with a 2.16 ERA this postseason.
Texas starter Max Scherzer, acquired from the Mets in July, allowed four hits and two runs with two walks in 2 2/3 innings. But the Rangers took advantage of an early flop by Cristian Javier.
Texas jumped on Javier immediately and tagged him for three runs, highlighted by Seager's second-deck shot, before he was lifted with just one out in the first. It was the first time Javier lost a playoff start, after entering the game 4-0 with a 0.82 ERA in four career postseason starts.
Seager, in his second season with Texas after signing a 10-year, $325 million contract, had three hits after starting the series 5 for 26.
García slugged his sixth home run this postseason to make it 4-1 in the third before the Astros cut it to two on a solo homer by Alex Bregman in the bottom of the inning.
Texas broke things open with a four-run fourth that featured a two-run double by rookie Evan Carter and a two-run single by García.
After hitting a grand slam to punctuate a 9-2 win in Game 6, García led the charge Monday. He had 15 RBIs in the series to break the record set by Nelson Cruz with 13 for Texas in the 2011 ALCS.
The slugger was booed throughout the game for a second straight night after being at the center of a bench-clearing scuffle in Game 5 after being hit by a pitch from Astros reliever Bryan Abreu.
García seemed to delight in playing the road villain. When he opened the third inning with his shot to right field, he watched as the ball sailed over the fence before slowly taking a few steps toward first base. He then dropped his bat, turned around and skipped backward for a few feet while smiling broadly at his cheering dugout before trotting around the bases.
The Cuban outfielder added a solo shot in the eighth to give him seven homers and 20 RBIs this postseason, passing Houston slugger Yordan Alvarez (six) for the most home runs in the playoffs this year.
García's home run streak is tied for fourth-longest in postseason history.
It was only the second time the road team won every game in a best-of-seven postseason series. The Astros were also on the wrong end of the other one, dropping four home games in a loss to Washington in the 2019 World Series, when Scherzer also pitched Game 7 in Houston for the Nationals.
Texas and Houston had identical regular-season records (90-72), with the AL West title going to the Astros on a head-to-head tiebreaker. Tied once again entering this game, the Rangers came out on top when it mattered most.
Texas' win guaranteed a third all-wild card World Series, the first since Bochy's Giants beat Kansas City in 2014.
Jose Altuve hit his 27th career postseason homer in the ninth for Houston, two behind Manny Ramirez for most all-time.
Sign up for Red Sox updates⚾
Get breaking news and analysis delivered to your inbox during baseball season.