MLB
Texas Rangers and their fans celebrate World Series title with parade in Arlington
The Rangers won their first championship title in franchise history on Wednesday.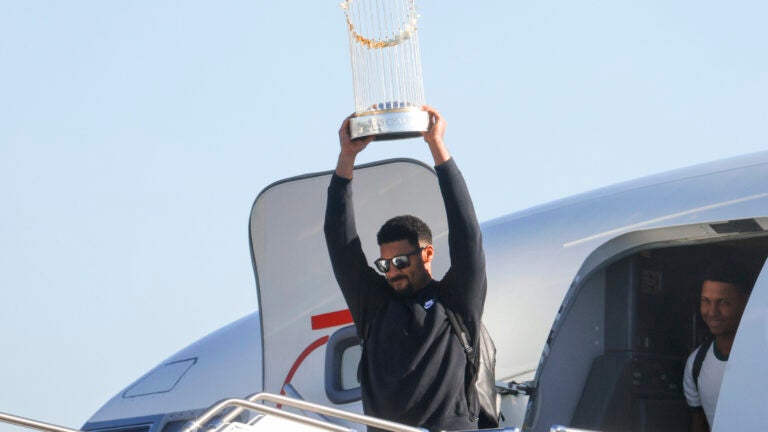 ARLINGTON, Texas (AP) — Tens of thousands Texas Rangers fans lined up and stacked dozens deep in some areas along a 2-mile route near the team's ballpark for a parade Friday to celebrate the franchise's first World Series championship.
"This is why we came back, for the parade," All-Star second baseman Marcus Semien said.
The parade came two days after the Rangers wrapped up the World Series title with a 5-0 win on the road in Game 5 against the Arizona Diamondbacks. It came a week after Texas won the series opener at home on an 11th-inning homer by Adolis García after Corey Seager hit a two-run homer in the ninth inning to tie the game.
"It's what it's about, the fans. They're the reason we do this, why we play. We feed off them and for them to get a championship. That's what makes this special," Texas manager Bruce Bochy said. "They're all special, the World Series. But getting the first one, and for this to happen for them, is what makes me feel so good."
The Rangers won their first championship in their 63rd season as a franchise, which began as the expansion Washington Senators in 1961 before the team moved to Texas in 1972.
World Series MVP Seager, AL Championship Series MVP García and Rangers players were part of the parade in the entertainment district of Arlington, the city where they play along Interstate 30 halfway between downtown Fort Worth and downtown Dallas.
Seager was also the World Series MVP in 2020 when playing for the Los Angeles Dodgers, who won that title in a neutral-site MLB postseason played at Globe Life Field during the COVID-19 pandemic. There was no celebration parade that season.
"Really tight-knit group, just the ability to be able to come together and compete every night. It's a hard thing to do and this group was able to do it and we got to accomplish something special," Seager said.
The Rangers arrived home in North Texas on Thursday, with Semien exiting first and hoisting the World Series trophy into the air as he stepped off the plane. By that time, some fans were already staking out spots along the parade route.
After starting on the south side of Globe Life Park, the parade went along the side of AT&T Stadium, the home of the NFL's Dallas Cowboys, and up around Mark Holtz Lake, named after the late Rangers broadcaster known for his "Hello Win Column!" call. The parade then passed by the Rangers' former ballpark where they played when making their only other World Series appearances in 2010 and 2011.
Players were to address the fans in an outdoor ceremony after the parade wound back to the retractable-roof stadium they have called home since 2020.
"The Texas Rangers' World Series victory is a dream five decades in the making," Arlington Mayor Jim Ross said.
"My hope is that it just creates that much more interest and passion in baseball here. And not that they didn't have it, but when you have a lot of losing seasons, it's difficult for the fans," Bochy said. "Our job is to continue this winning. It's great to win this championship. But, you know, we don't want this city to go that much longer without another one."
This is Bochy's fourth World Series title. He won three with the San Francisco Giants, the first in 2010 with a Game 5 clincher in Texas. Bochy was named the Rangers' manager a year ago, when the team was coming off its sixth consecutive losing season.
At least six local school districts were closed Friday so students and faculty could join in the celebration. Several high school bands took part in the parade held on a picture-perfect day, with clear, sunny conditions and temperatures around 70 degrees.
Sign up for Red Sox updates⚾
Get breaking news and analysis delivered to your inbox during baseball season.