Morning Sports Update
Nomar Garciaparra to Pete Alonso: Dave Jauss's history pitching in the Home Run Derby
"I don't throw hard, but I can close my eyes and hit a spot."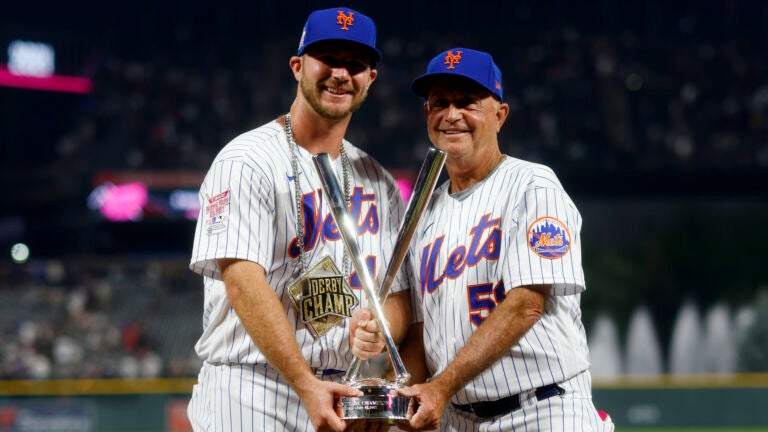 On Monday, Mets first baseman Pete Alonso smashed a total of 74 home runs to repeat as champion of Major League Baseball's Home Run Derby.
Tonight, the MLB All-Star Game gets underway at Coors Field at 7:30 p.m. The Red Sox will have both Xander Bogaerts and Rafael Devers in the starting lineup of the American League.
Pete Alonso's secret weapon at the Home Run Derby: To set the tone in Monday's Home Run Derby, Mets slugger Pete Alonso smashed a record 35 home runs in the first round. It was a staggering display from the defending champion, who went on to repeat as the competition winner by hitting 74 over the Coors Field fences in total.
"I'm a power hitter, and I think I'm the best power hitter on the planet," Alonso said afterward. "Being able to showcase that and really put on a fun display for fans, it's truly a dream come true for me, because when I was younger my parents let me stay up past my bedtime to watch this."
But alongside Alonso's natural talent and experience — drinking plenty of fluids and staying loose throughout the night — was his go-to derby pitcher: Mets bench coach Dave Jauss.
"He was putting it right in the breadbasket, right in the honey hole, right in the sweet spot of my swing," Alonso explained. "That's what we worked on in practice. He's my everyday [batting practice] thrower and to be able to come out on top like this is really special, not just for me, but for him."
Jauss, who played college baseball at Amherst, has always had an ability to throw a lot of pitches for hitters to connect with. He once threw a 100-inning game for both teams during his days at Amherst as a shortstop.
"We started with a 1-2 count," he told the New York Times, "which helps.")
In 1999, Jauss (then the Red Sox first base coach) pitched in that year's Home Run Derby at Fenway Park. It went less successfully for then-Red Sox shortstop Nomar Garciaparra (as well as Orioles outfielder B.J Surhoff), who both hit just two home runs each.
But throwing hittable pitches with consistency has always been a strength of Jauss, as observers noted during Monday's derby.
"I don't throw hard," Jauss said. "But I can close my eyes and hit a spot."
Trivia: Who won the 1999 Home Run Derby?
(Answer at the bottom).
Hint: Like Alonso, his win in '99 made him a back-to-back champion, one of only three players to ever do so.
More from Boston.com:
Australia handed Team USA it's second straight loss: The Australians defeated the Americans 91-83 on Monday. It's the second consecutive loss for Team USA as they prepare for the upcoming Tokyo Olympics.
Nigerian basketball's response to Australia following the win over Team USA:
On this day: In 1951, Red Sox pitcher Mickey McDermott pitched 17 innings in a 5-4 loss to the White Sox over 19 innings. McDermott allowed two runs before finally giving way to the Boston bullpen.
Unfortunately for the Red Sox — who scored a pair of runs in the top of the 19th to take a 4-2 lead — the relief pitching wasn't on McDermott's level. Chicago managed three runs in the bottom of the 19th to win it.
Incredibly, the 19-inning battle happened only a day after the two teams met in a doubleheader that included a 17-inning 5-4 win for the Red Sox. In that game, White Sox starter Saul Rogovin had also pitched 17 innings.
Daily highlight: Jamaica got underway at the Gold Cup with a 2-0 win over Suriname on Monday, highlighted by Bobby Decordova-Reid's volley.
Trivia answer: Ken Griffey Jr.
Get the latest Boston sports news
Receive updates on your favorite Boston teams, straight from our newsroom to your inbox.